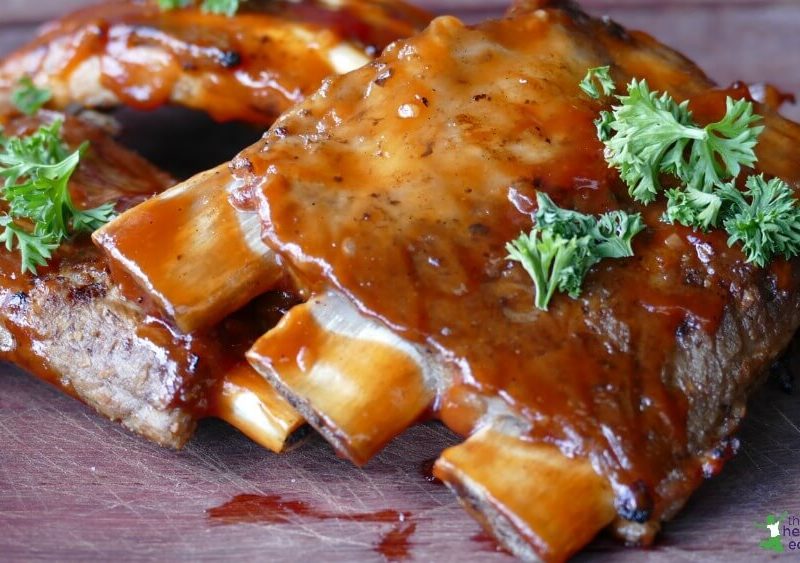 I don't order ribs at restaurants because the sauce invariably contains high fructose corn syrup. This totally toxic genetically modified sweetener, even in small amounts, gives me a canker sore (or a zit) in a hurry. Sometimes within the hour if I get enough of it.
Our whole family loves ribs, though, especially pastured pork ribs.
So what to do?
The solution to avoid the nasty restaurant sauces is to make ribs yourself with a homemade sauce that is just as enjoyable without any downside!
Bonus, you can lick your fingers at home without any judgment!
Do Pork Ribs Need to be Marinated?
One question I know I will get about this recipe is why aren't the ribs marinated?
Marinating is, after all, one of the primary ways traditional cultures prepared pork before eating to ensure its safety.
The answer is that slow cooking performs a similar function. The ribs below are boiled first and then roasted at a low temperature for up to 3 hours. This ensures a complete and thorough slow cook.
This is a common practice in the long-lived Okinawan culture, where they slowly stewed their pork before eating.
The most important time to marinate pork is when it will be quickly cooked, as in making pork chops and the like.
If you don't eat pork for whatever reason, feel free to substitute beef short ribs instead.
Where to Find Pastured Pork Ribs
I buy grassfed pork ribs from two places.
My first choice, is to buy pork ribs from local farms in my area. If you live in Central Florida, I recommend Trailbale Farm, which will have pork cuts on its website in the coming weeks. This family farm's products are delivered free (with a reasonable minimum order) and also featured at numerous farmers markets.
In addition, Whole Foods gets really good ribs from time to time. Keep on the lookout if you shop there occasionally.
If you live in a food desert, your only option short of raising a pig yourself is to order pastured pork ribs online and have them shipped to your door.
Be sure to make pork broth with the rib bones after you've finished enjoying this recipe!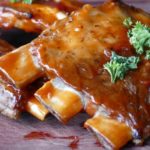 Pork Ribs Recipe (melt in your mouth!)
Traditional recipe for pork ribs that are melt in your mouth and covered in a sauce that is just as sweet and tasty as restaurants, but without all the nasty ingredients.

Total Time
3
hours
30
minutes
Instructions
Simmer ribs for 30 minutes in a pot with enough water to cover along with sea salt and garlic cloves.

While ribs are simmering, make the sauce in a small saucepan on the stovetop on low heat to ensure all the ingredients blend well.


Remove ribs from pot, pat dry with a clean dishtowel, and place in roasting pan. Pour the sauce over the ribs and cover with sustainably produced cedar wrap paper. You can use foil too, but cedar wrap paper will do the same job and impart a delightful smoky flavor without the use of aluminum!


Bake at 225 F/107 C for 3-4 hours. Remove from oven and serve immediately.

Recipe Notes
Be sure to only use organic brown sugar as conventional brown sugar from the supermarket is all or partially GMO (unless it is specifically labeled "brown cane sugar").
Substitute sustainably produced coconut sugar for the brown sugar if desired.
This recipe makes a lot of sauce, so select the amount of ribs you cook (2-4 pounds) depending on whether you like the ribs drenched in sauce or only just covered.
Nutrition Facts
Pork Ribs Recipe (melt in your mouth!)
Amount Per Serving (8 ounces)
Calories 963
Calories from Fat 603
% Daily Value*
Fat 67g103%
Cholesterol 267mg89%
Sodium 549mg23%
Carbohydrates 35g12%
Protein 55g110%
Vitamin C 1.7mg2%
Calcium 100mg10%
Iron 3.1mg17%
* Percent Daily Values are based on a 2000 calorie diet.