Table of Contents

[Hide]

[Show]
Healthy, low carb recipe for almond flour pancakes so nourishing and yummy you might even be tempted to serve them for dinner. Naturally starch-free with keto option.

I devised this recipe for almond flour pancakes one Friday night some years ago when my husband and I got the late night munchies. I recommend a coffee grinder rather than a grain grinder to make fresh almond flour due to the oiliness of the nuts.
I was absolutely delighted with how fabulous they tasted and how "wheat-like" they are in texture!
I intentionally mix up the flours I use for baked goods in my home to add variety. It reduces the potential for food allergies and encourages my family to consume foods made with flours other than just from grains. These pancakes made with sprouted almond flour make a great snack too, so make a bunch and have them in the fridge or freezer for a quick bite. Just pop them in the toaster oven for a minute or two and they are ready to eat!
Almond flour pancakes are surprisingly filling. If you can eat a whole stack of regular pancakes made with wheat flour, I dare you to eat more than two of these almond flour pancakes and not come away pleasantly stuffed!
Almond flour pancakes even look like wheat pancakes as you can see from the picture. They are, however, definitely smaller and don't expand as much when cooking.
The Best Almond Flour
It is best to avoid buying almond flour from the store as it is not sprouted or pre-soaked to eliminate anti-nutrients such as phytic acid. As a result, it will present digestive issues (gas, bloating) for some who consume it. It is best to learn how to make homemade almond flour yourself to eliminate these problems. It only takes a few minutes and your digestion will thank you!
To maximize efficiency, grind large batches, and freeze what you do not use in large ziplock freezer bags to lock in the nutrition until you are ready to use. Almond flour, like wheat flour, does not clump in the freezer and can be used immediately without any thawing!
Not Sure about Almond Flour Pancakes?
If you're not sure if you want to invest the time to soak almonds and grind them to make almond flour pancakes, I would recommend that you try the almond flour pancake and waffle mix from Simple Mills. They taste fantastic and contain only whole ingredients.
If you enjoy these pancakes, then you know that you want to go the extra mile to make them yourself from scratch in the future.
Alternatively, you can buy sprouted almonds and grind them into flour without taking the time to soak and dehydrate them yourself.
Already love almond flour baking? Try this almond flour crust next time you make homemade pizza.
Need another idea for low carb pancakes? Try this recipe for keto pumpkin pancakes too.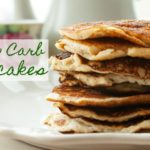 Almond Flour Pancakes
This recipe for almond flour pancakes is filling and delicious and tastes so much like wheat your family will probably not notice a difference.
Servings
12
pancakes 4" in size
Instructions
Grind almonds in a coffee grinder to make fresh, finely ground almond flour.

Mix all ingredients together and cook in a skillet on medium heat in a bit of butter or expeller coconut oil.