Sumptuous ice cream jello dessert that is a unique texture experience combining the airy lightness of strawberry mousse with the creamy thickness of homemade vanilla pudding.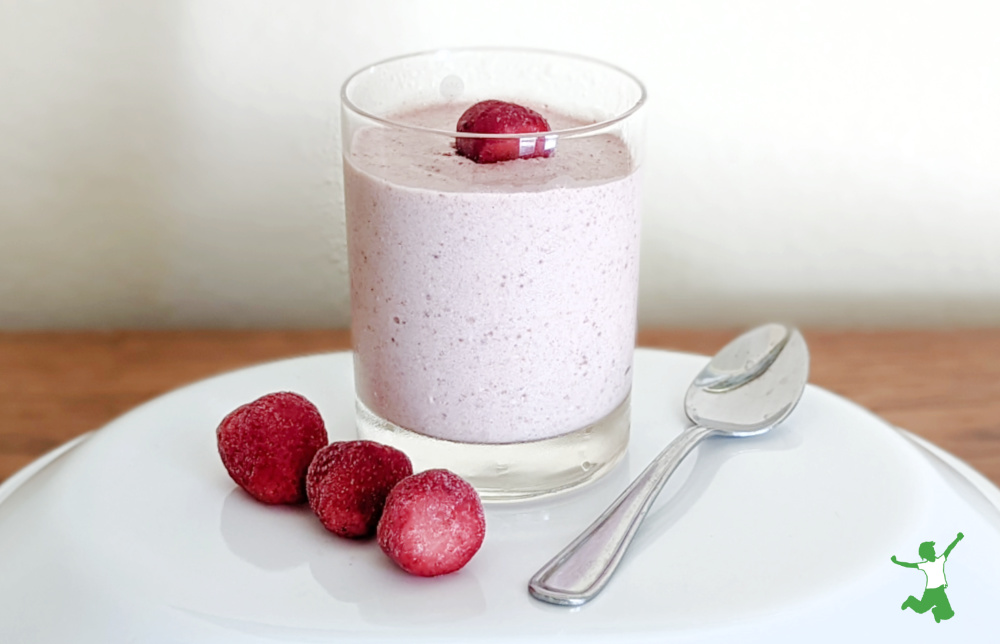 My mother did not enjoy cooking much, but she did make several dishes that were out of this world fabulous.
One of our family's favorites was this recipe for ice cream jello that we enjoyed on major holidays.
For Thanksgiving, she would use orange jello from the store and vanilla ice cream.
For Christmas and Easter, she used strawberry jello and vanilla ice cream instead.
My favorite was the strawberry jello ice cream combo, which I tweaked below into a healthy version that uses fresh (or frozen) berries and maple syrup instead of today's supermarket jello with artificial colors and GMO white sugar.
My Mom tells me that she developed this recipe in the 1960s. I've never seen it anywhere else over the years.
It took me a few tries to get it to work with real fruit, a whole sweetener, plain gelatin, and healthy vanilla ice cream…but it was worth the wait!
My Mom was thrilled when I told her about the results!
There are literally no brands of jello on the market that are safe to use these days, so if you wish to try this recipe, please make it as instructed below for the healthiest results!
Ice cream jello is absolutely fabulous for school lunches! Just be sure to put a cool pack in there to keep it cold.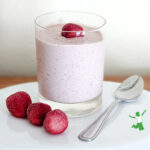 Ice Cream Jello Pudding
Easy and healthy dessert made by blending vanilla ice cream and natural fruit jello. A sumptuous and unique dessert experience.
Total Time
4
hours
20
minutes
Instructions
Place strawberries into food processor with maple syrup and blend until smooth.

In a small glass bowl, dissolve gelatin thoroughly in half cup of boiling water.

Emulsify the gelatin/water mixture by drizzling it in a thin stream into the top of the food processor **while the strawberries/maple syrup mixture is blending**. This quickly mixes the gelatin evenly throughout and prevents it from forming jello-like blobs in the cold strawberry mixture.

Pour the smooth strawberry/maple syrup/gelatin mixture into a large glass bowl.

Place pint of vanilla ice cream carefully into the middle of the bowl with the strawberry mixture.

Gently stir ice cream in the strawberry mixture until completely melted and blended (see video below).

Pour ice cream/strawberry mixture into dessert cups and refrigerate for 4 hours or overnight.

Serve as desired. The texture of the ice cream jello pudding is soft and creamy like mousse but thick like pudding. Enjoy!
Recipe Video
Nutrition Facts
Ice Cream Jello Pudding
Amount Per Serving (1 cup)
Calories 252
Calories from Fat 126
% Daily Value*
Fat 14g22%
Cholesterol 71mg24%
Carbohydrates 28g9%
Protein 3g6%
* Percent Daily Values are based on a 2000 calorie diet.