DIY method for making an effective, natural toothpaste at home to assist with the prevention of cavities and tooth remineralization for children and adults.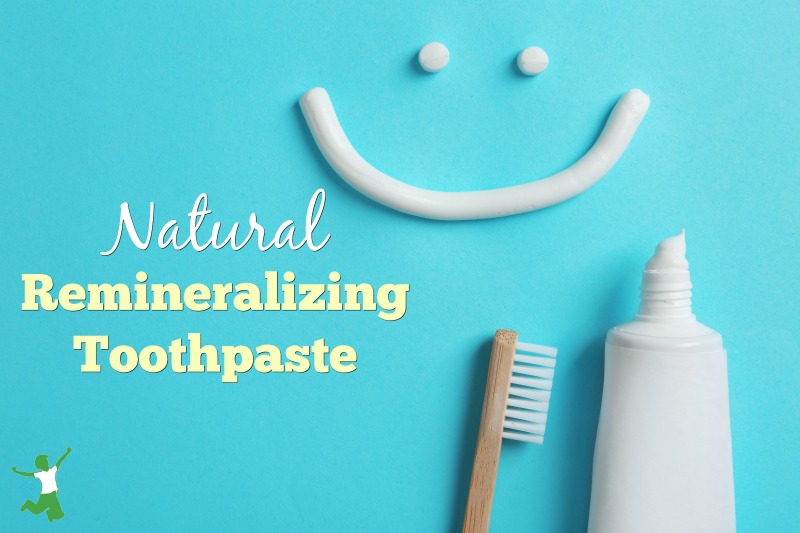 The article which provided compelling before and after photos of remineralizing cavities generated a number of questions from people interested in more information. In particular, people wanted to know exactly what natural toothpaste was used by the Mom who took the dramatic before and after photos.
I emailed Kristin about this and she graciously sent me the recipe she used.
It is important to note that the toothpaste itself was not totally responsible for the improvement in the cavities shown in Kristin's photos. It was the dietary changes she made as outlined in the book Cure Tooth Decay that made the big difference.
However, when the diet is right, a natural toothpaste that facilitates the remineralization process can definitely help!
So if you've got your dietary ducks in order, then worry about using the proper natural toothpaste. But, if the diet isn't right, no toothpaste, natural or not, will help resolve the situation.
Here is a brief summary of the changes Kristin made to her son's diet in order to stop the decay and initiate the remineralization process.
In Kristin's own words:
My son had just turned 3 years old when we took him in for his first dental exam. They told us he had a stain on his front tooth (which they scraped off and it has not returned) and a tiny cavity that they wanted him to come back a different day to be filled with an amalgam.

We scheduled the appointment even though I was very hesitant. I already knew about healing teeth and decided to give it a try. He has a 6-month dental check-up coming up next month and I'm anxious to know what they say. Unfortunately, we go to a "mainstream" dental office so I bet they will be beside themselves.
She then described the remineralization process.
How I healed his tooth:  We were already a paleo family so it wasn't like we had to cut out grains/processed foods etc. unfortunately he did consume a lot of dried fruits, nuts, and Larabars and fruit leathers as quick snacks on the go.

I was unaware of the high sugar and phytic acid contents of these foods. so we quickly eliminated them. I began to read Ramiel Nagal's Cure Tooth Decay book and learned a lot!!

We introduced raw milk and cheese, high vitamin cod liver oil/butter oil blend, cell salts, homemade 24-hour milk kefir, bone broth which is hard to get him to drink, smoothies with cream/raw egg yolks/crushed egg shells/grassfed gelatin/trace mineral drops, butter from grassfed cows, free-range eggs, grass-fed/pastured meats and organ meats hidden in his meals.

I cut out all fruit with the exception of 1 serving of berries or cooked granny smith apples in coconut oil (he was a very very big fruit eater). It only took about a week for him to get use to his new diet.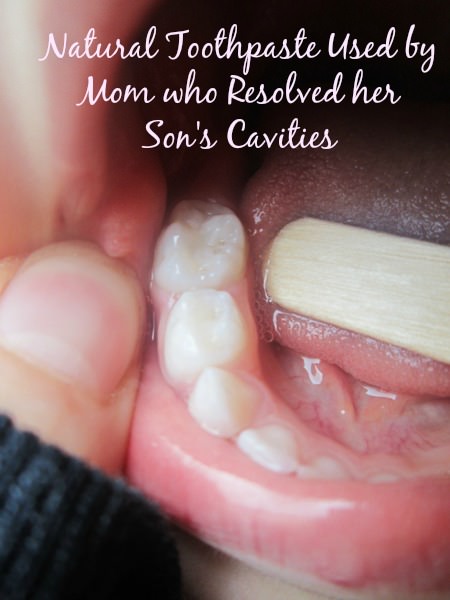 Natural Remineralizing Toothpaste

This summary is fantastic and hopefully an eye-opener for those who really seek to resolve persistent cavity problems in their home.
Now, onto the natural toothpaste that Kristin used in conjunction with Traditional Diet to resolve her son's cavity issues.
What if you have no desire to make your own natural toothpaste, however? You are just too busy and one more thing to make is just too much?
In that case, I would suggest the company Orawellness, which makes very high quality, remineralizing tooth gel. Find it here.
Ingredients
6 Tablespoons virgin coconut oil or red palm oil (where to find)
1 Tbl baking soda (cheapest brand is fine … all baking soda is aluminum-free)
1-2 Tbl bentonite clay (brand free of heavy metals)
20-30 drops of peppermint essential oil
5-10 drops of lemon essential oil
30 drops of trace minerals (brand I use)
5 Tbl calcium carbonate (where to find)
Filtered water as needed (vetted water systems to consider)
Instructions
Mix all the ingredients well and store in a small stainless steel jar. If the mixture is too hard or thick, add a few splashes of filtered water to achieve the desired consistency.
Adapted from Wellness Mama's Squeezable Toothpaste Recipe.
Suggested Use
Brush teeth twice a day with this natural toothpaste. Before bedtime brushing, add one drop of Lugol's Iodine to the toothbrush.
Follow protocol to achieve desired results but be sure to consult with a dentist, preferably holistic, to ensure that teeth are healthy and any problem with cavities is truly improving and not worsening.
Note that the best results are achieved by flossing teeth with ozonated olive oil after brushing. This is the recommendation of holistic and biological dentists. If you prefer a tooth powder to toothpaste, try this whitening tooth powder recipe.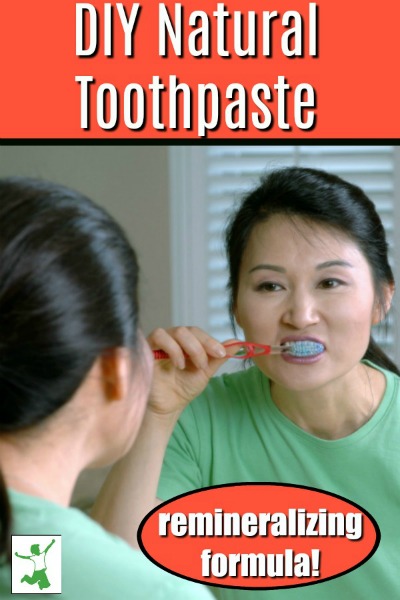 Need a Holistic, Biological Dentist?
I get many requests about who I recommend as a truly holistic dentist. If you are looking for one, I recommend Dr. Carlo Litano of Natural-Smiles.com – (727) 300-0044.
He sees young children as well as adults and does phone consults for those who are out of town. Be sure to tell Dr. Litano that Sarah, The Healthy Home Economist sent you and get 10% off your first visit!
More Information
More Photographic Proof Cavities Heal (Part 2)
The Disturbing Trend of Minimally Invasive Dentistry
How I Healed My Child's Cavity
Toddler's Severe Tooth Decay Halted in 5 Days
Resolving Periodontal Problems with Bone Broth
Coconut Oil Stops Strep Bacteria from Damaging Tooth Enamel
Avoiding Root Canals with Diet
Could the Cause of Your Illness Be Right Under Your Nose?