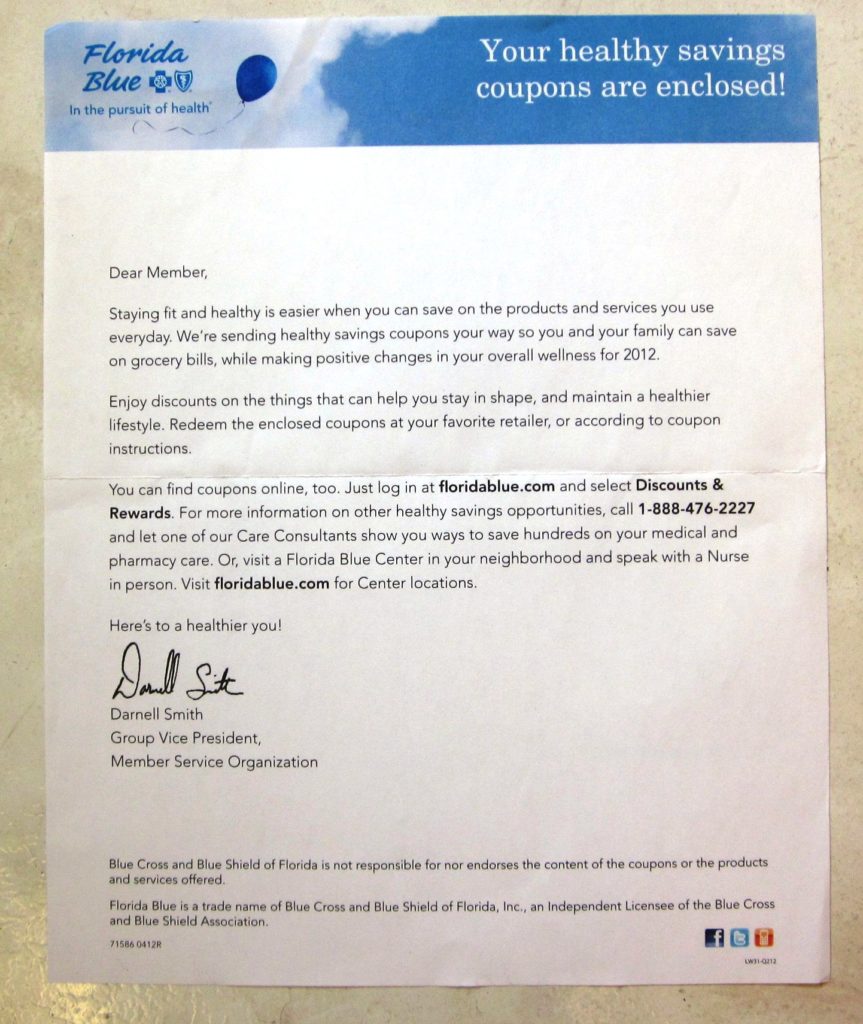 America is sick and fat and sadly, this includes our children.
As advocates of Traditional Diet and movement, most readers of this blog are doing everything in their power to avoid this by eating right and exercising correctly.
One would think our government and healthcare system would encourage the same. Well wake up Cinderella, that is just another fairytale.
Let's take a look at the real world.
You won't believe what I recently received in the mail from Blue Cross and Blue Shield, a large provider of sickcare healthcare in the United States.
No doubt, Blue Cross and Blue Shield (BCBS) is a well-respected insurance company. I am grateful to be able to afford the necessary coverage and it has come in handy in recent years. However, they, like other companies providing medical coverage, are contributing to sickness and obesity rather than encouraging the eating and movement habits that will improve the health of America.
Take a look at the coupons which accompanied the letter above.
"In the pursuit of health". . . really? Let's look at these coupons one by one:
Sugar Free Cookies: zero cholesterol! Ingredients: Enriched wheat flour (flour, niacin, reduced iron, thiamine mononitrate, riboflavin, folic acid), maltitol, vegetable oil (canola, soybean, palm and palm kernel, sunflower), sugar-free chocolate chips (maltitol, chocolate liquor, cocoa butter, soy lecithin, vanillin), natural and artificial flavor, salt, sodium bicarbonate, eggs, acesulfame potassium, whey, artificial color (FD&C yellow #5, FD&C yellow #6). (5501206).

Well I'll spare you great detail and cover this one with the artificial sweetener clause [These are not food! Creepy laboratory products with sketchy safety record. Artificial sweeteners have been shown to produce an insulin response.] Not to mention the inclusion of refined grains and vegetable oils—known contributors to Metabolic Syndrome along with a cocktail of chemicals.
Suggestion: Eat some fruit w/ raw cream or raw cheese.  The natural cholesterol is beneficial to health.  It is the processed cholesterol in factory foods that is to be avoided.
Hellmann's Mayo w/ Olive Oil: sounds great and there is olive oil in it. However—Ingredients: water, soybean oil, olive oil, modified potato starch, vinegar, salt, sugar, lemon juice, sorbic acid and calcium disodium edta (used to protect quality), natural flavor, paprika, oleoresin. Man-made fake fats and vegetable oils—need I say more?
Suggestion: Make your own healthy mayo from quality ingredients such as olive or coconut oils.
Kellogg's Cereals "Take care of your heart": Extruded, processed grains + sugars. That'll take care of your heart all right—make the heart surgeons a little richer.
Suggestion: Nitrate/nitrite free bacon and eggs w/ some veggies or fruit on the side.   If you eat grains, make your own properly prepared, cold breakfast cereal.
Eggland's Best Eggs: Really, excuse me I thought the free range hen that ate some bugs produced the best egg?  Although this is probably the least bad out of the bunch.  Watch this eye opening video.
Suggestions: Farm fresh eggs are ideal if you are able to procure; not that bad of a substitute but opt for the cage free organic if going with Egglands.
Hormel Natural Choice: Ingredients: Turkey Breast Meat, Water, Salt, Potato Starch, Turbinado Sugar, Rice Starch, Carrageenan (from seaweed), Baking Soda, Celery Juice Powder, Lactic Acid Starter Culture (not from Milk). Not the worst I've seen but we can definitely do better. Not a big fan of potato starch and sugar on my meat but it's probably better than McDonalds.
Suggestions: Roast a whole chicken, grass fed beef or turkey breast instead, can slice up for leftovers.
Blue Bunny Sweet Freedom: Certainly not freedom from disease!  This is from their Vanilla ice cream:
INGREDIENTS: Skim Milk, Cream, Maltodextrin, Polydextrose, Sorbitol, Contains less than 1% of Glycerine, Propylene Glycol Monoesters, Mono And Diglycerides, Guar Gum, Carob Bean Gum, Vanilla Extract and Artificial Vanilla Flavor, Cellulose Gel, Cellulose Gum, Annatto for Color, Carrageenan, Acesulfame Potassium, Sucralose, Vitamin A Palmitate.
and this is from their Caramel and Vanilla Swirl Bars
INGREDIENTS: Light Ice Cream: Milk, Skim Milk, Maltitol, Inulin, Polydextrose, Cream, Citrus Fiber, Propylene Glycol Monoesters, Mono And Diglycerides, Guar Gum, Carob Bean Gum, Carrageenan, Natural and Artificial Flavors, Caramel Color and Annatto Extract for Color, Sucralose, Vitamin A Palmitate. Chocolate Flavored Coating: Vegetable Oil (Coconut, Soybean) , Lactitol, Cocoa Processed With Alkali, Whey, Chocolate Liquor, Soy Lecithin, Sucralose, Vanillin.
Hmmm, anyone know another name for Propylene Glycol? Try "edible" anti-freeze.
Suggestions: Make your own homemade ice cream from raw dairy. Next best is store bought organic with minimal ingredients but have in moderation occasionally.
Sensa Weight Loss Product: What exactly is in SENSA®?
SENSA® contains Maltodextrin (Derived from Corn from the USA), Tricalcium Phosphate, Silica, Natural and Artificial Flavors. SENSA® also contains Soy and Milk ingredients. SENSA® is sodium-free, sugar-free, calorie free, and there are no stimulants, drugs or MSG.
Suggestions: A Primal and/or Traditional Diet and proper exercise, it's not rocket science.
Summary of our healthcare system?  The blind leading the blind.
Smart folks these days are switching to health care sharing instead.