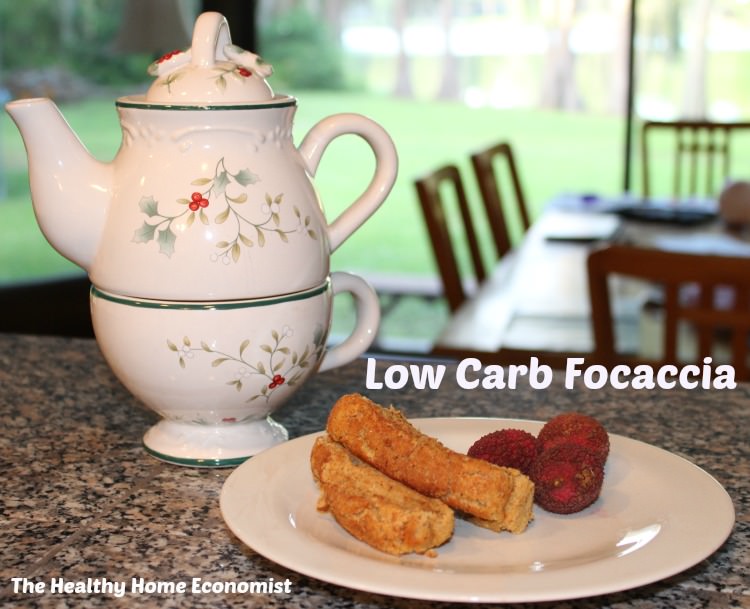 I've been puttering around in the kitchen this summer experimenting with different gluten free and grain free flours both alone and in combination. In particular, I really wanted to nail a low carb homemade focaccia recipe.
Learning how to easily bake delicious breads, cookies and pastries with various flour combos – both grain and non-grain based – is something I am very much interested in mastering. 
My reasons are mostly practical …. baking is a very easy way to successfully incorporate a variety of grains and nuts into my family's diet.  For example, one of my children won't eat almonds but will happily eat the ginger snaps I make with sprouted almond flour.
I must admit, though, experimenting with flours is just plain fun even when a dish doesn't turn out exactly as I had hoped!
Homemade Focaccia
Low carb focaccia is one recipe I recently made which my family thoroughly enjoyed.  You can see the focaccia end result in the picture above paired with seasonal, organic lychee fruit.
I prefer to make this particular focaccia recipe using almond flour and sorghum flour. While this flour pairing is gluten free and low carb, if you wish it entirely grain free you can go one step further and substitute cassava or arrowroot flour for the sorghum to make a Paleo style focaccia.
How will you make this focaccia if you decide to try it?  Gluten free or entirely grain free?
If you enjoy this low carb focaccia, try this Paleo Irish soda bread or Paleo Honey Bread too.
If you like to mix up your baking flours like I do for variety, check out this definitive guide on how to make gluten free flour.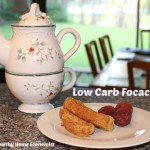 Low Carb Portuguese Focaccia Recipe
Enjoy this delicious and nourishing low carb Portuguese focaccia recipe which is gluten free with a grain free Paleo style option.
Instructions
Beat the egg yolks with the sugar until just mixed. Gently beat in the sorghum (or arrowroot) flour and then the almond flour.

Beat the whites of the eggs with a pinch of sea salt until stiff. Gently fold them into the batter being careful not to overmix.

Bake for 30 minutes at 350 F/177 C or until a knife inserted in the center comes out clean.


Serve focaccia alone as a delicious gluten free coffee cake or as a light dessert sprinkled with sucanat powderized in a food processor or freshly ground cinnamon.

Recipe Notes
Substitute arrowroot or cassava flour for sorghum if desired for a grain free focaccia.
Substitute sucanat for coconut sugar if desired or use date syrup for a GAPS friendly focaccia.
 If you don't have oranges on hand, you may substitute 1/4 cup lemon juice plus 2 Tbl water plus 1 tsp orange extract. 
Sarah, The Healthy Home Economist