Table of Contents

[Hide]

[Show]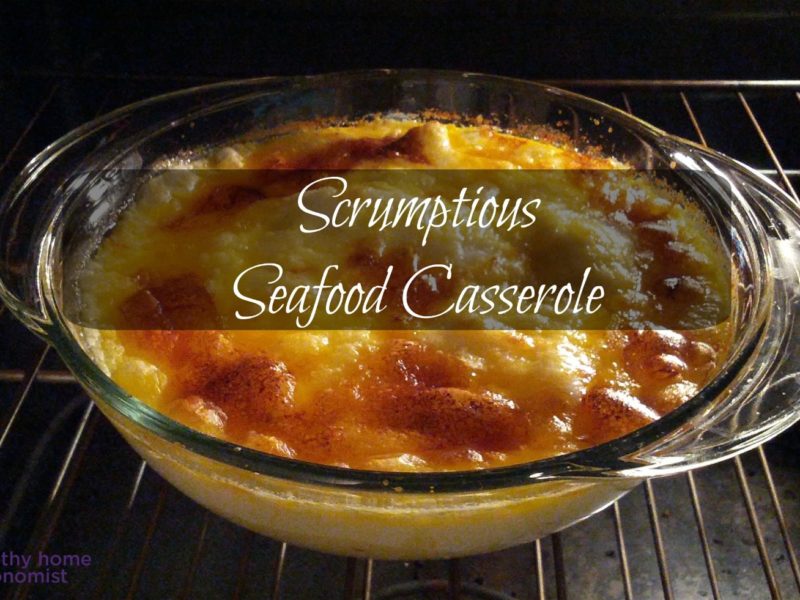 This past weekend was my birthday and to celebrate, my husband suggested we go out to my favorite Brazilian steak restaurant. If you've never been to a Brazilian steak restaurant before, you really need to go as it is an unforgettable cultural experience and the food is incredible.
The truth is, though, having recently returned from vacation where we ate out every meal for over 10 days, I was tired of restaurants and really just wanted a quiet dinner at home – ideally with someone else doing the cooking!
I am fortunate that my husband is a sensational cook, although he doesn't tend to put on his chef's hat all that often.  For special occasions and holidays, however, he will gladly don his apron emblazoned with the words "The Expert" and go to town in the kitchen.
I really was in the mood for some fresh seafood, so Richard suggested that he make his famous seafood casserole, which is one of my all-time favorites.
Cheesy, Creamy Seafood Casserole
I can't believe I've never posted this seafood casserole recipe before in all the years hubby has been making this special dish for me!
The seafood casserole turned out spectacular as it usually does, but the highlight of my birthday dinner was definitely the surprise post-dinner show where the kids played "Birthday" on Beatles Rock Band with my youngest doing a shockingly proficient job on the drums.  I geeked out with a few '80s dance moves over on the side during the performance, and we were all howling with laughter by the end.
The great food and good fun made for a very memorable birthday celebration!
Remember to save the shells from the crustaceans to make either lobster stock or shrimp stock afterward to follow-up this great dish with a delicious seafood-based soup of choice.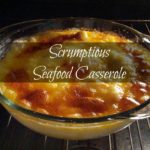 Cheesy and Creamy Seafood Casserole Recipe
This recipe for seafood casserole is so cheesy and creamy your family or guests will be sure to want seconds. Bonus, use the shells from the lobster or prawns for making delicious seafood stock.
Instructions
Lightly saute garlic in butter. Line the bottom of glass casserole dish with the shrimp and lightly salt and pepper.

On top of the shrimp, layer the white fish and lightly salt and pepper. Sprinkle the crabmeat on top of the whitefish.

Drizzle in the sauted garlic and butter evenly. Pour in the fresh or lightly soured raw cream.

Generously cover the entire seafood casserole with slices of mild, grassfed cheese.

Place the seafood casserole dish in a preheated 400 °F/ 204 °C oven for 25 minutes.

Check that the seafood casserole is simmering throughout - it needs to have been simmering for a least 5 minutes to ensure all the seafood is cooked.

Broil for 5 additional minutes to brown the cheese on top.

Serve seafood casserole immediately.

Cool and refrigerate leftovers.
Recipe Notes
Substitute 3-4 small lobster tails instead of the shrimp if desired.