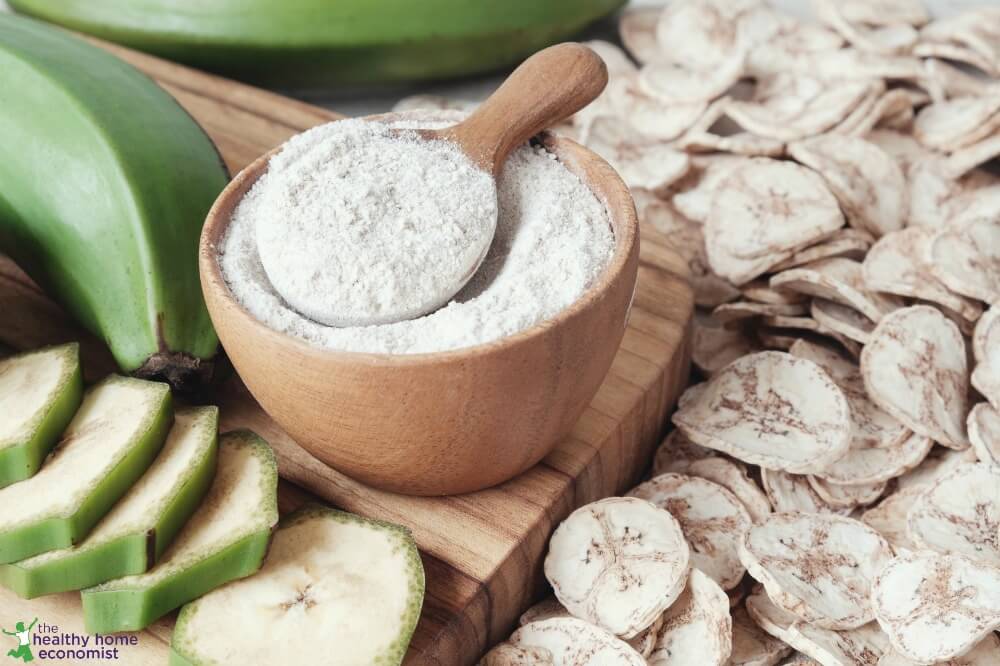 As more people become aware of the science-backed belly reducing benefits of resistant starch, quality sources such as raw banana flour are flying off the shelves.
With GMO bananas on the horizon and conventional crops highly sprayed, using organic green banana flour is the safest way to go. If you've checked the prices on organic banana flour lately, though, you've probably been shocked at the cost!
Making Organic Green Banana Flour is Thrifty
A small one-pound bag of organic green banana flour runs about $10-15. Buy it in bulk and you might get it for around $7/pound.
If you add 2-3 tablespoons to your morning smoothie to get the therapeutic dose of 15-30 grams of resistant starch each day, you'll use up a whole bag in one week!
If spending upwards of $30+ per month solely on banana flour (for one person!) seems expensive, consider making your own.
I am fortunate to have nearly a dozen banana trees in my backyard, so picking a bunch to make homemade green banana flour is convenient and free.
If you buy a bunch at the health food store, it won't be free but it will still cost less than buying pre-made.
Homemade Banana Flour
If you have a food dehydrator, making homemade banana flour is not only thrifty, it is quite easy too.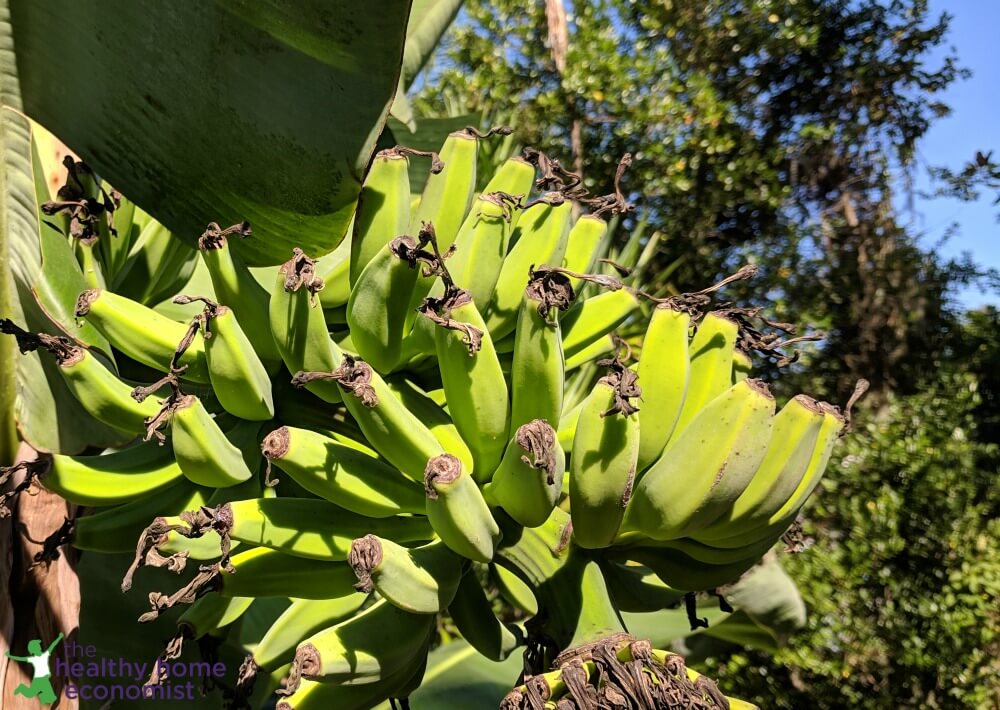 The bunch of green bananas in the picture above makes about 1 pound of organic flour with very little effort!
If you don't have a stainless steel dehydrator, then you can use a warm oven with the pilot light on. Another option is to use a convection oven.
My convection oven above the range has a dehydrator option. I am able to set the temperature as low as necessary to keep the banana flour raw during the drying process to preserve all the health benefits.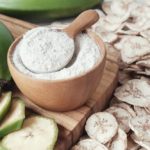 Homemade Raw Green Banana Flour
Fast, easy and thrifty recipe for making homemade banana flour that is raw and high in health-boosting resistant starch necessary for optimum gut health.
Total Time
6
hours
5
minutes
Ingredients
1

large bunch

green bananas

preferably organic
Instructions
Peel and slice bananas into circles about 1/4 inch thick.


Arrange the pieces side by side (do not stack or make a pile) on dehydrator sheets or cookie sheets (if using a warm oven or convection oven).


Set the dehydrator or oven to 115 F/ 45 C and dry out the banana slices for about 6 hours. If your oven won't go that low, consult the user manual as most ovens can be adjusted lower if necessary. Alternatively, use only the pilot light for a gas range.


When fully dry, remove the banana chips and cool.


Place the chips in a food processor and pulse until a smooth flour.

Store banana flour in airtight containers in the pantry or the refrigerator. It will remain fresh for several months in the refrigerator.
Recipe Notes
In addition to flour, you can use the dehydrated banana chips to make a great snack by lightly toasting in unrefined avocado oil.
Nutrition Facts
Homemade Raw Green Banana Flour
Amount Per Serving (1 tablespoon)
Calories 40
% Daily Value*
Sodium 5mg0%
Potassium 65mg2%
Carbohydrates 10g3%
* Percent Daily Values are based on a 2000 calorie diet.
Recipes Using Banana Flour
Need to know what to do with your homemade green banana flour besides adding it to smoothie recipes? Try this blueberry banana grain-free muffins recipe.
This Paleo biscuits recipe and this grain-free waffles recipe are delicious using banana flour.