by Sarah TheHealthyHomeEconomist
May 22, 2011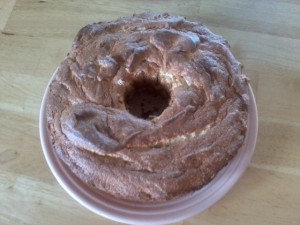 What child doesn't love angel food cake?   Light and fluffy with tongue tantalizing texture, angel food cake is an all time favorite especially for little girl birthday parties!
Dolores Clark, a great grandmother who lives in Dade City FL recently sent me a grain free version of this traditional favorite.  Her grandkids have tested it and given it the thumbs up!
Dolores loves to cook and tackle any food challenge.  Though relatively new to healthy eating, she is making rapid strides and is a great example to her family as she learns the new skills of Traditional Cooking later in life!
* This recipe is a great way to use up all those pastured egg whites leftover from putting egg yolks in homemade ice cream or breakfast smoothies!
Grain Free Angel Food Cake
Ingredients
1/3 cup coconut flour (sources)
1/3 cup plus 2 TBL arrowroot powder (sources)
1 1/2 cups sustainably sourced coconut or palm sugar  (sources)
1 1/2 cups egg whites (about 12)
1 1/2 tsp cream of tartar (sources)
1 1/2 tsp vanilla (sources)
1/2 tsp almond extract (sources)
1/4 tsp sea salt (sources)
Instructions
Run coconut or palm sugar through the food processor to achieve a fine texture.   Mix coconut flour, arrowroot powder, and 3/4 cups coconut or palm sugar in a bowl with a wire whip and set aside.
In a second bowl, whip egg whites, cream of tartar and salt until foamy but not stiff. Slowly add (2 TBL at a time) remaining coconut sugar. Whip until stiff peaks form. Fold in vanilla and almond extract.  With a rubber scraper or whisk, carefully fold the flour mixture into the egg whites mixture adding 2-3 tablespoons at a time.
Put into tube pan.  Bake at 375F for 30-35 min or until the top of the cake springs back when lightly touched.
Remove from oven and invert to cool.
NOTE:  This cake has a lovely caramel flavor and is moister than regular angel food cake but with similar texture.  It also doesn't rise quite as high as regular angel food cake.
Sarah, The Healthy Home Economist