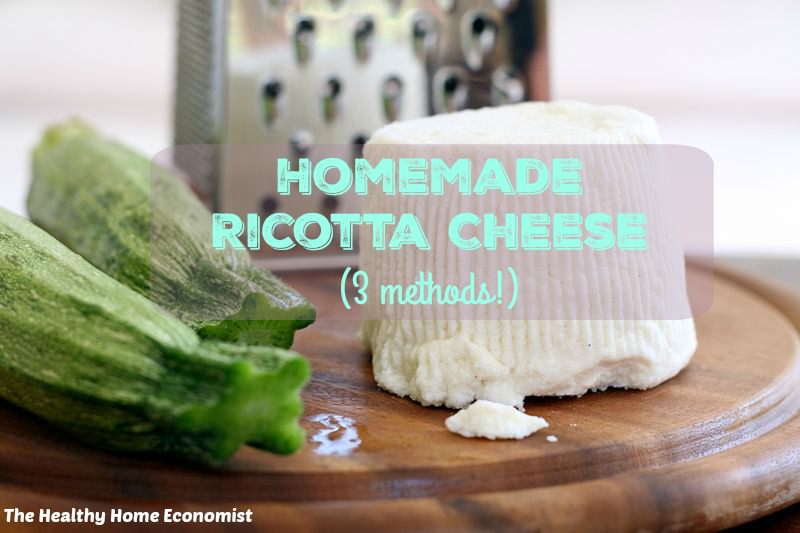 If you are interested in trying your hand at making cheese, ricotta is a great one to try first.
The deliciously sweet, creamy ricotta curds are slightly off white in color with a taste and texture a bit reminiscent of cottage cheese or quark.
The great news is that messing up ricotta is just about impossible! It is one of the easiest and perhaps the best cheese you will ever attempt. The results are so delectable you will no doubt be making it over and over again.
I first learned to make ricotta along with a number of other cheeses 6 years ago when an expert cheesemaker from Wisconsin (where else?) who was planning a vacation in my area emailed me and asked if I would host a cheesemaking class in my home.
The class turned out to be extremely fun and informative and the techniques I learned I have continued to use to this day.
Homemade Ricotta – 3 Different Ways!
There are 3 different ways to make ricotta that I have discovered over the years in addition to the one approach I learned in that beginner cheesemaking class. All three approaches are overviewed in the video lesson below. In addition, the simplest method of the three is included as a written recipe.
Choose whichever method suits you best with whatever type of milk or whey you have on hand.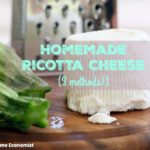 Homemade Ricotta Recipe
Recipe for the easiest of the three different methods for making homemade ricotta.
Instructions
Pour slightly sour raw milk into a large stockpot. If the raw milk is very sour or slightly clabbered, do not use as the ricotta will not turn out sweet.

Put stockpot on large burner and turn on to medium-high heat. Keep a close eye on the pot. Within 5-10 minutes, the milk will start to separate as shown in the photo. Remove pot from heat immediately. Overcooking will destroy the delicate texture of the ricotta.

Line a stainless steel colander with a fine mesh cheesecloth folded in half. Place the lined colander into another large pot and carefully pour in the warm, separated raw milk.

Let the whey drain from the ricotta cheese for 30 minutes to 1 hour. The longer you let the ricotta drain, the firmer it will be. Keep this in mind so that you achieve the desired consistency for whatever dish you plan to make with the ricotta.

Scrape out ricotta from the cheesecloth and use in a dish immediately such as lasagna or store in an airtight container in the refrigerator. It will last about a week refrigerated.
Homemade Ricotta Video Demonstration
More Homemade Cheese Recipes to Try
If learning to make cheese is exciting to you, check out my other cheesemaking posts here:
Sarah, The Healthy Home Economist