How to make a natural hair gel using flaxseeds for safe, nontoxic hair care. Works especially well for curly heads!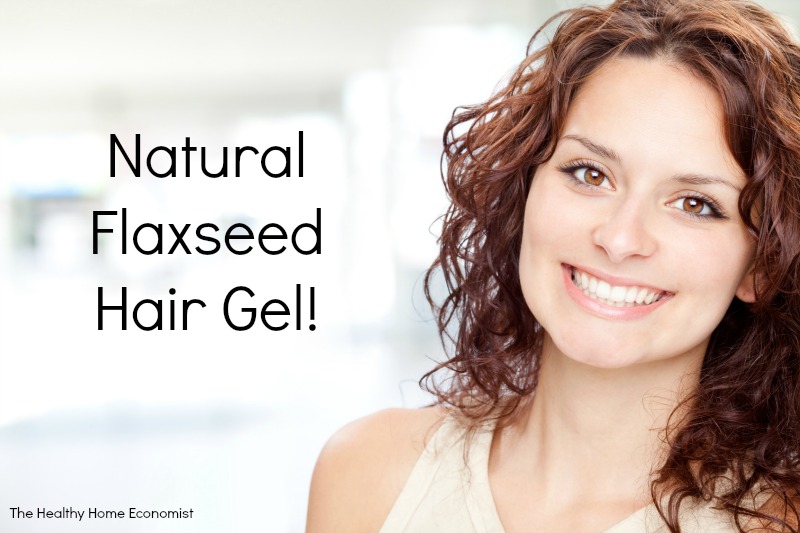 I first learned about how to make a natural flaxseed hair gel from a friend who told me that she was looking into making some herself at home.
She suggested I look into it also as we both have long curly hair.
I started researching the idea of making this personal haircare product for myself right away as I found the concept intriguing. I've had success in the past making rice water for hair, and I also blend my own deep conditioning hair mask. So why not try my hand at making gel too?
I scoured the internet for various recipes and started experimenting to see which would work best for my type of hair. (1)
In the video included with the recipe below, I demonstrate the best natural hair gel formulation I tried for curly or wavy hair, and it only takes about 10 minutes to make!
Commercial vs Natural Hair Gel
If you use store hair gel, I would recommend that you give this homemade gel a whirl and see what you think.
If you've ever checked the label on commercial hair gels, you know that they are loaded with chemicals and synthetic fragrances.
Even though these toxins aren't going to absorb into your bloodstream like they would if you slathered it on your skin, these chemicals still get on your pillowcase at night potentially contacting your skin while you sleep.
In addition, anything on your hair is close to your nose so you would breathe in the hormone-disrupting fragrances.
I would particularly recommend this natural hair gel if you are pregnant or nursing as you don't want to come into daily contact with the toxins that could potentially harm your baby.
Do you make your own homemade, natural hair gel? If so, please share your recipe in the comments section!
The natural hair gel I demonstrate in the video below is made with flax seeds, but there are many other ways to make it.
Don't worry that you can't use this recipe if you have thyroid issues because flax seeds are a bit goitrogenic.
While this would be a problem if you ate them, putting them on your hair is fine!
Homemade Hair Gel How-to Video
Flaxseed Hair Gel Recipe
Makes about 4 oz
Ingredients
1 cup filtered water
2 Tbl organic whole flax seeds (sources)
Few drops of essential oils for natural fragrance (optional)
Few drops of aloe vera gel for a moisturizing effect (optional)
Directions
Bring the cup of filtered water to a boil. Stir in the flax seeds, turn down the heat to medium and let simmer for between 7-10 minutes.
*Do not simmer longer than 10 minutes else you won't be able to strain out the flax seeds from the gel.
Strain out the flax seeds using a strainer or fine cheesecloth and let the gel cool. Mix a few drops of essential oils and/or aloe vera if desired.
Pour natural hair gel into a small bottle and use immediately or refrigerate.
Pour a dollop into the palm of your hand and mix through wet hair as frequently as desired.
Because this natural hair gel has no preservatives, it will last about 2 weeks in the refrigerator.
I've not frozen this natural hair gel before as I prefer to use it fresh or cold out of the fridge. But if you've tried it, let us know if it maintains the proper consistency when it thaws!