Table of Contents

[Hide]

[Show]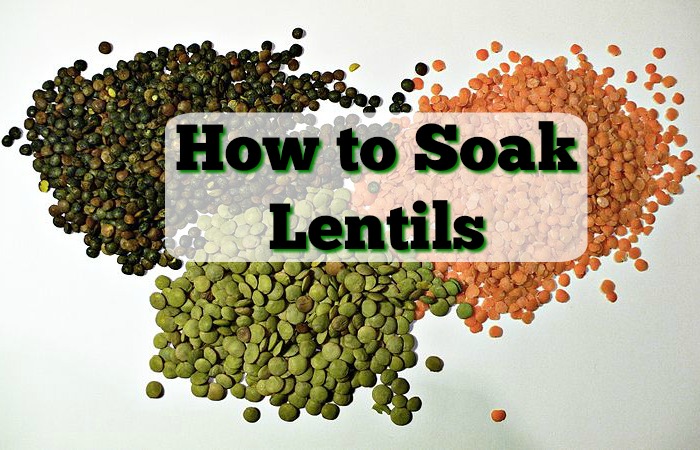 Soaking lentils play a critical part in my traditional cooking repertoire. Low in phytic acid and other anti-nutrients, lentils require only a quick soak before they are ready to cook – unlike beans. If you sometimes have trouble digesting beans like I do, even when properly soaked and cooked, lentils are a wonderful alternative.
There are 3 types of lentils: green, brown, and red. I typically use green lentils as they hold their shape very well after cooking, but I have recently found the red lentil to be simply delightful in soups.
When combined in a dish with homemade stock as shown in this week's video, lentils make an economical, nutritious alternative to meat. The gallon of lentil soup I make in this video only costs about $5 – and I used organic vegetables and organic lentils! This is about 25 cents a serving!
Even the cheapest fast food can't beat that!
In tough economic times, incorporating lots of lentils into your meals is a smart way to keep the food budget in check without sacrificing anything in nutrition!
Incidentally, Dr. Weston A. Price considered lentils to be the most nutritious of all legumes as they are loaded with potassium,, calcium, zinc, iron, and B vitamins. I first learned this at the 2007 Wise Traditions Conference during Sally Fallon Morell's talk on "Breakfast, Lunch, and Dinner'. The soup recipe I show you how to make in this video is an adaptation of the lentil soup recipe Sally discussed during that seminar.
I hope you enjoy it as much as my family has over the past few years!
Why Bother Soaking Lentils?
As discussed in the video above, soaking lentils prior to cooking significantly enhances the nutritional value of these tasty legumes. It is a process similar to soaking nuts.
In fact, healthy traditional cultures took great care to soak seeds of all kinds before eating.
Lentils are seeds too!
Soaking virtually eliminates hard to digest lectins, which can cause discomfort and encourage weight gain in some people.
If time is a concern, you can soak large batches of lentils, rinse/low temperature dry and then freeze. This way, when you want to make a recipe using lentils, you can just grab some out of the freezer and cook immediately rather than have to wait several hours or overnight to soak some first.
If you wish to save even more time, you can skip the step requiring soaking lentils and use sprouted lentils instead. I have actually switched over to using sprouted lentils most of the time now that quality organic ones are available at the health food store.
You can use either organic sprouted green lentils or the sprouted lentils trio (black, red, and green lentils). The trio is my favorite.
Be sure to never use the water from soaked beans, lentils, or any other legume for cooking. This modern practice, known as aquafaba, is not traditional. Worse, it is risky to your digestive health.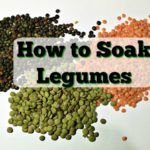 Soaked Lentils Recipe
Simple recipe for soaking lentils and other legumes to neutralize anti-nutrients so once cooked, their full nutritional value can be enjoyed.
Instructions
Put lentils in a large pot and fill with filtered water.

Stir in liquid whey, put lid on the pot and leave on the counter for about 7 hours but no more than 18.

Drain soaking water and rinse drain lentils again.

Your lentils are now ready for cooking and you may use them in whatever dish you choose or proceed to the next step to make lentil soup.
Recipe Video
Recipe Notes
Red lentils basically disintegrate after cooking, so only soak them for use in soup recipes.
Apple cider vinegar or lemon juice may be substituted for the liquid whey.
This recipe works for split peas too!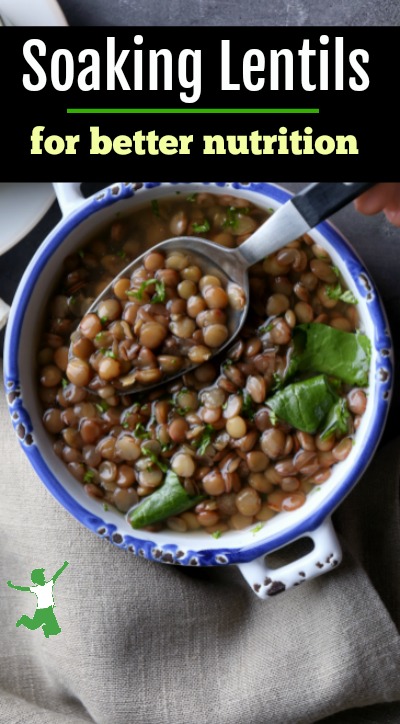 Recipes Using Lentils after Soaking
This basic lentil soup uses soaked lentils as the base. Others to try include curried lentil soup, a delicious variation of the soup recipe above. Another recipe to try using soaked lentils is German lentil soup.
Makes approximately 1 gallon of soup
Ingredients
3 cups red or green lentils, soaked for 7 hours, rinsed and drained (alternatively, use organic sprouted lentils instead).
3 organic onions, peeled and chopped
3 carrots, peeled and sliced
2 TBL butter
2 TBL extra virgin olive oil
2 quarts homemade stock (beef or chicken broth, turkey bone broth, pork broth or rabbit broth (half stock, half filtered water may be substituted)
1/2 tsp green peppercorns, ground
1/8 – 1/4 cup fresh lemon juice
Sea salt to taste
Instructions
In a large pot, cook onions and carrots in butter and extra virgin olive oil until soft (about 20-30 minutes). Add stock and lentils and bring to a boil. Skim off foam that rises to the top just before boiling with a large, slotted spoon. Reduce heat and simmer until lentils are tender – about 20 minutes. Remove from heat and stir in lemon juice and curry paste if desired.
Blend soup with a handheld blender right in the pot. Taste. Add ground green peppercorns and sea salt as desired.
Sources: Nourishing Traditions Cookbook