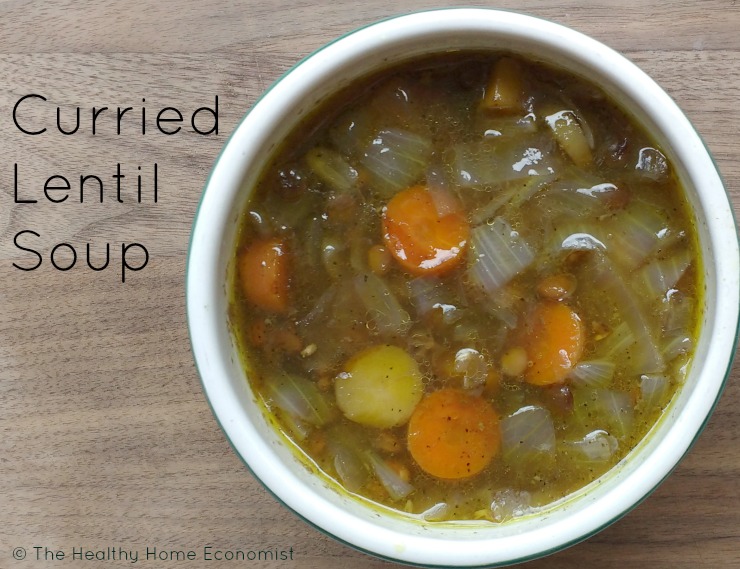 When it comes to traditional cooking, this soup made by soaking lentils and then simmering in a base of authentic bone stock is one of the most economical as well as satisfying meals I make for my family.
This soup keeps very well in one quart containers. Making a gallon or more and freezing several quarts for healthy fast food on busy days is a very smart kitchen technique which saves time and stress.
I don't know about you, but I'm all about low stress in the kitchen. Anxiety while trying to get healthy food on the table seems counterproductive to why you're cooking in the first place!
Lentil Soup is Easy on the Budget
Lentil soup is not only a good choice for bulk cooking. It is also one of the most budget friendly meals you can make for your family. I make a gallon for only about $5 using all organic ingredients!
Sally Fallon Morell, President of the Weston A. Price Foundation, told me once that when her children were in high school and bringing lots of friends home for dinner, she would make lentil soup frequently to feed all the hungry mouths in a very economical manner!
For those of you who are Dr. Weston A. Price fans, lentils were one of his favorite legumes because of their very high phosphorous content. Dr. Price loved phosphorus; it is the second most plentiful mineral in the body. It plays a role in maintaining the body's acid/alkaline balance, something many folks struggle with today given the high levels of inflammatory diseases which trace their roots to over-acidity in the body.
To Sprout or To Soak?
When it comes to lentils, soaking or sprouting are equally beneficial for releasing nutrients and improving digestibility in my experience. Having a bag sprouted lentils in the pantry is certainly an easy way to go with no prep required. But, soaking a big pot of lentils ahead of time and having a container in the freezer works well too. It is really up to you and how you prefer to run your kitchen.
I used to soak lentils for soup most of the time until sprouted lentils became easily available at the health food store. At that point, I switched as I found it saved me time. If sprouted green lentils are not available, you can also make this very same lentil soup recipe with soaked lentils. This article on how to soak lentils gives you the detailed instructions and visual how-to.
Just know that soaking the lentils for 24 hours adds an additional step that takes a bit of planning to pull off. If you tend to be more of an ad-hoc cook, stick with sprouted green lentils so that you can make a pot quickly whenever you want.
While soaking and cooking lentils is the best way to prepare them for maximum digestibility, it is best to never use the legume cooking water for other purposes such as for an egg replacement. This method is popular in some alternative cooking circles, but is not a healthy nor traditional practice.
Lentils with Curry

Serve this lentil soup by itself, over basmati rice, wild rice or couscous — whatever suits your fancy. This soup is also wonderful served with a side of garlic bread.
If you love this lentil soup recipe and would like to try another variation, this hearty and nourishing German soup with lentils is another one of my family's favorites.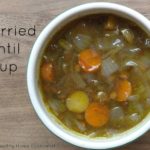 Curried Lentil Soup Recipe
This curried lentil soup recipe is very hearty and nourishing when prepared with traditional broth and is so satisfying it serves as a meal in itself.
Instructions
In a large stainless steel, titanium, or glass pot, cook chopped onions and carrots in butter and olive oil on medium/low heat for about 1/2 hour until soft.

When the vegetables are soft, add stock and lentils and bring to a boil. Skim off the foam as this will improve the soup's flavor (the foam contains off flavors).

Reduce heat and add crushed peppercorns and optional green curry paste. Simmer with cover on until the lentils are soft (about 30 minutes).

Puree soup with a handheld blender if you prefer smooth soups or will be feeding it to very young children. Otherwise, leave it chunky as shown in the picture above. If the soup is too thick for your liking, add a bit of filtered water or more broth to thin it down.