This hearty and yet simple German lentil soup recipe made with soaked lentils has far and away become our family's favorite way to eat this most nutritious of all legumes!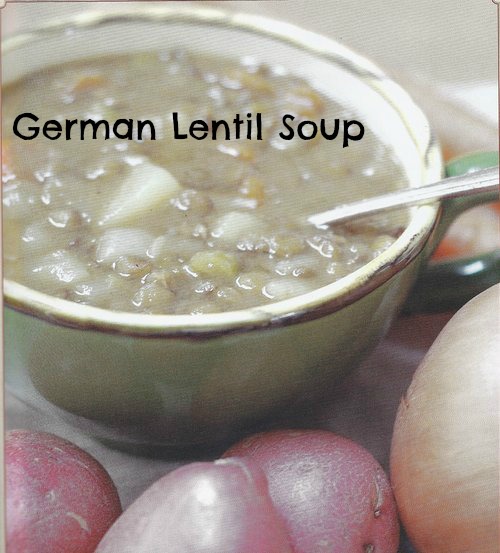 German lentil soup made with traditional beef bone broth is a regular feature on the menu in our home. The reason?  All 3 kids like it, along with Mom and Dad!
With many of my other soups, only one or two of the children like it but the third does not.  It's so nice to have a go-to soup made with nourishing, homemade broth that no one is going to complain about and everyone will eat up with smiles on their faces! As a bonus, lentils are also perhaps the most nutritious of all legumes.
Lentils were a favorite legume of Dr. Weston A. Price, author of the nutritional primer Nutrition and Physical Degeneration, because of their very high phosphorous content. Dr. Price loved phosphorus; it is the second most plentiful mineral in the body.
Phosphorus plays a role in maintaining the body's acid/alkaline balance, something many folks struggle with today given the high levels of inflammatory diseases which trace their roots to over-acidity in the body.
While soaking and cooking lentils is the traditional way to prepare them, using the cooking water for other purposes such as for an egg replacement is an unwise practice. This modern food, called aquafaba in some alternative cooking circles, is not healthy and actually carries some very serious health risks.
Homemade German Lentil Soup
I recently reviewed the newest book of Kimi Harris, who writes at The Nourishing Gourmet blog.
Her beautiful new cookbook Ladled: Nourishing Soups for All Seasons has a spectacular recipe for German lentil soup.
There are 298 soup recipes to enjoy in Ladled – even the table of contents is fun to peruse as it is uniquely and beautifully done with pictures instead of words! This hearty and yet simple soup has far and away become our family's favorite way to eat lentils of late! Another way our family enjoys soaked lentils is this recipe for curried lentil soup.
Serving Suggestions
Kimi suggests adding a drizzle of balsamic vinegar to the soup if you desire a little more tang after tasting it. You can sprinkle a bit of Parmesan or a similar cheese in each individual bowl or provide the cheese at the table for family or guests that would enjoy it.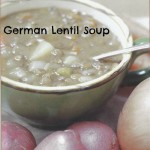 German Lentil Soup Recipe
Nourishing and hearty recipe for traditional German lentil soup that is a meal in itself.
Instructions
Soak the lentils for 12-24 hours and then drain and rinse. Proceed with recipe. Alternatively, you can use sprouted lentils and skip this step. This blended trio of sprouted green, brown and red lentils is what I use.


If you do not soak the lentils or use sprouted lentils, use up to 8 cups of broth or broth/water instead of 6 cups.

In a large pot over medium heat, cook the bacon until crispy, flipping as needed to cook evenly. Remove the bacon, place on towel lined plates and then crumble when cooled. Drain all but 2 tablespoons of the extra bacon grease from the pan. Over medium to medium-high heat, saute the onions, carrots, and garlic in the bacon grease for about 5 minutes or until softened.

Stir as needed to prevent burning. Add the potatoes, bay leaves, cumin, nutmeg, thyme, soaked (or sprouted) lentils, crumbled bacon, and broth/water. Bring the soup to a boil, turn the heat to low and cover.

Cook for 45-60 minutes or until the lentils are soft. Add up to 2 cups more water or broth if using unsoaked or sprouted lentils. Add more water as needed if the soup becomes too thick. Salt and pepper to taste and serve.
Recipe Notes
Feel free to use a garlic press instead of mincing the garlic cloves by hand.
Chicken broth or a combination of chicken and beef broth may be used. Alternatively, a combination of filtered water and broth is acceptable in a pinch.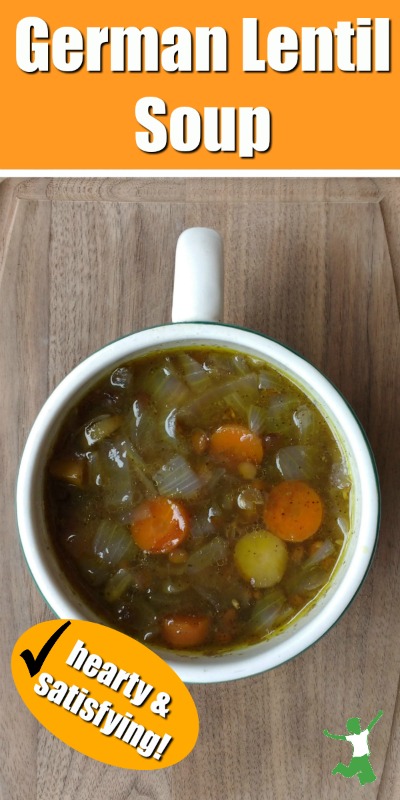 Source
Ladled: Nourishing Soups for All Seasons by Kimberly Harris