Table of Contents

[Hide]

[Show]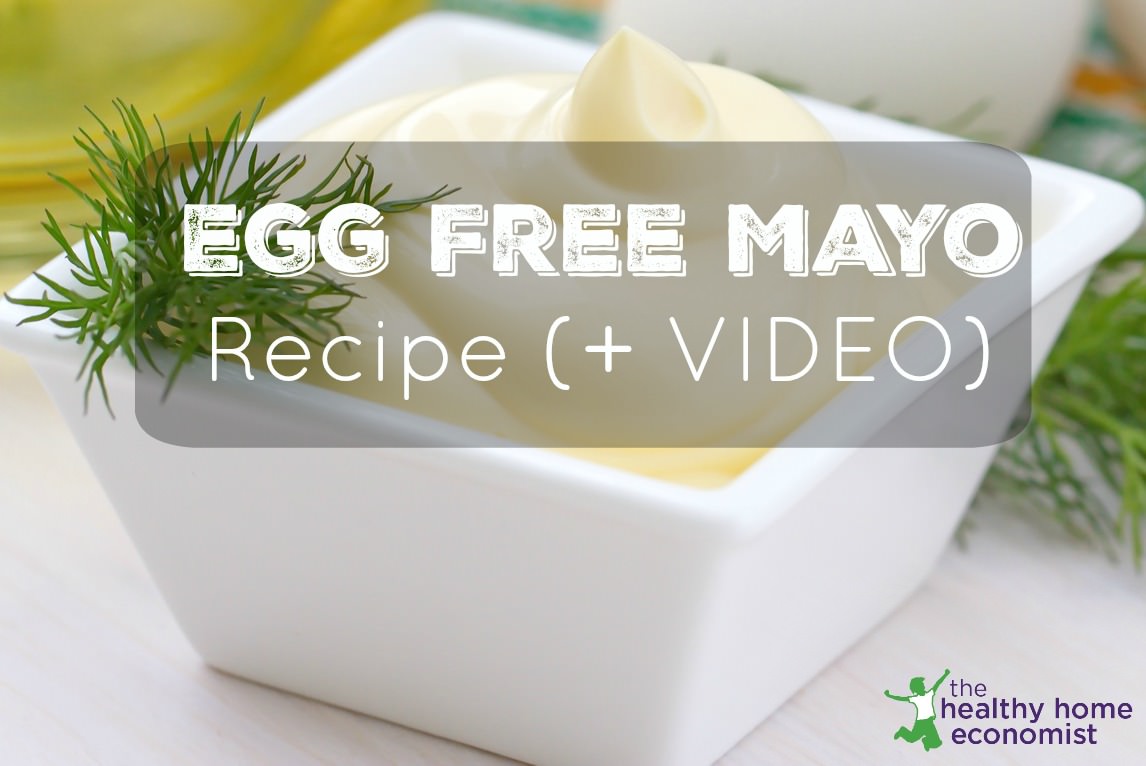 One of the very first videos I ever filmed for this blog was how to make homemade mayonnaise. In the years since I have received numerous requests for an egg-free mayonnaise version.
At long last, here is a delicious egg-free mayonnaise that I devised after a bit of experimentation. The recipe not only uses no eggs but can be dairy-free too if desired.
Mayo made without eggs definitely comes in handy if you are out of eggs and your local farm pickup is still a few days away!
If you have an egg allergy, making your own mayonnaise is really a must because the ingredients in the commercial egg-free mayo brands that I've examined are nothing short of frightening! Even homemade versions are soy-based using either soy milk or tofu which are certainly far from desirable ingredients especially if you value the health of your thyroid!
Homemade Egg Free Mayo
In this recipe, chia seeds soaked in water that thickens into an egg white-like gel is the egg substitute. Chia seeds are low in phytic acid and so are fine to use without any special preparation.
Flaxseeds could also be used if desired. Flax also becomes gel-like when soaked (it makes a great homemade hair gel too!). However, the flaxseeds would need to be strained out prior to using in the mayo recipe whereas the chia seeds are so tiny they don't require filtering.
Let me know what you think of this no-egg mayonnaise recipe if you have a chance to try it out. My husband loved it just as much as my regular mayonnaise recipe!
Another Option for Eggless Mayo
Another option to regular mayo is using homemade creme fraiche. It contains no eggs, is mild tasting and simple to make using heavy cream and a couple of tablespoons of whole milk kefir. See the link for the easy recipe!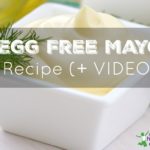 Egg Free Mayo Recipe (Easy)
Easy egg-free mayonnaise recipe which is a healthy alternative to heavily processed versions at the store. Bonus, it can be made dairy-free too!
Instructions
Stir chia seeds into quarter cup of water and let sit for about 5-10 minutes.

After the water thickens and the chia seeds become gel-like, add to a food processor along with the yogurt, lemon juice, dijon mustard and sea salt.


Slowly drizzle in the cup of oil as the food processor is pulsing which will emulsify the oil with the rest of the ingredients.


Strain out chia seeds if desired.


Use immediately. Refrigerate leftovers for up to a week.
Recipe Video
Recipe Notes
Heavy cream can be substituted for the yogurt. Use coconut yogurt for a dairy free version.