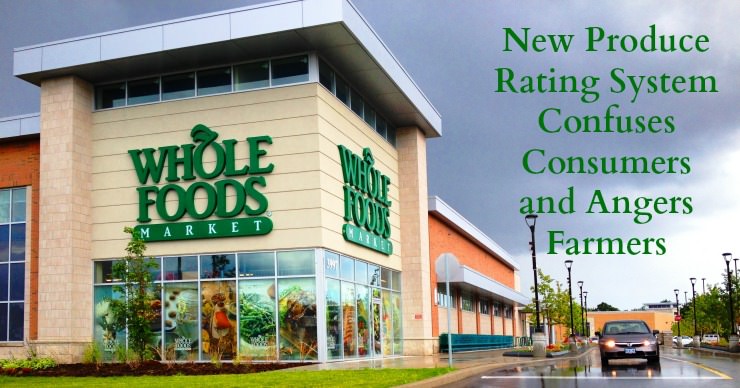 I don't shop at Whole Foods much, as I prefer to spend as many of my food dollars with local businesses and farms as possible. As for the big box natural food grocers, I far prefer Earth Fare.
I do applaud Whole Foods' efforts to showcase locally produced items, however, which is why I do stop in to pick up produce that might be available on a seasonal basis.
I've always found it confusing to shop for produce at Whole Foods, as conventional and organic selections are frequently side by side. This is not necessarily a problem all the time, as I prefer local, in-the-soil grown, conventional items to organic hydroponic ones as they taste better (an indication of superior nutrition) and they last longer in the produce bin. Several times, though, I've intended to buy organic and selected as such only to have one of the kids say, "Mom, that's not organic" to alert me that I've made a mistake.
The labels for Whole Foods produce have now gotten even more puzzling, and adept shoppers need to be on their toes so that they don't inadvertently buy an unwanted item.
Whole Foods' new ratings program called Responsibly Grown identifies produce which is deemed to be "best", "better" or simply "good".
You would think that an organically grown product would automatically get a designation above a conventionally grown one, right?
Not so.
Conventional Produce Can Be Ranked Higher Than Organic at Whole Foods
Matt Rogers, associate global produce coordinator for Whole Foods, said that the reason for the new produce labeling is because the organic label does not cover sustainability issues like water, waste, energy, and farmworker welfare. This means that at Whole Foods, conventionally grown produce from another country can earn a better ranking than organic and locally grown.
According to the New York Times, a Whole Foods in Capitola, California had given a "best" rating to a conventional variety of asparagus from Mexico that retailed for $4.99 a pound. On a nearby display, locally grown, organic asparagus selling for $7.99 a pound was only labeled "good."  Astounding.
How could a conventional farm in Mexico earn a better ranking for its produce than a local, organic producer?
The reason is the Whole Foods Responsibly Grown program which gives high priority to sustainability issues that are subjective and likely not as important to many consumers as the black and white issue of avoiding pesticides. These include: establishing a garbage recycling program, relying more on alternative energy sources, choosing to eliminate certain pesticides from its growing practices, and setting aside a portion of the farm as conservation.
Organic farmers think that the Whole Foods produce rating system is showing just how much competition the healthfood giant is facing for organic from the likes of Costco, Walmart, and now even Kroger.
Jeff Larkey, a California organic farmer, said that Whole Foods used to buy upwards of 50% of the organic produce in the United States. Now, they are competing with supermarkets, which could be one reason for the attempts to make conventionally grown produce more appealing to consumers.
Whole Foods denies this. Spokesman Matt Rogers says the new produce rating standards raise the bar for conventional farmers and inch them toward the organic label by awarding points for eliminating some pesticides, reducing water waste, and increasing conservation efforts.
Whatever the reason, Whole Foods shoppers now have yet another labeling maze to navigate.
As for me, I will stick with organic, preferably locally grown no matter what the Whole Foods rating says, unless the produce is obviously hydroponic, in which case I will seek grown in the dirt alternatives, again preferably organic!
Sources and More Information
Organic Farmers Object to Whole Foods Rating System
Whole Foods: The Walmart of Healthfood
The Hydroponic Invasion of USDA Organic
Organic Hydroponic Produce? Not for Me
4 Steps to Keep Monsanto OUT of Your Garden!
Heirloom vs Hybrid Produce
Is Organic Really Any Better?