Commercial crouton brands are loaded with questionable ingredients. Try these convenient and healthy substitutes for a satisfying crunch on salads or in soups that you can feel good about eating.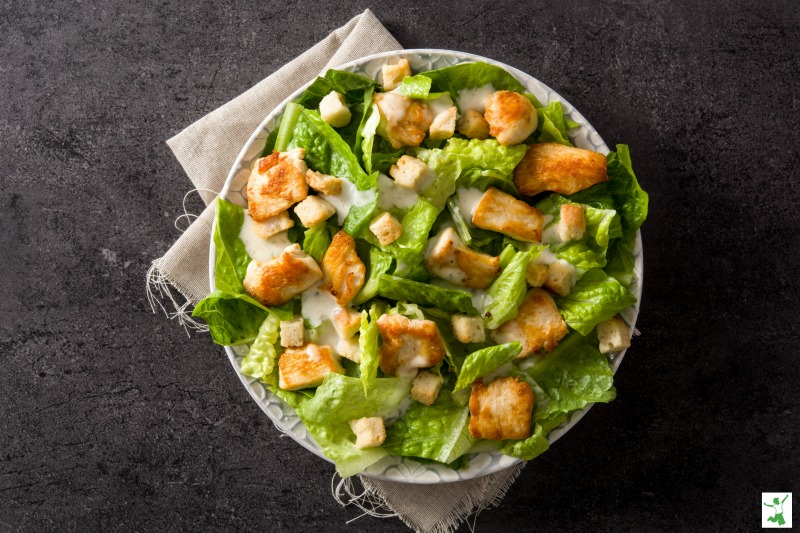 Most people enjoy the crunch and texture variety that croutons add to salads. However, barring making your own, commercial varieties are without exception out of the question. Don't even get me started on the gross ones used at restaurants. I ALWAYS order my salads when eating out without them!
This is due to the shocking number of unhealthy ingredients, including toxic refined vegetable oils like canola, MSG, sugar (why??) and the mystery catch-all ingredient "natural flavors" used by food manufacturers to hide all manner of undesirables.
I haven't even found an organic commercial brand of croutons that I would even consider buying…ever!
Not a single one I've examined is baked using a healthy fat!
Newsflash. "Organic" does not necessarily equate with "healthy".
So, what to do?
Homemade Croutons. Who Has the Time??
You could make your own, and this is a great option for those who have time.
I occasionally make a small batch if I have leftover garlic bread from dinner. I simply break them up into small pieces and dehydrate in a warm, 150 F oven for a few hours.
Making homemade croutons is definitely the exception rather than the rule in my kitchen, however!
I make so many other things from scratch, that there simply aren't enough hours in the day most of the time.
If you can relate to this dilemma, let me share with you my four favorite… easy and convenient… substitutes for commercial croutons.
Sourdough Croutons
The family-owned Midwestern bakery that delivers my real sourdough bread, bagels, and tortillas recently started offering sourdough croutons.
They are very affordable and made with only 4 ingredients:
Sourdough whole grain bread, organic coconut oil, organic fresh garlic, sea salt
Perfect! These classically inspired croutons are as healthy as I make in my own kitchen, so they make the grade for being worthy of my food dollar.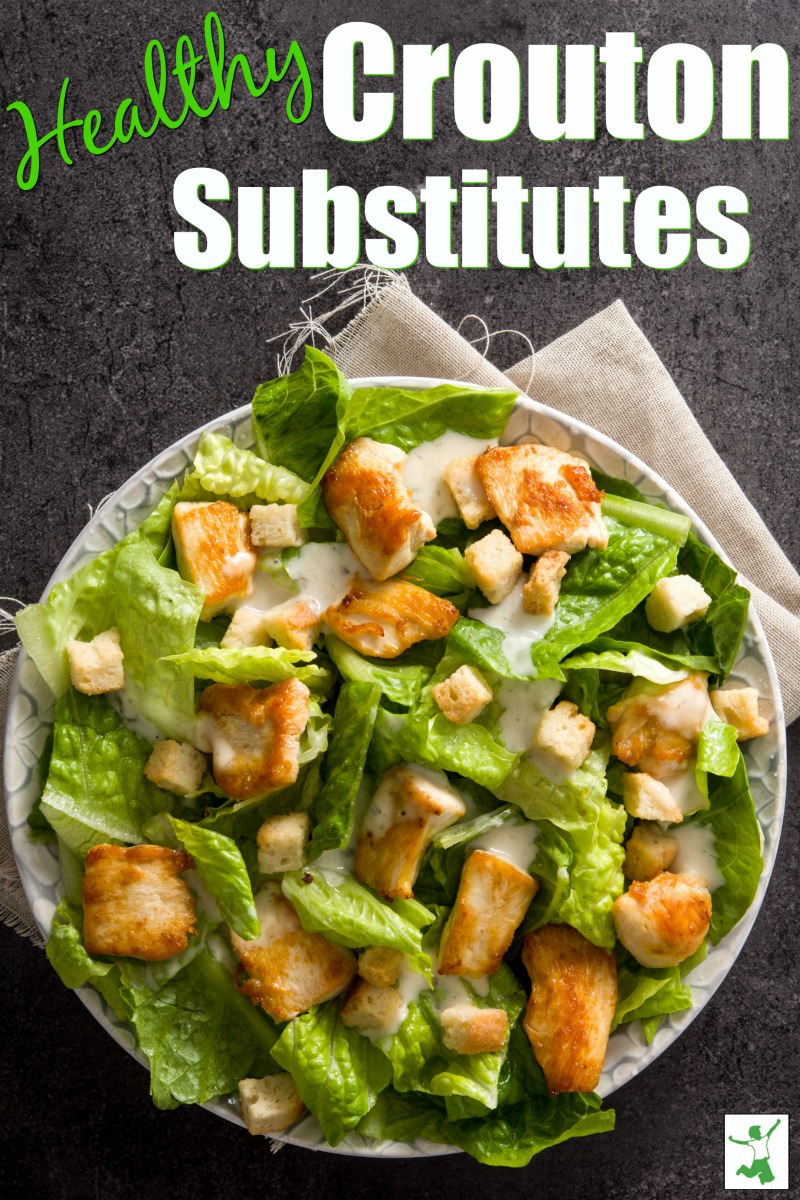 Sprouted Pumpkin Seeds
Seeds of any kind add the perfect crunch to salads. My personal favorite to use for this purpose is sprouted pumpkin seeds.
If you want a more flavorful zing, you can transform raw pumpkin seeds into pepitas, which I call "paleo croutons".
Other types of soaked or sprouted seeds would also be an excellent choice. Pine nuts would be a close second for me 🙂
Dried Cheese Bits
Dehydrated cheese bits make an excellent topping for a salad in place of croutons.
This type of cheese is completely shelf-stable for months. They are packaged in reclosable pouches that you can take anywhere. Great for lunchbox salads too.
Choose the one you like based on whether you prefer mild, medium or spicy: Cheddar, mozzarella, gouda, sriracha, and pepper jack.
Raw Nuts
Raw nuts are a typical salad topping. But, they actually aren't that digestible in this form.
Soaked or sprouted nuts on a salad give you the same crunch and delightful texture in a more nutritious form that is much easier on your stomach.
Some people have reported to me over the years that they could never tolerate raw nuts until they started preparing them in this traditional manner. Now they enjoy them all the time.
If you don't have time to sprout or soak nuts at home yourself, you can find almost every kind here.
What types of crouton substitutes do you use in your home to avoid the toxic commercial offerings?