Authentic sugar cookie recipe from the early 1900s using old-fashioned, whole ingredients with a flavor most have never experienced before!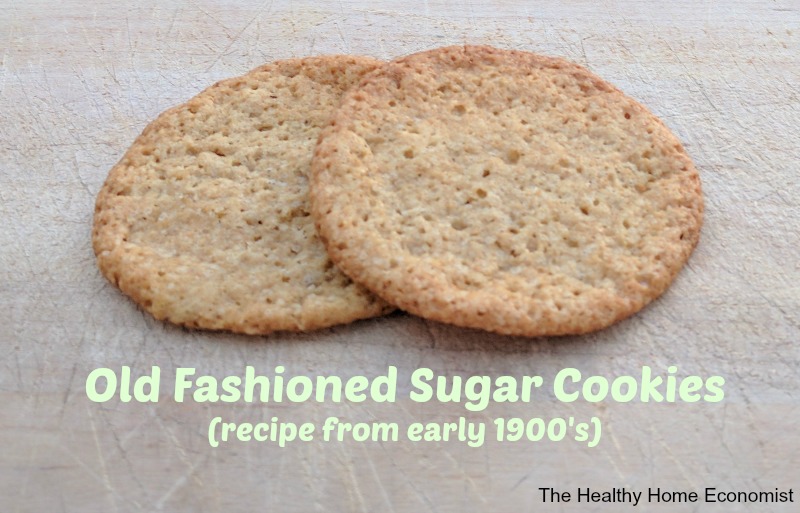 My paternal Grandmother was not much of a cook, but wow, could she ever bake!
Every year during the first week of December, she would go on a baking binge. Over one weekend, she would make dozens of cookies for the Christmas holiday.
My two favorites were her incredible gingerbread cookies and the old-fashioned sugar cookie recipe below. She and Grandpa lived down the street. So, my siblings and I could bike over after school and grab a couple for an afternoon snack.
It's hard to believe, but if Grandma was alive today, she would be over 125 years old! Born in 1890, she grew up without fast food, vegetable oils, refined flour, or GMOs.
As you can see from her yellowed, handwritten recipe card below, butter and cream were considered essential for cookies back then.
Eating plenty of nourishing fats with your sweets greatly mitigates the blood sugar spike, thus reducing the chances of a mood-altering sugar crash later.
Compare this simple, wholesome 7 ingredients list to the nasty, dangerously lowfat sugar cookies at the supermarket!
The ingredients' lists are eye-popping including synthetically fortified refined flour, GMO sugar and rancid polyunsaturated oils, chemicals, synthetic flavors, and additives of all kinds.
I'm thankful that I grew up knowing what real sugar cookies taste like. This helped me to avoid the temptation of those sugar cookie imposters of today.
I know that Grandma would be thrilled that I am sharing this recipe for others to learn from and enjoy.
Sugar Cookies from the Early 1900s
If you notice from Grandma's well-worn index card below, she wrote that the recipe came from the "Home Bureau". What was that you might wonder?
Home Bureaus were established across New York State in the early twentieth century to provide information on household economics and management to its citizens.
My Grandparents lived in Chautauqua County, New York until they retired and moved to Florida in the 1950s. That is where she originally came across this recipe for sugar cookies in the early 1900s!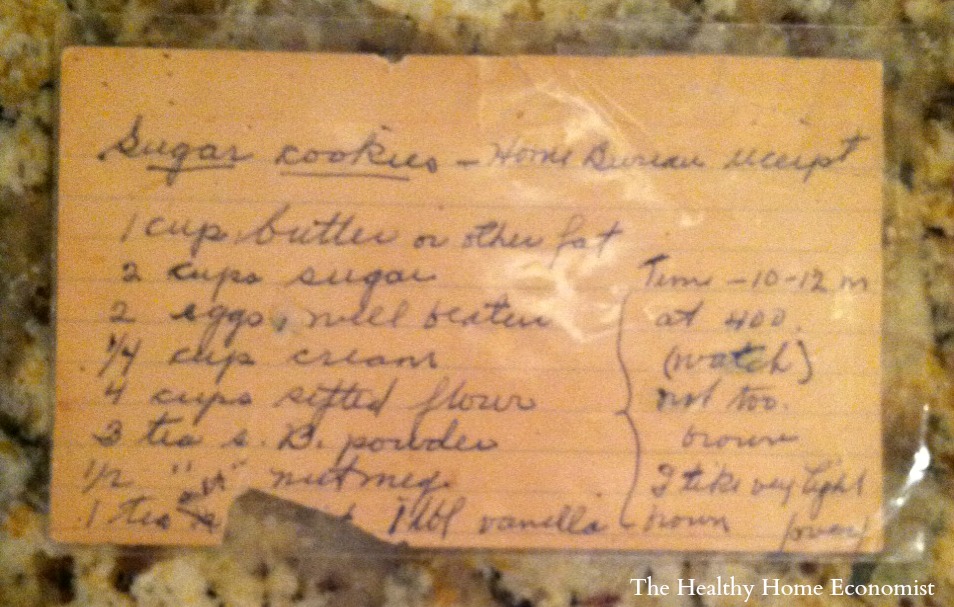 This Recipe Only Needed One Substitution
The only change I've made to my Grandma's sugar cookie recipe with my own family is the choice of flour.
I use sprouted flour made with ancient grain to add additional nutrition and digestibility to the cookies (see my frequently updated shopping guide for quality sources).
Feel free to use whatever grain-based flour you choose, including a homemade gluten-free flour mix.
However, note that I have not tested this recipe for sugar cookies using anything but sprouted ancient grain. If you make them with another flour, please post in the comments and tell us all how they turned out!
Make Sugar Cookie Cake if Pressed for Time!
If you are pressed for time and can't bake three dozen individual cookies, spread the batter out on a large pizza pan and make a sugar cookie cake!
This recipe for a chocolate cookie cake describes the process in more detail.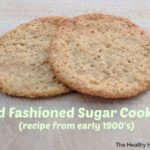 Old Fashioned Sugar Cookies
My Grandmother's sugar cookie recipe reinvented using sprouted ancient grain flour to add a boost of nutrition and extra digestibility.
Instructions
Blend in eggs and vanilla extract.

Sift baking powder, salt and ground nutmeg together with the sprouted flour.

Slowly add flour mixture to the wet ingredients a cup at a time. Blend well before adding the next cup.

When all the flour has been blended into the cookie dough, start to form cookies on baking sheets lined with unbleached parchment paper. Spread them a good distance apart, as the cookies will expand a lot while baking!

Bake cookies at 400 F/ 204C for 10-12 minutes. Remove from oven when the cookies are very light brown.

Repeat until all the cookies are baked.

Cool and store in airtight containers or a cookie jar.
Nutrition Facts
Old Fashioned Sugar Cookies
Amount Per Serving (1 cookie)
Calories 117
Calories from Fat 54
% Daily Value*
Fat 6g9%
Carbohydrates 13g4%
Protein 2g4%
* Percent Daily Values are based on a 2000 calorie diet.