Recipe for old-fashioned peanut butter chocolate chip cookies made with whole ingredients for maximum nutrition.

When I bake cookies, by far my favorite flour to use is sprouted einkorn. In my two decades of experience cooking and baking traditionally, this results in the best tasting result that is also digestible and nutritious.
This new recipe for sprouted peanut butter chocolate chip cookies is my latest creation!
Why Sprouted Cookies?
Sprouting grain before grinding into flour breaks down antinutrients that block nutrient absorption. These substances can also cause gastric distress in sensitive individuals.
Sprouting also enhances nutritional content including the B vitamins.
Sprouted einkorn is my choice for the best cookie texture. Though it is wheat, it contains the "good" form of gluten that is tolerated by many who are otherwise intolerant.
Another big benefit of einkorn is that it is completely unhybridized. It is the only form of wheat on planet earth that remains in the same state it was millennia ago.
While heirloom wheat varieties like spelt and emmer are also wonderful, they are harder to digest than einkorn. In addition, these wheat varieties contain a more allergenic form of gluten.
If you've never tried sprouted einkorn flour for baking before, I highly recommend it.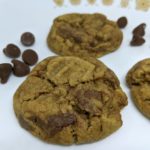 Sprouted Peanut Butter Chocolate Chip Cookies
Recipe for old fashioned peanut butter chocolate chip cookies that uses only whole ingredients and sprouted flour for maximum nutrition.
Instructions
Preheat oven to 375 F/ 191 C

Mix wet ingredients in one large mixing bowl and dry ingredients in another. Add dry ingredients slowly to wet ingredients using a hand mixer set to slow.


Once just blended, switch to medium speed and continue blending until the batter is thoroughly mixed.

Gently stir in the chocolate chips.

With dampened hands (to prevent sticking), shape dough into 1 1/2 inch balls. Place balls 2 inches apart on large cookie sheets lined with unbleached parchment paper.

Flatten each ball gently with your fingers.

Dip a fork into flour (to prevent sticking) and press across the top of each cookie. Repeat at right angles to flatten each cookie to about 2 inches in diameter.

Bake cookies for about 15 minutes or until just slightly browned. Do not overbake!

Cool cookies on a wire rack or just leave on the cookie sheet for about 10 minutes.

Remove the cookies gently with a spatula when cooled and place on large plates to finish cooling completely.
Recipe Notes
It is important to use roasted rather than raw peanut butter if not using soaked peanuts that you grind yourself. This eliminates the issue of lectins which can trigger gastrointestinal upset when consumed as raw peanuts or unrefined peanut oil.
If you use unsalted peanut butter, then add 1/4 tsp sea salt to the batter.
Nutrition Facts
Sprouted Peanut Butter Chocolate Chip Cookies
Amount Per Serving (2 cookies)
Calories 87
* Percent Daily Values are based on a 2000 calorie diet.