Chewy, gooey blondies recipe that is gluten-free, low in sugar, and made with whole food ingredients.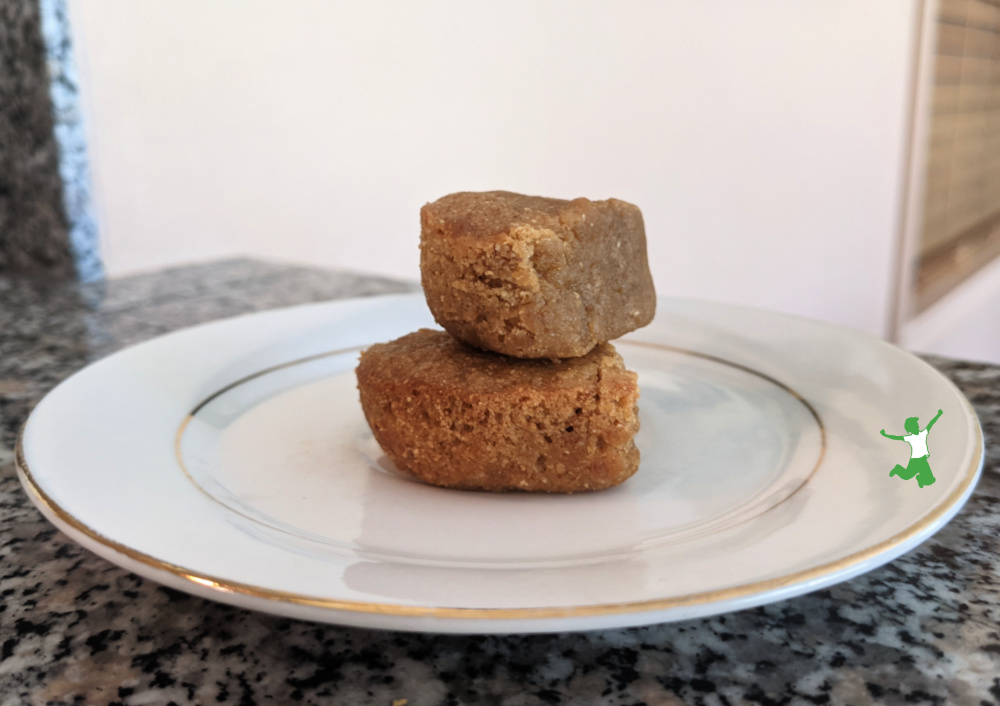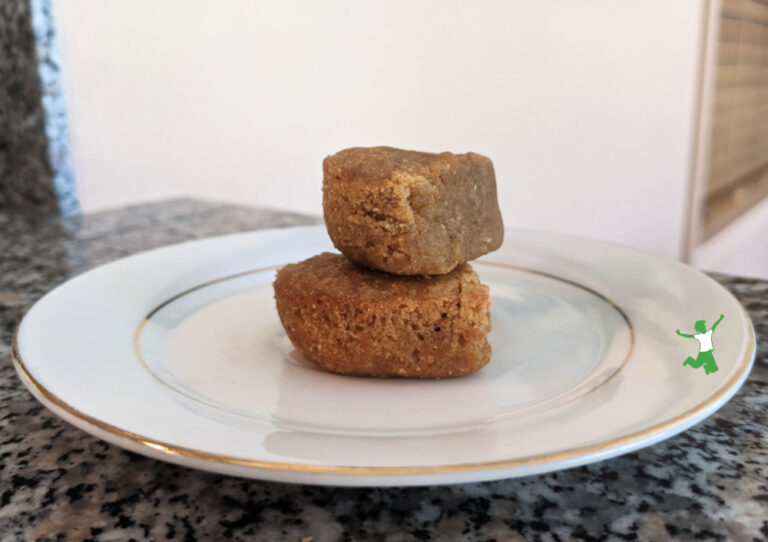 I loved blondies as a kid, but skipped making them for my own children because conventional recipes contain such an insane amount of added sugar!
After all these years, I finally had the bright idea to substitute half of the sugar with mashed, ripe banana.
The best blondies are chewy and gooey, so banana seemed the perfect textural choice for cutting the sweetener way down for a far healthier version.
My gambit paid off…these blondies are amazing. The texture is the same as regular blondies…just slightly less sweet with a hint of banana flavor.
I made them with homemade gluten-free flour that I mixed from oat, brown rice, and aramanth sprouted flour.
I like to use flour blends on a regular basis to get a wider variety of grains into the family. Dessert is the perfect vehicle for doing this, in my experience. No one ever notices!
Give this blondies recipe a try the next time you have a few ripe bananas to use up.
For an extra special treat, top each square with a scoop of homemade vanilla ice cream.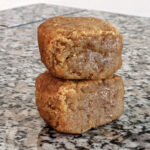 Gluten-Free Blondies
Chewy, gooey blondies recipe that is gluten-free, low sugar, and made with only whole food ingredients.
Instructions
Preheat oven to 350 °F/ 120 °C.

Melt butter on low heat in a small saucepan on the stovetop.

Beat the egg and egg yolk together in a small bowl.

Mash ripe banana until very smooth with no lumps in a large bowl.

Mix the sucanat, melted butter, beaten egg/egg yolk, and vanilla with the mashed banana until well blended.

Mix flour, baking powder, and sea salt in a separate bowl.

Slowly add the flour mixture into the bowl with the banana mixture until fully combined.

Pour batter into a greased 9×9 or 8×8 baking pan.

Bake for 25 minutes and remove promptly from the oven. A knife inserted in the middle of the blondies should come out mostly clean with a few bits at the end. This is important for the blondies to be chewy and gooey.

Cool, slice into squares and serve.

Referigerate leftovers in a container with a tight-fitting lid.
Nutrition Facts
Gluten-Free Blondies
Amount Per Serving (1 square)
Calories 254
Calories from Fat 95
% Daily Value*
Fat 10.5g16%
Cholesterol 74mg25%
Potassium 87mg2%
Carbohydrates 21g7%
Protein 4g8%
Vitamin A 852IU17%
* Percent Daily Values are based on a 2000 calorie diet.