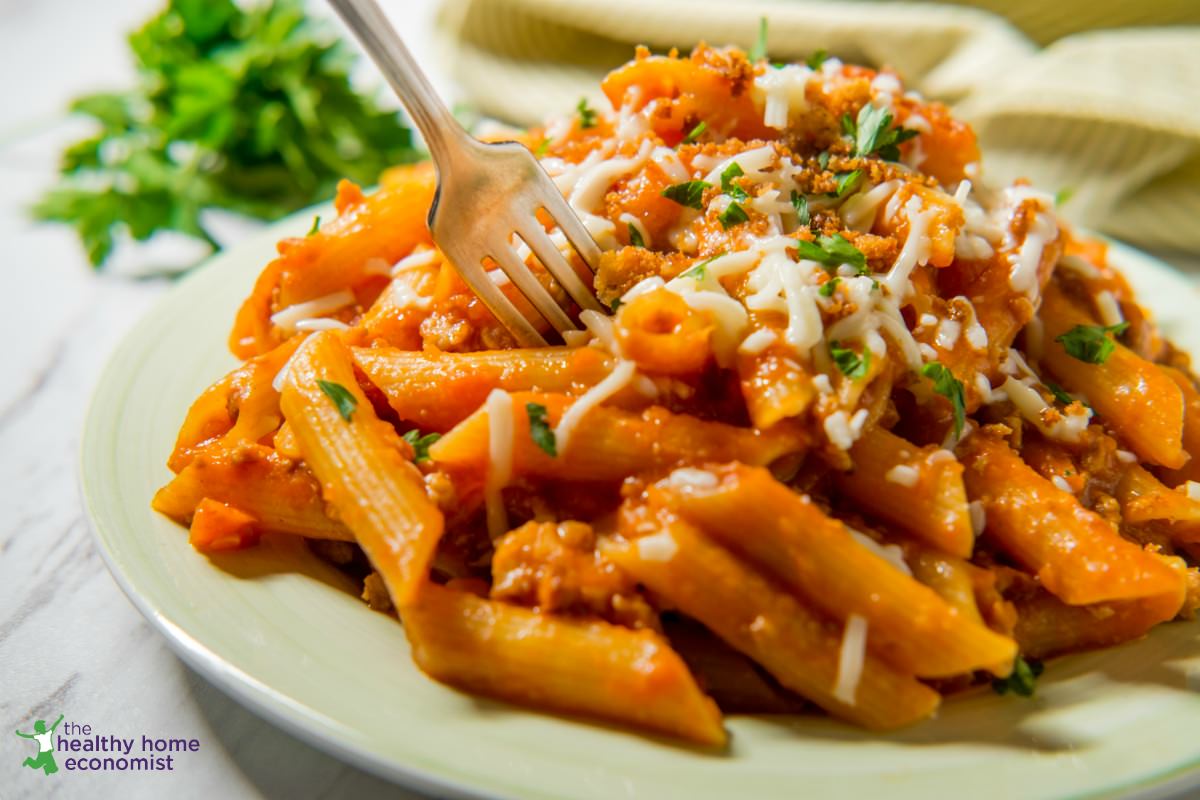 Before I got into healthy eating, one of my very favorite processed foods was Chef Boyardee beefaroni. 
No kidding.
And don't even get me started on Stouffer's Macaroni and Beef frozen dinner. I just loved that stuff.
Canned or frozen dinners were quick and easy after a long, hard day at work when I was exhausted and way too whipped to even think about cooking a healthy dinner for my single self.  What's really sad is I actually once thought that these dinners were healthy simply because I cooked them myself at home in the microwave!
My oh my, how far we have come, haven't we?
I haven't had either of these processed foods for well over 20 years, but I still love that beefaroni recipe mix of pasta and ground beef with tomato sauce. That much hasn't changed.
As you begin your transition to Real Food, it is very important to be able to create healthy versions of the garbage foods that were once your favorites. This makes your transition much more likely to succeed and stick for the long haul.
Homemade Beefaroni
That's exactly what I did with my beefaroni habit so that I could satisfy that desire for a mix of flavors I enjoyed but improve the quality of the ingredients, eliminate the additives, anti-nutrients, and very importantly, lose that microwave and induction stove!
While I don't advocate pasta as a healthfood by any means, an occasional bowl of rice pasta is not a problem if one is healthy and not on the SCD, GAPS or AIP diet. We eat rice or sprouted pasta once or twice a month in our home, generally as rice mac and cheese or this beefaroni recipe dish I share below.
Do your kids like Chef Boyardee canned ravioli or frozen mac and beef? Try this Real Food beefaroni recipe alternative instead and see how they come back for more!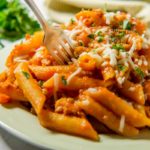 Homemade Beefaroni Recipe
Healthy beefaroni recipe made with sprouted pasta and easy no cook tomato sauce that will get your kids off Chef Boyardee for good. With grain free options!

Instructions
Prepare sprouted pasta as directed.

Cook grassfed ground beef in a large frypan. While cooking sprinkle in a generous amount of onion powder and the 2 minced cloves of garlic.

When grassfed ground beef is thoroughly browned, remove from heat (do not drain the beef fat, it's good for you!). Stir in the organic ketchup. Mix ground beef/ketchup mixture with the pasta and tomato sauce and serve.

Be sure to refrigerate any leftovers. Great reheated for quick lunches or a thermos in the lunchbox.
Recipe Notes
Grain Free Option
If you wish to make this dish grain free, I recommend red lentil pasta. I've tried all the various types of grain free pasta, and I feel that this brand of red lentil pasta tastes best and has excellent ingredients with no hidden additives.
Sarah, The Healthy Home Economist