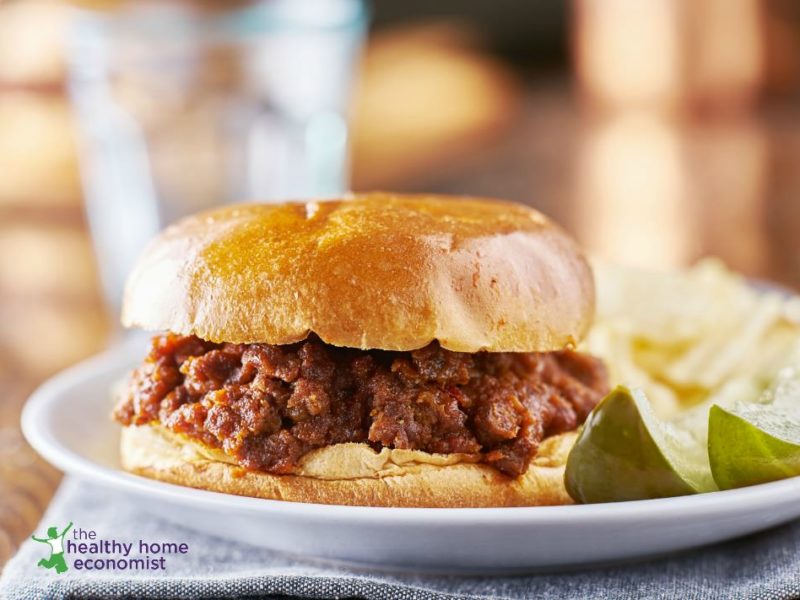 In my experience, fermented food is one aspect of Traditional Diets that is difficult to consistently incorporate into family meals with young children in the home.
Fermented beverages like kombucha aren't too difficult as they are typically tasty, fizzy and delightful.
Probiotic rich, digestion soothing fermented foods, on the other hand, are a completely different animal for children to accept.  The inherently sour and sometimes tart flavors seem to overwhelm their young taste buds and turn them off even in the small, condimental amounts used by Ancestral Societies.
I've had better luck over the years getting creative when a brickwall is firmly erected rather than trying to force the issue.
Homemade Sloppy Joe with Probiotic Rich Sauce
There is no doubt that a tasty sloppy joe sandwich is one of the most beloved of all time for children.  In our home, I make it with grassfed beef and lacto-fermented ketchup to sneak it into the children's dinner in an enjoyable way that they don't mind at all.
The trick to this particular sloppy joes recipe is to add homemade fermented ketchup so that the probiotic rich sauce isn't actually cooked and therefore retains all the beneficial probiotics and enzymes once served at the dinner table.
Try this homemade sloppy joe recipe if you've been encountering obstacles introducing digestion enhancing fermented foods to your family. This is one dish they won't complain about at all!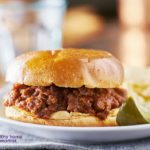 Traditional Sloppy Joe Recipe (bun optional)
This traditional sloppy joe recipe using an easily made enzyme rich fermented sauce is a tasty and easy way to get probiotics into your family at the dinner table. Use with or without buns as desired.

Instructions
Melt butter in frying pan on medium-high heat. Add onion finely chopped and cook until it begins to caramelize (5-10 mins).

Mix in crushed garlic, salt and pepper and mix thoroughly - stir intermittently for 3 minutes to ensure garlic is cooked but not burned.

Add ground beef mixing in as you go to be sure it doesn't clump in the heat. Stir continuously for 5 minutes to ensure meat mixes evenly with onion and garlic and begins to simmer uniformly across the whole pan.

Add optional peas and reduce heat to medium-low for 5 minutes to finish cooking all meat.

Remove the pan from the heat and let sit for a few minutes to cool slightly. Check with a digital food thermometer to ensure temperature is at or below 117 F/ 47 C before adding fermented ketchup.

Stir in ketchup (and raisins if desired) and mix thoroughly. Make sure the pan is off the heat - allow to sit for 5 minutes more while still warm but not hot to mix the flavors.

Serve the sloppy joes immediately over cauliflower rice, sprouted or sourdough buns or alone as desired. Refrigerate leftover sloppy joes after a complete cooldown.

Refrigerate leftovers after a complete cooldown. Reheat gently not exceeding 117 F/ 47 C to preserve enzymes and probiotics in fermented ketchup.
If you've tried this recipe using a fermented sloppy joe sauce already, what did you think?  Please let us know your thoughts in the comments section.