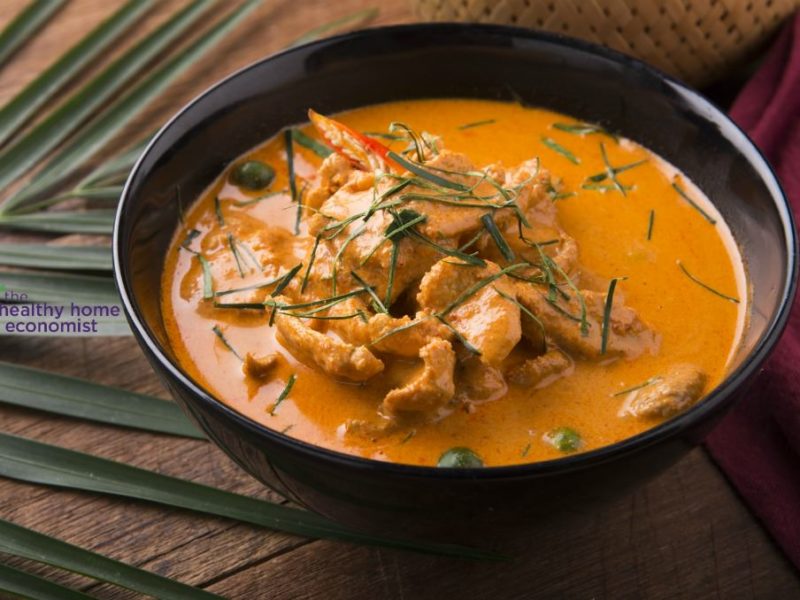 Tonight, I'm making a real crowd pleaser for dinner … my special recipe for beef panang curry.
For those of you who love Thai food and curry recipes in particular as my entire family does, this dish is so simple and easy to make, why bother sitting in a restaurant when you can make it at your leisure at home with quality ingredients?
Homemade Panang Beef Curry
First, you need quality steak. I buy grassfed ribeyes from a local co-op for about $6-9/lb when they are on special. When they are on sale, I buy a lot to tied me over for a couple of months until the next special comes around. These steaks normally retail for $15 or more per lb depending on the healthfood store, so join a local co-op and save yourself a bucketload!
You can also mail order grassfed steak here if it is unavailable in your area.
Once you have a quality steak procured, slice up 1 1/2 lbs into thin strips about 2 inches long. Set aside.
Next, slice up some fresh, organic veggies of your choice, preferably seasonal.  Zucchini and yellow squash are seasonal for my local area right now, so these are my choice purchased from a local farmer to ensure maximum nutrition and freshness.   Buying local produce is much more economical than supermarket produce as well.   Once sliced up, set the veggies aside.
Next, get some organic basmati rice cooking.  I use white basmati rice as brown rice doesn't digest as well as white rice and isn't necessarily any healthier!
Set the timer for how long the rice will cook, then move on to the panang curry sauce.
The panang curry sauce really makes this meal. If you google panang sauce, you will find many different ways to make it. The most important ingredient to make this sauce amazing is bone broth that you make at home.
This recipe is my own version based on making this sauce for a number of years and refining my approach over time to best suit my family's tastes. Feel free to experiment for yourself using this panang curry sauce recipe as the basis for your own creativity!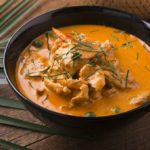 Panang Curry Sauce Recipe
Easy recipe for panang curry that uses healthier, whole ingredients and tastes better than similar sauces at Thai restaurants.
Instructions
Mix the broth and the coconut milk in a large saucepan and bring to just below a boil.

Add peanut butter, red curry paste, and sucanat and whisk until smooth and blended with broth/coconut milk mixture.

Mix the flour with the filtered water in a small glass and blend until smooth. Slowly pour the flour mixture into the saucepan while continuing to whisk to mix. Continue until you have used all the flour blend and the sauce has thickened nicely. Taste the sauce and add more red curry paste or fish sauce as desired.

Once you have the panang curry sauce tasting like you want it, add the steak and veggies and slowly simmer them until they are just cooked, about 10 minutes. By this time, the rice should be ready, so you can serve immediately.
More Curry Recipes to Try!
Love this panang curry sauce recipe?  Try these recipes for Indian chicken curry and curried lentil soup too!
Enjoy!