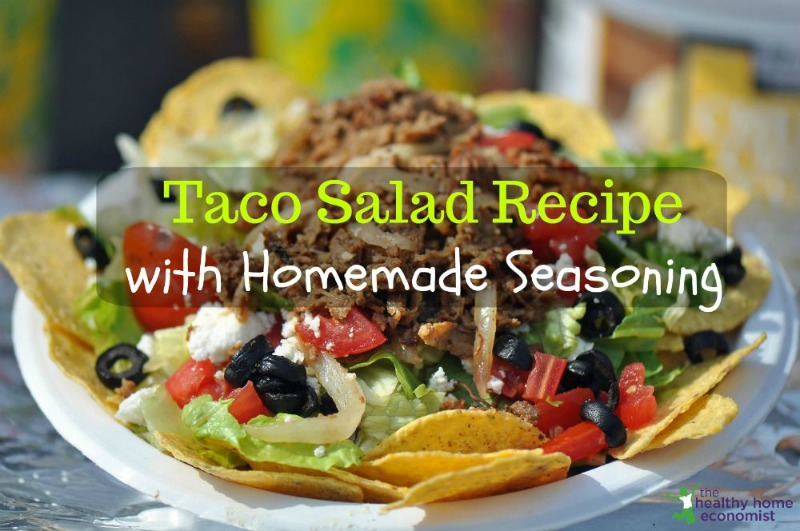 After a long holiday weekend, there are sometimes a lot of leftovers from the backyard picnic or barbecue. This easy taco salad recipe is a great way to use some of them up in a hurry.
If you eat grain-free, you will love that the recommended tortilla chips are made from cassava flour and cooked in avocado oil.
To make the dish even easier, the recommended beans are prepared traditionally. This means that they are already soaked and cooked so you can drain and use right out of the glass jar.
Some companies are really starting to get it! It's not just about the food itself and whether it is organic and/or sustainably produced, but also how a dish is prepared and cooked that matters just as much.
Homemade Taco Seasoning
It is very important to make your own taco seasoning for this recipe. The reason is that commercial versions typically contain irradiated herbs and/or additives and other substances that are best to avoid.
The taco seasoning recipe below is courtesy of Paula Jager, founder and head trainer at Crossfit Jaguar in Tampa, Florida. Thanks Paula!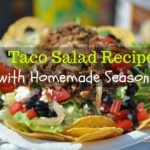 Taco Salad Recipe (with easy homemade taco seasoning)
Easy, whole food taco salad recipe using fresh ingredients and grassfed meat to maximize nutrition. Includes recipes for homemade taco seasoning and dressing. Recommended tortillas are cooked in a healthy fat and suitable for those avoiding grains or corn as well.
Instructions
Cook the ground beef over medium heat in a large skillet. Drain the juices into a second skillet and saute the chopped onion with the homemade seasoning until slightly caramelized.

Mix the onion/seasoning mixture into the skillet with the ground beef and set aside.

While the ground beef mixture is cooling, chop the lettuce, drain and rinse the jarrred beans and crush the tortilla chips (before opening the bag).

Add lettuce, tortilla chips pieces, beans and optional cheese to a large bowl.

Mix in the meat mixture and serve with dressing and optional sour cream, and salsa.