Aluminum is an unlabeled additive in processed cheeses and is shockingly considered good manufacturing practice by the industry! How to identify the worst offenders and buy the best aluminum-free cheese that is safe for your family.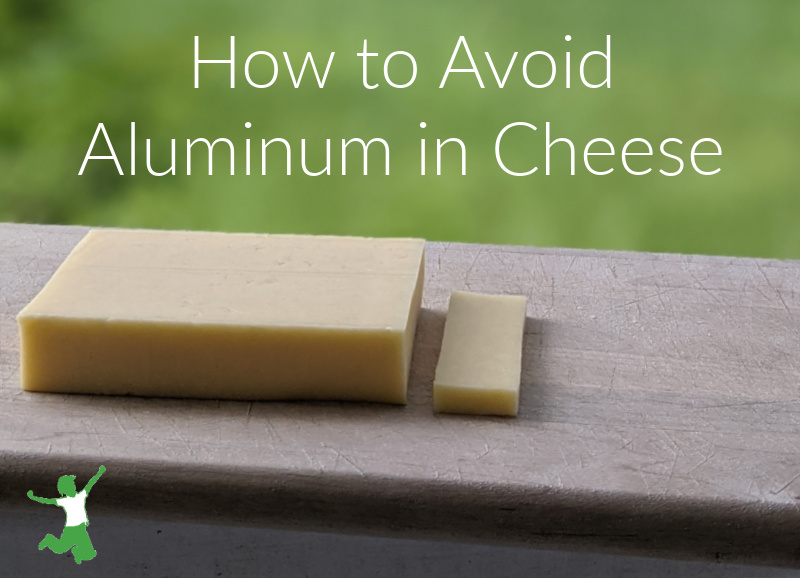 Cheese is one of the worst offenders when it comes to unlabeled additives and processing tricks.
For example, did you know that most cheese labeled as raw at the store is usually made from milk heated to temperatures that destroy the enzymes and probiotics?
Another processing trick in cheese manufacturing is to not list additives on the label that contain aluminum. This has been going on for decades!
This neurotoxic metal contributes to cognitive dysfunction and the likely development of Alzheimer's disease according to numerous studies. Some of the most recent were published in the peer-reviewed Advances in Experimental Medicine and Biology. (1,2)
Aluminum in Processed Cheese
Cheese manufacturers use aluminum in the form of sodium aluminum phosphate (SALP) to make cheese ultra-smooth and uniform.
This chemical facilitates the production uniformity of cheese slices as well as other convenience foods like shredded cheese and stringles.
Cream cheese and processed cheese spreads typically contain SALP as well.
How do food producers get away with leaving this dangerous additive off the label?
According to the Weston A. Price Foundation,
Aluminum in American cheese and processed cheese products is classified as industry standard, and the National Institutes of Health (NIH) considers it GRAS (generally recognized as safe). Items that are classified as GRAS do not have to be added to food labels. (3)
If that isn't shocking enough, consider that adding aluminum to cheese is classified as "Good Manufacturing Practice" (GMP) by the industry. (4)
Industry experts identify SALP as an important "emulsifying salt" that produces a soft texture for easy slicing and shaping. It also facilitates ease of melting when added to other processed foods like frozen pizza.
Perhaps SALP is important to speed production for maximal profit, but it certainly isn't in the best interest of consumer health.
Cheese a Top Source of Aluminum Exposure
If you think that the small amount of aluminum-containing salt that is added to cheese during processing is not a big deal, consider this.
The publication Food Additives and Contaminants identified processed cheese and American cheese specifically as one of the top three dietary sources of aluminum exposure as far back as 1988! (5)
This information can be a rude wake-up call to health-conscious consumers who are careful to avoid aluminum kitchenware only to find that they are still getting plenty of exposure through processed cheese and the products that contain it.
What About Organic?
Some of you may be thinking at this point that this problem doesn't concern you because you buy organic cheese.
Not so fast!
I wasn't able to find any language on the USDA website that prohibits organic cheese manufacturers from adding aluminum-based GRAS additives. (6)
If you know of such an exception that is codified, please let me know!
For the time being then, consider that aluminum in organic processed cheese may prove risky as well.
How to Avoid SALP in Cheese
There are three ways to significantly reduce or (ideally) eliminate the aluminum from the cheeses your family consumes.
Shop from Small Producers
The best way to ensure that you buy aluminum-free cheese is to source from a small dairy farm or artisanal producer (where to find).
This article on how to buy the healthiest cheese outlines what to look for when vetting a small batch producer.
Buy Block Cheese Only
If you don't have these independent businesses in your area or live in a location where shipping is prohibitive, then at the very least ONLY buy block cheese at the store.
While this form may still contain aluminum, it would likely be in smaller amounts than slices, shreds, or string cheese that require extra processing.
Another smart strategy is to call the manufacturer of the cheese brand you prefer and ask them if they add SALP to the mix during manufacturing.
Avoid Cheese Containing Processed Foods
Frozen pizza and pizza delivery are the biggest sources of aluminum-containing cheese for most consumers.
Consider making your own pizza instead with sliced cheese from artisanal blocks. There are a variety of pizza crust recipes on this blog (this homemade grain-free pizza crust is the most popular) along with no-cook pizza sauce for easy topping.
Make Your Own!
Another approach is to consider making at least some of your own cheeses. It's not as difficult as you might think! This site contains a number of easy recipes to try including:
This article on common cheesemaking problems and solutions can help you quickly troubleshoot any issues that may occur.
Summary
While making these changes to your cheese sourcing routine is no doubt inconvenient, it is a wise move considering that aluminum in cheese is a primary route of exposure for many people. In addition, once lodged in the brain, aluminum is very difficult and slow to detox. (2)
If you already suspect that you may have a toxic load from overexposure, consulting with a practitioner that specializes in nutritional balancing is suggested.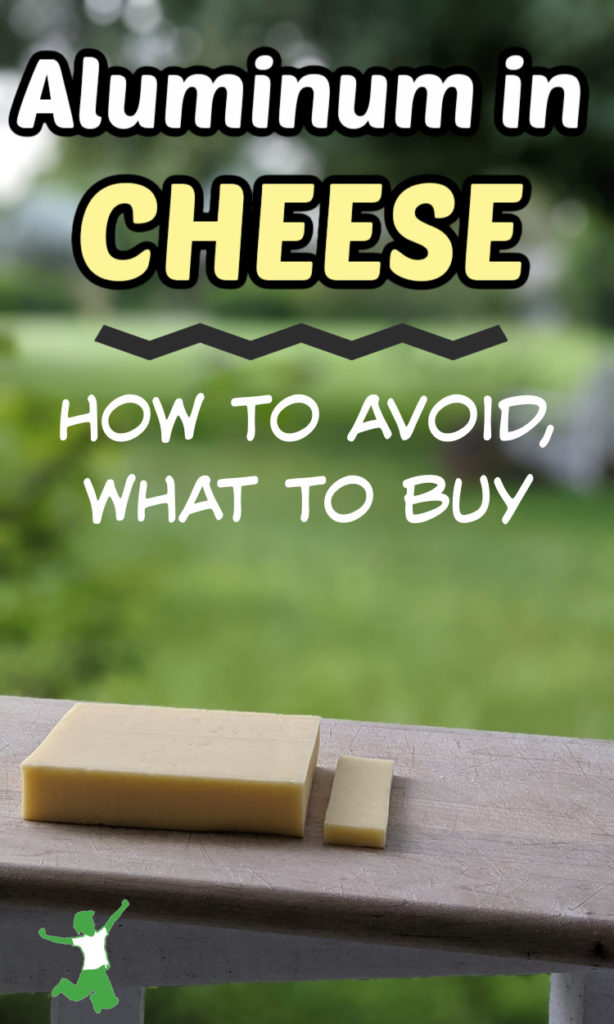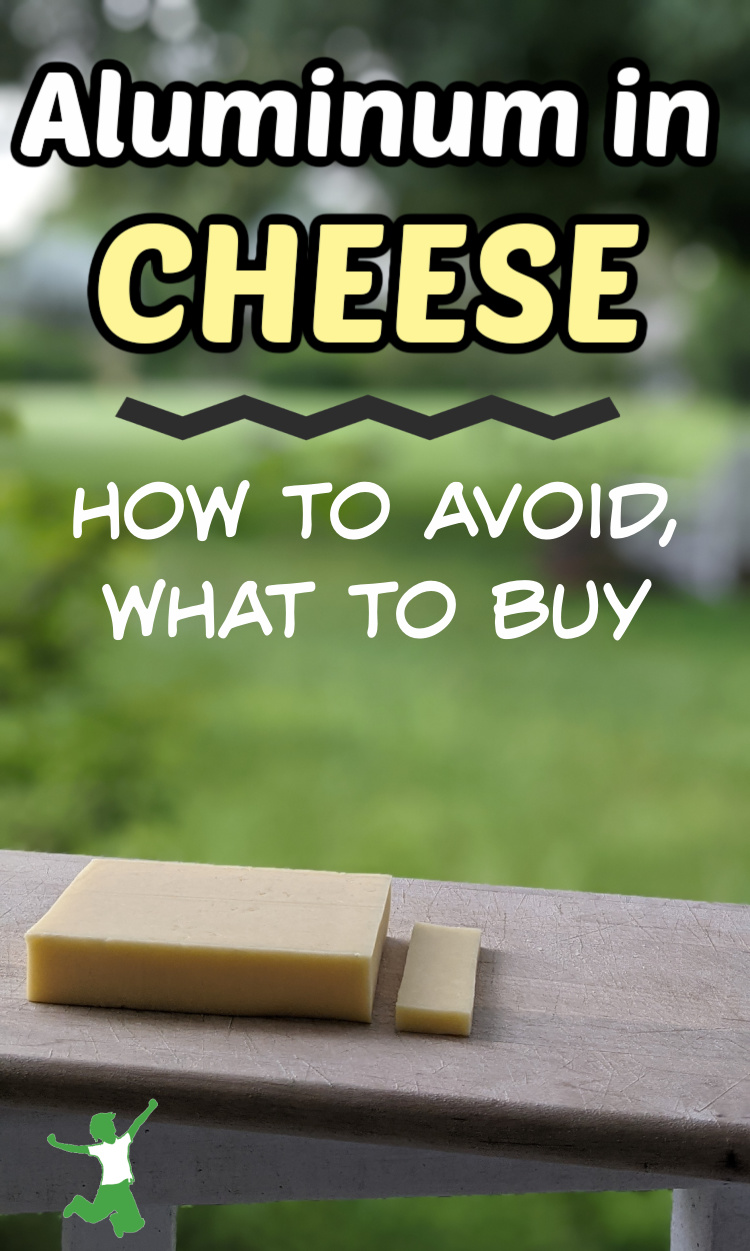 (1) Exposure to Aluminum in Daily Life and Alzheimer's Disease
(2) Entry and Deposit of Aluminum in the Brain
(3-5) Hidden Food Ingredients, WAPF
(6) Organic 101: Allowed and Prohibited Substances in USDA Organic