Barbecue sauce made at home with 7 whole food ingredients that add savory-sweet flavor with a bit of spiciness to all your favorite grilled or slow-cooked recipes. Sugar free too!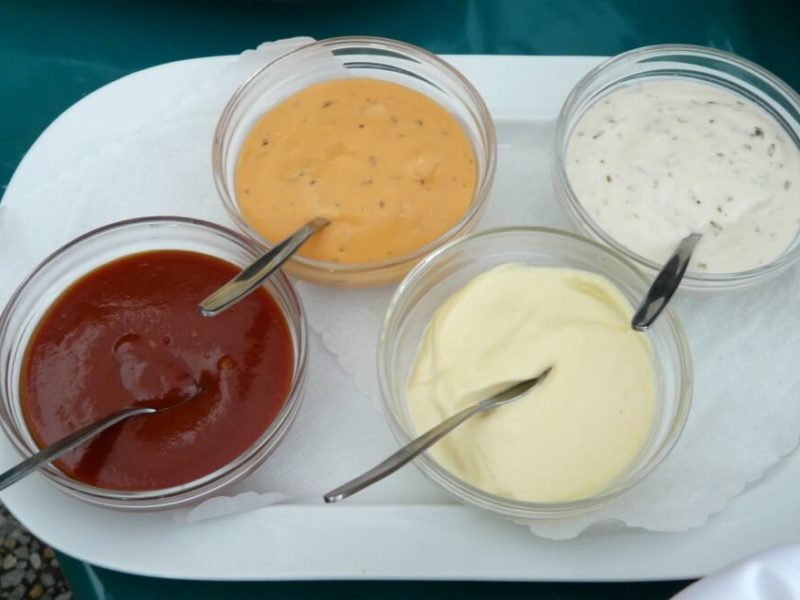 Summer is barbecue season, and whether you love slow cooked pulled pork, beef brisket or ribs, it's very important to get the sauce right!
With not a single exception that I've been able to find, commercial barbecue sauce brands suffer from 3 big problems.
First, they are typically loaded with MSG. Common names for MSG in barbecue sauce include "natural smoke flavor" or "hickory smoke flavor".  Any variation on those words would be an alias for monosodium glutamate.
This synthetic version of the amino acid glutamate can trigger headaches and other uncomfortable symptoms for many people. If you feel bad after eating barbecue, my bet would be it's from the MSG. Note that symptoms are sometimes delayed and don't appear for 24-48 hours.
Be observant and notice what negative effects processed foods have on you! Making the connection with how you feel and what you just ate is the first huge step forward in making life-altering adjustments.
Secondly, barbecue sauces are heavily sweetened. Cheap corn syrup is used almost without exception, and unless the sauce is USDA Organic, the source would be GMO corn with almost certain residue from Roundup's glyphosate.
The third problem with barbecue sauce is that even organic brands contain A LOT of sugar. For example, one of the most popular brands of organic barbecue sauce contains a whopping 7 grams of sugar per serving. That's as much as one or two cookies!
DIY Barbecue Sauce
My solution for unhealthy or heavily sugared-up barbecue sauce is to make my own.
If you prefer to buy rather than DIY, a good brand to try Wellbee's barbecue sauce. It contains honey as the sweetener. The hickory smoke ingredient is far down the list, thus minimizing the impact of MSG.
If you are going to use barbecue sauce for basting on the grill while the meat is cooking, use Date Lady barbecue sauce that is sweetened with date syrup (use coupon code HealthyHome to get 15% off).
Both brands are acceptable for those on the GAPS or SCD diet as well as Paleo fans.
If you are ultra-sensitive to glutamates and need to avoid it even in small amounts, you really need to make your own barbecue sauce!
Below is my recipe. It's made with half homemade teriyaki sauce and half unsweetened ketchup. If you try it, let me know what you think!
How to Serve
This BBQ sauce recipe is intended as a condiment to be served at the table because it contains raw honey as an ingredient.
If you want to use it to baste on meat on the grill during cooking, substitute date syrup for the raw honey instead.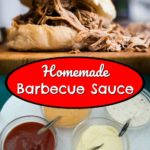 Homemade Barbecue Sauce (sugar-free, no MSG)
Barbecue sauce made at home with 7 ingredients that add savory-sweet flavor with a bit of spiciness to all your favorite grilled or slow-cooked recipes.

Instructions
Mix the minced garlic with the grated ginger.

Whisk in all the remaining ingredients except the ketchup.

When well blended, mix in the ketchup until smooth.

Enjoy this DIY BBQ sauce with any of your favorite savory meat dishes whether grilled or slow cooked.
Recipe Notes
Substitute tamari sauce for the soy sauce if you are wheat-free.
Substitute organic coconut aminos for the soy sauce if you are soy free. Do not use Bragg's Liquid Aminos as this contains MSG residues from the hydrolyzed soy protein.
Substitute 1/2 tsp garlic powder for the 2 cloves and 1/8 tsp ginger powder for the freshly grated ginger if desired.
Use date syrup instead of honey if you will be using the BBQ sauce for cooking rather than as a condiment at the table.
Nutrition Facts
Homemade Barbecue Sauce (sugar-free, no MSG)
Amount Per Serving (1 Tbl)
Calories 26
Calories from Fat 8
% Daily Value*
Fat 0.9g1%
Sodium 542mg23%
Potassium 63mg2%
Carbohydrates 2.5g1%
Protein 2g4%
Iron 0.2mg1%
* Percent Daily Values are based on a 2000 calorie diet.