This healthy recipe for coconut rice is sugar-free and made with only four whole ingredients. It is suitable for pairing with savory Asian-style dishes but naturally sweet enough for dessert too!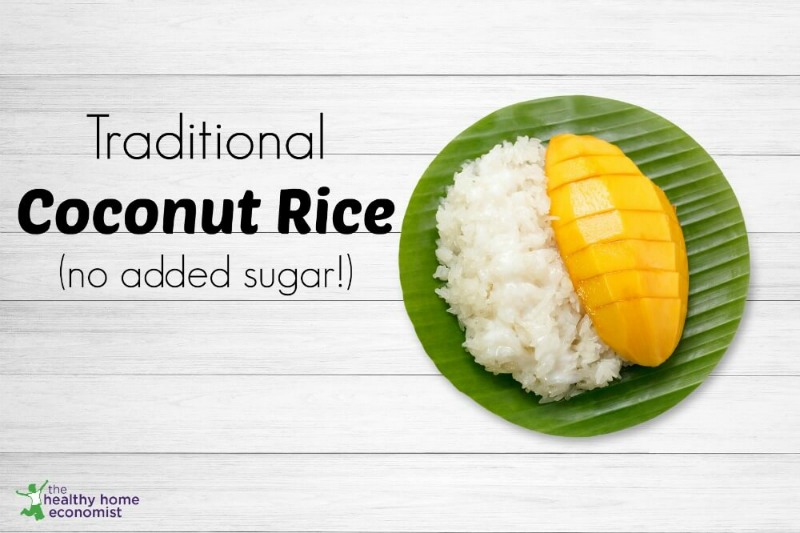 This traditionally inspired recipe for coconut rice is perfect to pair with your favorite homemade Asian cuisine! It contains no sugar, unlike most conventional recipes. Coconut adds enough sweetness on its own after all! There is absolutely no need to add sugar.
In keeping with the wisdom of healthy ancestral cultures, this recipe also soaks the rice before cooking. This ensures maximum digestibility as well as safety.
Safety?
Remember that worldwide arsenic contamination of rice crops is a very serious problem even in organic agriculture. Research suggests that soaking rice in water at a ratio of 1:6 before cooking reduces any risk by a substantial margin.
Rinsing the rice alone is not sufficient.
Of course, buying rice from reputable companies that test for arsenic regularly is an important precaution as well (this is the brand I trust).
A traditional approach to homemade coconut rice also provides for the option to blend in some bone broth to take the nutrition and protein content up a notch. I don't suggest replacing all of the cooking water with bone broth as its savory nature would compete with the natural sweetness of the coconut. A small amount works fine, however.
Use your best judgment and taste buds as a guide!
Note that when the soaking is complete, the discarded rice water is not suitable for use due to the presence of dissolved toxins. How to make rice water safely for hair, skin, and internal use is provided in the linked article.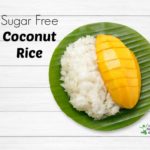 Soaked Coconut Rice Recipe (no added sugar)
This healthy recipe for coconut rice uses no added sugar. It is suitable for pairing with savory dishes and yet naturally sweet enough for dessert too!

Instructions
Rinse white rice and place in a large pot. Add 12 cups of filtered water.

Stir until the rice is completely wet and settles to the bottom of the pot. Cover and leave on the counter for 4-6 hours or overnight.

Drain rice thoroughly in large strainer. Rinse one more time.

Rinse soaking pot with clean filtered water and put soaked rice back in.

Add 3/4 cup fresh filtered water, 1 3/4 cups (1 can) whole coconut milk, and salt. Stir.

Bring rice mixture to a boil, stir briefly, turn down the heat to low, cover and simmer until all the liquid is absorbed (about 15 minutes).


Remove from heat, crack the lid and let the cooked coconut rice set for about 5 minutes.


Fluff with a fork and serve!


Refrigerate leftovers for up to 5 days.

Recipe Notes
If using homemade coconut milk instead of canned, use 1 3/4 cups or 14 ounces (397 grams).
Do no use lowfat coconut milk, else the rice will not turn out naturally sweet enough.
If you like to use rice as a way to get more bone broth into your family, you can substitute 1/4- 1/2 cup of the water with bone broth before cooking.
Nutrition Facts
Soaked Coconut Rice Recipe (no added sugar)
Amount Per Serving
Calories 248
Calories from Fat 90
% Daily Value*
Fat 10g15%
Sodium 7mg0%
Potassium 94mg3%
Carbohydrates 35.3g12%
Protein 3.6g7%
Vitamin C 1.7mg2%
Iron 0.4mg2%
* Percent Daily Values are based on a 2000 calorie diet.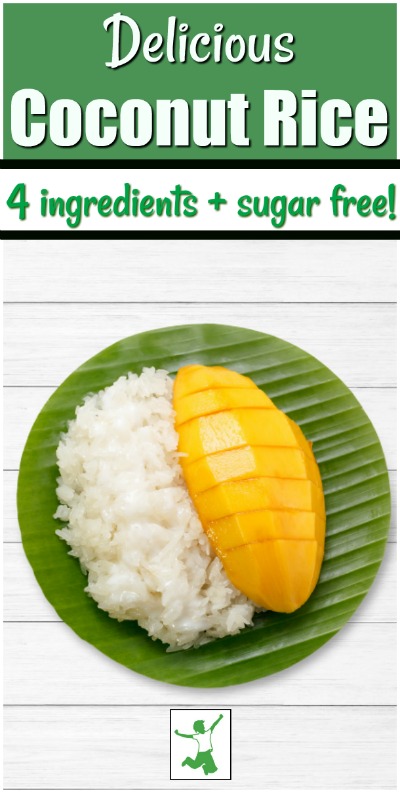 Serving Suggestions
Coconut rice goes well with just about any Thai inspired dish. I like to serve it with panang curry.
It is lightly sweetened enough to use for dessert as well. Freshly cut mango or seasonal berries work best in my experience.