Table of Contents

[Hide]

[Show]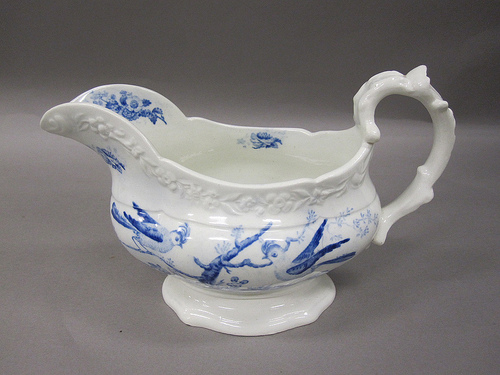 When it comes to making homemade gravy, most people are missing the, uh, boat entirely! For example, cornstarch is the most common gravy thickener. It's the main ingredient in all those gravy powder packets too.
A big reason to avoid it is that it's likely made from unlabeled genetically modified corn unless you make the effort to buy organic. GM corn has been linked to organ failure and tumors in animals.
Even organic cornstarch is basically devoid of any nutrition or flavor. It's just empty calories.
Why not add both nutrition and extra flavor by using a nutrition-rich thickening agent that is a bit time consuming to make yourself, but is now conveniently available for purchase: sprouted flour.
I prefer sprouted einkorn, spelt, or kamut flour myself, but if you are gluten-free, you can use buckwheat, rice, or any gluten-free flour of your choice.
Why Sprouted Flour to Thicken?
Sprouting a grain before grinding into a flour increases the nutrition of the grain substantially. For instance, vitamin C is produced by sprouting grain, but it is absent in the unsprouted form. Vitamin B content is increased dramatically by sprouting as are carotenes. Irritating substances in the hull of the grain are inactivated by sprouting as well. These inhibitors (phytic acid) have the potential to neutralize the enzymes in our digestive tract and block mineral absorption, so sprouting exponentially increases ease of digestion as well as nutrient absorbability.
Much media attention has been focused recently on the problem of aflatoxins in grains. Aflatoxins are potent carcinogens and are present in high quantities in highly processed foods such as crackers, cookies, chips, and cereals. Sprouting inactivates aflatoxins, which is just another reason to follow the wisdom of traditional peoples in grain preparation!
Sourcing the Healthiest Gravy Thickener
If you want to try your hand at homemade sprouted flour, it is very easy but will take a bit of time and you will have to plan ahead so you get it done before your holiday meal.
If you want to purchase sprouted flour, you can buy sprouted wheat berries like I do so that you can grind yourself for the freshest and most nutrient-dense flour, or if you don't have a grain grinder, you can purchase sprouted flour.
** Click here for the vetted sources I recommend and buy from myself when purchasing sprouted grains. At least one of these companies is offering free shipping through December, so this is a great time to stock up!
Below is a video clip I filmed for the News Channel 8 Today show which aired yesterday on many NBC affiliate stations around North America. Please click over and like Gayle Guyardo's Facebook page, as she is the co-anchor of the show and was responsible for getting this important Traditional Cooking information on TV.
To view all the Holiday Turkey Tips I filmed for the NBC News Channel 8 Today show, click here.