Table of Contents

[Hide]

[Show]
How to make limewater for soaking corn in accordance with traditional Native American cultures for improved digestibility and bioavailability of nutrients.

Corn has a bad rap these days primarily due to the pervasive presence of high fructose corn syrup (HFCS) in the food supply. This frankenfood is generally made with GMO corn and laced with mercury residue from processing. (1)
It is in the majority of processed foods and drinks and is being blamed for all sorts of health woes including a role in the obesity epidemic.
The truth is, however, that corn is a traditional food! When high quality, nonGMO corn is sourced and prepared properly using limewater, it can be both delicious and healthy!
And, if you are a Southern gal like me, you like your corn – am I right?
Grits and homemade cornbread anyone?
Why Soak Corn?
Soaking corn or cornmeal overnight in limewater releases Vitamin B3. It also improves the amino acid profile of the corn making for easier digestion.
Note, you do not have to soak cornstarch. The reason is that the nutritional value of cornstarch is very low as it is basically just pure carbohydrate.
If whole food forms of corn are a staple in your diet, then soaking in limewater is a must. The disease pellagra is caused by Vitamin B3 deficiency. Symptoms of pellagra include sore skin, mental problems, and fatigue. Most doctors fail to ever diagnose it!
Even if you don't eat corn that frequently, limewater is easy to make and lasts for a long time in the refrigerator or cool pantry. Why not soak your corn to create homemade corn dishes? It is an easy to do step that improves the nutrition and digestibility of the meal.
In the video included with the recipe below, I show you how to make limewater using the Nourishing Traditions method. It is the proper soaking medium for corn in North and South American traditional societies. The healthy, strong, and fierce Seminole Tribe of Florida, for example, sustained themselves primarily on soaked corn gruel.
Masa Harina?
Note that preparing masa harina is slightly different. This type of corn flour has already been treated with lime. Thus, limewater is not needed, however, it will still require soaking in a slightly acidic medium like buttermilk or water with a squeeze of lemon juice. This serves to deactivate anti-nutrients like phytic acid.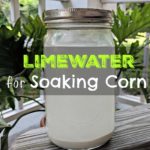 Homemade Limewater Recipe
How to make limewater using the traditional method that will create more nutritious and digestible corn based dishes for your family. Can also be sipped as a beverage for extra calcium!
Instructions
Spoon dolomite powder into a 1 quart mason jar. It should be spread evenly about 1/2 inch deep at the bottom of the jar.

Fill the mason jar with filtered water. Leave about 1 inch at the top.

Screw on the lid tightly and turn a few times to mix the dolomite powder in the water.

Leave the jar on the counter until the dolomite fully settles out at the bottom of the jar. This will take a few hours, and then the water will be clear.

Place the jar in the refrigerator or cool pantry. Use this water for soaking corn and corn flour for any corn based dishes.
Recipe Video
Recipe Notes
Use 1 cup of limewater for every 2 cups of corn or cornmeal for making cornbread, corn casserole and other corn based dishes.
Pour the limewater out of the mason jar carefully - you don't want to use the lime that has settled at the bottom, only the limewater. Soaking for 12-24 hours is sufficient to release the nutrients but cornbread in particular will rise better if soaked for 24 hours.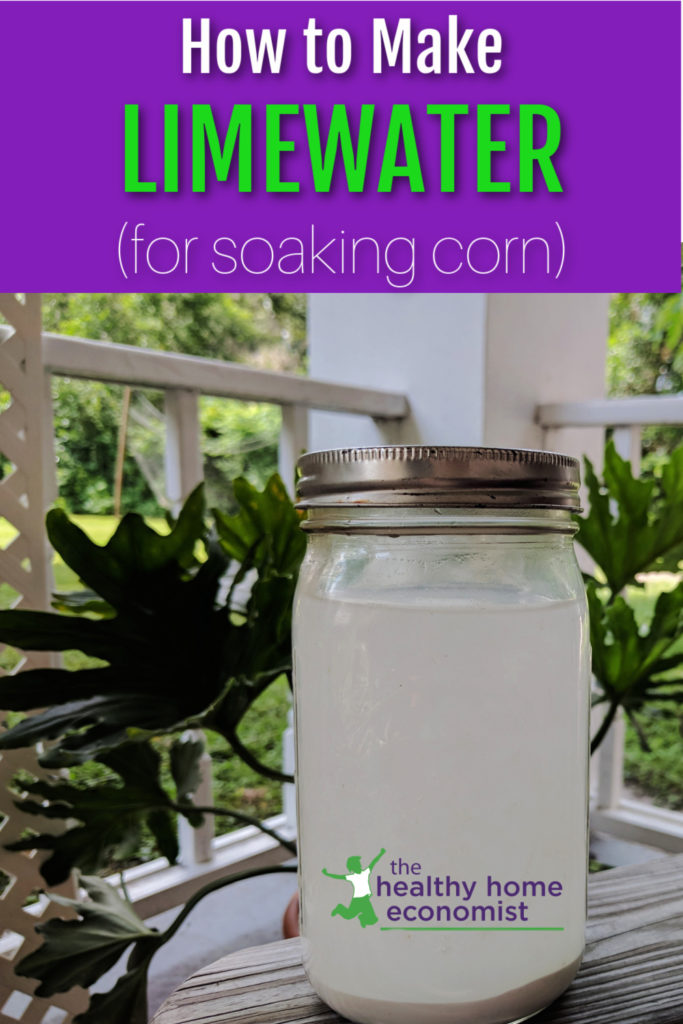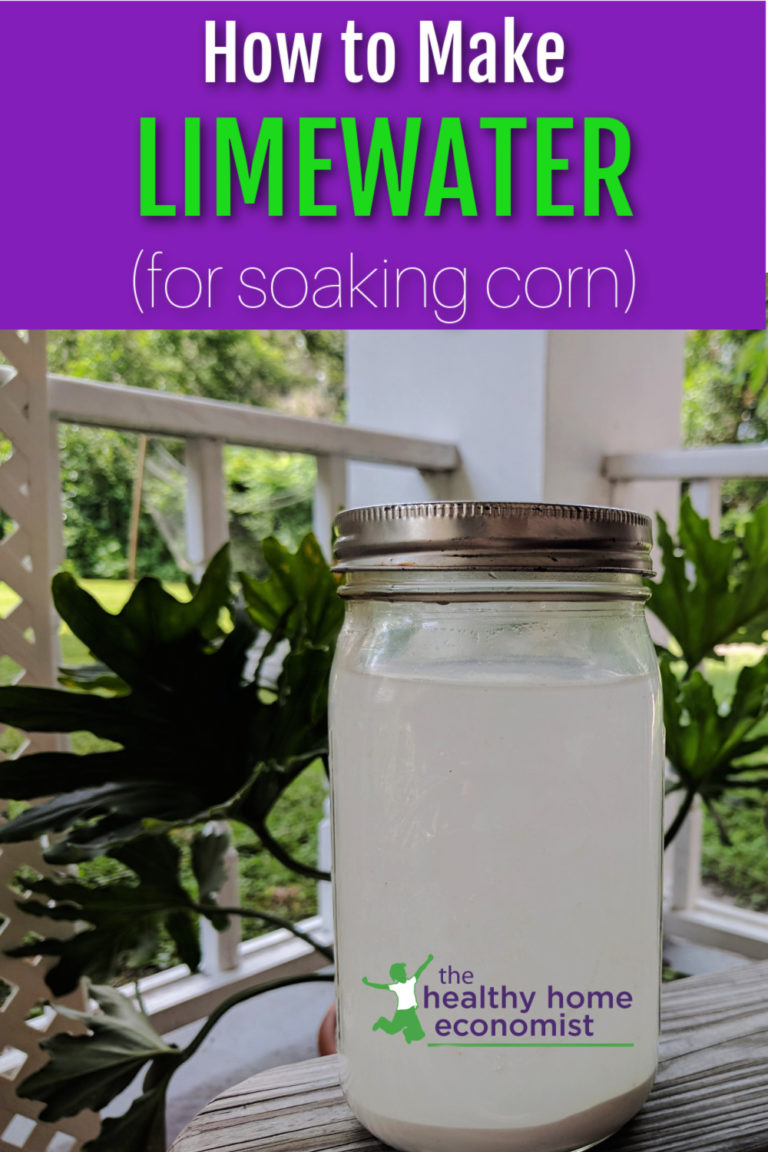 Recipes using Soaked Corn
With your limewater ready to go, here are a few recipes to try that require the soaking of corn flour and meal.