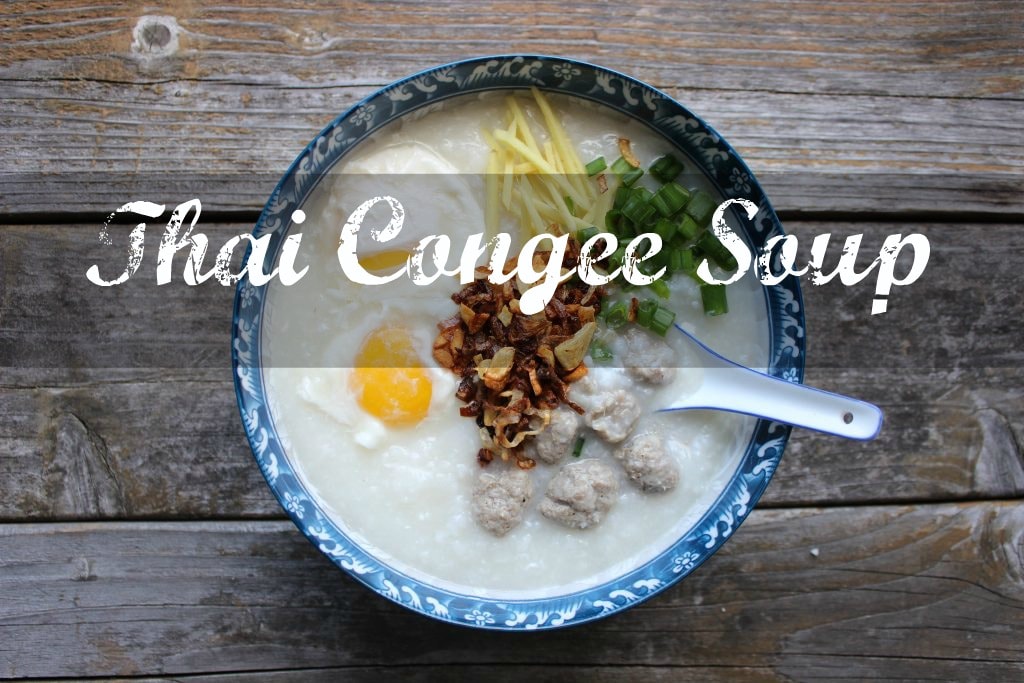 Google the words "Thai soup" and you'll find thousands of recipes for different types of red and green coconut curries and thousands more of versions of tom kha gai (a coconut chicken soup) and tom yum (a hot and sour soup). Go to a Thai restaurant in America and you'll find these same handful of soups over and over. You'll certainly rarely if ever see the word congee on a Western Thai restaurant menu. More on that later with easy recipe!
Don't get me wrong, these few popular Thai soups are insanely delicious! But, as so often happens, when a national cuisine becomes well-known outside its borders, as Thai cuisine has in recent decades, a small number of dishes become popular with restaurant menus becoming somewhat homogeneous.
But there are so many more types of Thai soup! And yet, hardly anyone in the West knows about them!
My Obsession with Thai Soup
On a recent trip to Thailand, I took a deep dive into the wonderful world of Thai soups. I guess you could say I'm a bit of a soup fiend. I just LOVE LOVE LOVE the soups of southeast Asia with all their diverse colors, flavors and aromas.
Everywhere I went I ate as many different types of soups that I could, observed how they were made, photographed them, asked questions, took notes, and jotted down recipes. I even took a few local cooking classes.
Besides being a soup fanatic, I'm also a certified Nutritional Therapy Practitioner (NTP). With this background, I realized in my travels that so many Thai soups could help people on my own country. Time-stressed Americans who need simple, affordable recipes but also sick Americans with chronic gut issues. It just so happens that many Thai soups are not only simple to make but naturally gluten and dairy-free and full of anti-inflammatory herbs, roots and spices.
And so many are broth-based! If you're a regular reader of The Healthy Home Economist, you know that bone broth is an essential traditional food with myriad of astounding health benefits.
And so I wrote a Thai soup cookbook called The Thai Soup Secret which features 40 different Thai soups that are simple, broth-based, healthy and with easy-to-find ingredients.

Congee: The Easiest Thai Soup to Make at Home
As an example, I want to share a recipe from the book that I believe is the absolute easiest Thai soup you can make at home. It's a Thai soup recipe that you probably wouldn't associate with Thai food because it's not spicy, rich or sweet. In fact, it doesn't even contain chiles. And you can't find it in western Thai restaurants either.
I'm talking about a Thai congee. In Thailand, congee is known "jok" (pronounced "joke") and is so popular that even McDonald's has a version of it on their breakfast menu!
For Real Food versions, you'll find big simmering pots of jok served at food stalls throughout the busy streets of Bangkok, including early morning hours, when it's often served for breakfast.
Some Congee Basics
If you're unfamiliar with congee, it's a simple rice-based soup with almost infinite incarnations from China to Japan to India southeast Asia. The rice is cooked for an extended period, often in broth, until it breaks apart and forms a porridge-like consistency.
That may not sound very exciting but when that simple base of rice and broth is combined with different types of meats, vegetables, herbs and seasonings, you'll be amazed how something so simple can be so incredibly delicious.
Jok Health Benefits
Congee is also considered a very healing food, especially for those with weakened digestion and compromised immune immunity. It has been used medicinally for thousands of years in Traditional Chinese Medicine (TCM).
In The Book of Jook ("jook" is the Chinese word for "congee") by Bob Flaws there are over 250 restorative congee recipes geared towards different health conditions including constipation, diarrhea, indigestion, stomach pain and intestinal ulcers.
If you suffer from acid reflux or any type of intestinal inflammation, a soothing bowl of congee in the morning will be so much better than the typical sugary American breakfast of boxed highly processed cereal, cold low-fat milk and processed orange juice. TCM and other eastern healing modalities recommend a warm breakfast in the morning (especially in the colder months) as warm foods are closer to the body's internal temperature and thus more easily digested.
Four Thai Congee Tips
Before I get to the congee recipe, there are a few tips I want to share first.
Make large portions!
First, I HIGHLY recommend cooking a large amount of congee (just rice and liquid) at once because it does take about 60-90 minutes for the rice to break down. I'm guessing you don't want to spend an hour cooking a small bowl of congee every time you make it. However, just 1 cup of rice cooked in about 2 quarts of broth, will make A LOT of congee.
Smaller portions can be reheated in a matter of minutes for quick and nourishing breakfasts throughout the week.
Cook the rice in water or broth but add broth when reheating
Second, when cooking the rice you can use water or broth. Ideally, broth is better but if you don't have a few quarts of homemade broth ready, just use water. You can then add in smaller portions of broth when reheating the smaller serving sizes. The congee will thicken quite a bit when cooled so adding some broth back in will bring it back to a soupier consistency
Add eggs for super simple and quick breakfasts
Third, I love the pork meatballs in the recipe below. They make it a bit heartier than other types of congees I've had around Asia. However, I'll admit, I often exclude them when I'm making this recipe for a broth based breakfast. If you're in a rush in the morning, as most of us are, you can skip the pork meatballs and just poach some eggs into the congee for a quicker but still healthy and complete protein source.
Always season to taste!
Lastly, the seasonings section in the recipe are the standard seasonings used in Thai congee. You can use as much or as little of each as you want. My amounts are only suggestions. That's the beauty of congee and so many types of Thai soups.
Congee flavor is always up to you
If you have time, I'd highly recommend frying up some garlic and onions in a little coconut oil. These add a delightful smoky flavor and wonderful crunch. I also prefer fish sauce to soy sauce. There's no right or wrong. Let this recipe guide you but feel free to experiment and find what you like.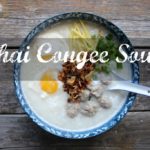 Traditional Thai Congee Soup Recipe (EASY)
Delicious recipe for congee, a traditional Thai soup which is perhaps the easiest one of all to make at home with a myriad of seasoning variations to suit your personal taste!
Instructions
Bring the broth or water to a boil over medium-high to high heat on the stove top. Rinse the rice a few times in water and add it to the boiling broth. Turn the heat down to the lowest setting. Put the lid on the pot but leave it slightly ajar to let steam escape and simmer gently for 60 – 90 minutes until rice breaks down and forms a porridge-like consistency (similar to making rice water). Stir frequently to avoid burning and add more broth or water if needed.

While rice is simmering, in a medium bowl, mix the ground pork with the garlic and fish or soy sauce. Form the mixture into bite-sized meatballs and set aside. If you can, do this a few hours or even the day before and store it the meatballs in the fridge. They'll soak up a lot more flavor.

Once the rice thickens into porridge, ladle one to two servings into a separate smaller pot. Add a little more broth if needed and return to a simmer. Add the pork meatballs and simmer for 2 to 3 minutes until fully cooked.

Add eggs and poach for a few minutes, or until the egg white form and the yolks remain runny.

Remove the congee from the heat (the eggs will continue to cook in the hot broth) and ladle into serving bowls. Top with any combination of the seasonings you prefer, to taste.

When the larger pot of congee cools, store it in the fridge. For quick meals throughout the week, simply scoop out a cup or two, add some broth to get the consistency you want, warm it up in on the stove and then repeat steps 3 -5 above. It all comes together in ten minutes tops.
Recipe Notes
Chicken or pork broth are suggested as the best base for congee.
Soy sauce may be substituted for the fish sauce if desired.
Seasonings to Taste (optional):
½- 1 inch piece ginger, peeled, sliced into thin strips
1-2 TBSPs scallions and/or cilantro, chopped fine
1-2 TBSPs fried garlic and/or onions
Ground black or white pepper
Nutrition Facts
Traditional Thai Congee Soup Recipe (EASY)
Amount Per Serving (1 cup)
Calories 198
Calories from Fat 45
% Daily Value*
Fat 5g8%
Cholesterol 103mg34%
Potassium 97mg3%
Carbohydrates 11g4%
Protein 26g52%
Vitamin A 100IU2%
Vitamin C 0.8mg1%
Calcium 10mg1%
Iron 0.5mg3%
* Percent Daily Values are based on a 2000 calorie diet.
Get More Thai Soup and Congee Recipes!
The Thai Soup Secret is available on Amazon in print and Kindle versions. It includes an entire chapter devoted to Thai-style congee recipes! It also includes chapters on bone broths, Thai drinking broths, traditional Thai soups and some fun and creative Thai fusion soup recipes. Other books I've authored include The 30-Day Heartburn Solution and Fearless Broths and Soups.