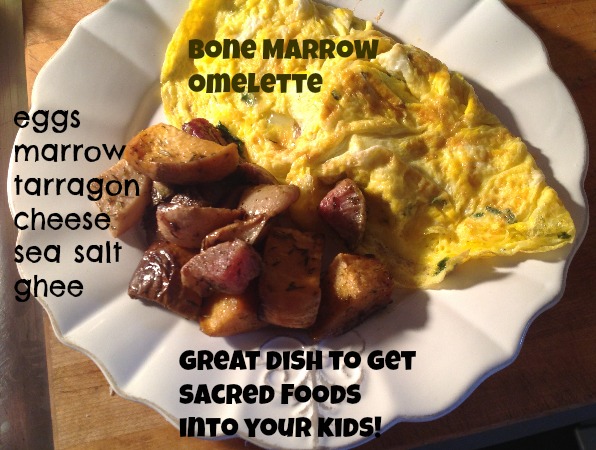 If bone marrow is not a food you've had the pleasure of trying before (it's insanely delicious), take a quick peak at this recipe plus video lesson on how to cook bone marrow which will show you how to easily obtain and cook this nutrient dense Sacred Food that is a huge boost to the immune system!  Once you're convinced, you can try it in this amazing bone marrow omelette recipe!
Sometimes, creating a great meal is as easy as putting your favorite ingredients together.  It doesn't always work out but when it does, my goodness the return on time invested is worth it's weight in gold. That is exactly what happened with this divine dish I have been happily making for my family.
Breakfast, lunch or dinner, this one is a hands down winner!
The best part about this bone marrow omelette recipe is that it was inspired while roasting bones for making beef broth, something I do every few weeks. The marrow yield from my bones was extraordinary and since we could not eat all that marrow at once we stored it for later use.
Bone Marrow and Cheese Omelette
The next day I got to thinking about how amazing that creamy, silky, delicious marrow would taste in an omelette, my idea of the perfect food – nutrient dense, texturally seductive and delicious. Here is the end result of my successful experiment. I think you will really enjoy all of these flavors, tucked neatly and sweetly into an envelope of savory pastured egg.
Here is the bone marrow omelette recipe with sheep milk cheese for you to enjoy all year long!
Want more marrow? Try this recipe for bone marrow custard too!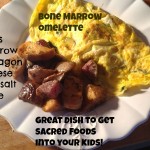 Bone Marrow & Sheep Milk Cheese Omelette
Recipe for a delectably healthy bone marrow omelette with tarragon and sheep milk cheese. An easy and delicious way to add nutrient dense organs to the diet.
Instructions
Beat 2 pastured eggs, add tarragon and a pinch of sea salt.

When pan is hot enough, it will be slightly smoking, add egg mixture.

Tip pan and use spatula to distribute eggs evenly and quickly.

Add marrow & cheese, fold omelette over and slide onto plate.

Serve alone or with accompaniment of your choice. we love roasted root vegetables in winter or a salad of greenhouse sprouts dressed with olive oil, meyer lemon juice, salt & pepper in the warmer months.