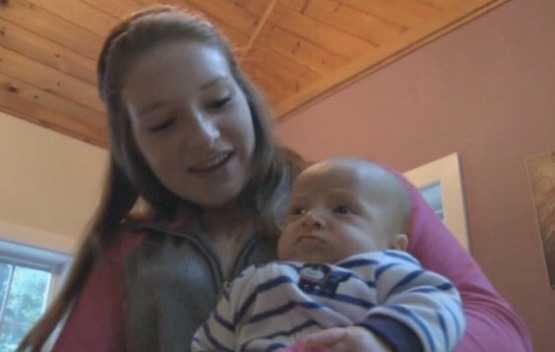 Warning to all parents who use a homemade baby formula recipe for their children instead of feeding them toxic, GMO laced commercial formula.
DON'T tell a conventionally minded doctor it is made with raw milk else your baby might end up in foster care!
This is the nightmare Alorah Gellerson of Brooklin, Maine is experiencing right now because she made the mistake of telling her doctor about the homemade goats milk formula she proudly and carefully makes for her healthy, happy, three-month-old son Carson.
The Department of Health and Human Services (DHHS) quickly responded when the doctor reported Alorah and that's when things got messy.
The state came in and threatened to take Carson away and put him in foster care unless Alorah followed DHHS orders to go and have the baby examined by a doctor.  Unbelievably, DHHS also mandated an overnight hospital stay and a switch back to store-bought GMO commercial formula.
Despite complying with every single DHHS demand, Gellerson, who receives state benefits, is still being harassed with threats of foster care for her son.  "I hope this all goes away. It's been so terrible and hard on us. We're just trying to live our lives and they keep bothering us. I just want it to be all over", she said.
Tania Allen, Gellerson's mother added,
It's so frustrating. She's a great mom. The baby has a great dad too and they love this baby very much and they would never do anything to hurt him and if we thought the formula was harming him, we would not do that.
DHHS refused to comment and instead directed inquiries to its website for the procedures they follow, one of which is from the USDA which states that goat milk is not recommended for infants because of inadequate quantities of certain vitamins.
Jack Forbush, DO, of The Osteopathic Center for Family Medicine in Hampden, Maine disagrees with the state saying,
 I don't know what's really driving it other than perhaps some different cultural belief system. I've got plenty of kids in my practice that have been given goat's milk, for example, and they're growing and developing fine.
The Weston A. Price Foundation concurs with Dr. Forbush's assessment. Homemade formula from goat or cow milk is much better for baby than commercial formula as this chart listing the nutrients contained in goat milk formula illustrates.
State Violation of Parental Rights Becoming More Common
This is not the first time a parental judgment call regarding the health of a child has landed a parent in hot water with the State.  This type of violation of basic parental rights is becoming more and more common.
Recall the story of Alex and Anna Nikolayev just a few months ago who had their baby forcibly removed from their home (with the entire assault captured on home video) simply because they took their baby to another hospital for a second opinion regarding their child's heart condition. In both cases, the children were eventually returned to the parents, but not before much grief and stress were endured by the family.
References and More Information

Brooklin Mother Says State Not Happy With Her Formula Choice
Baby's mother in trouble with state over homemade goat's milk formula
USDA: Infant Formula Feeding
Camel milk baby formula
Homemade sheep milk formula