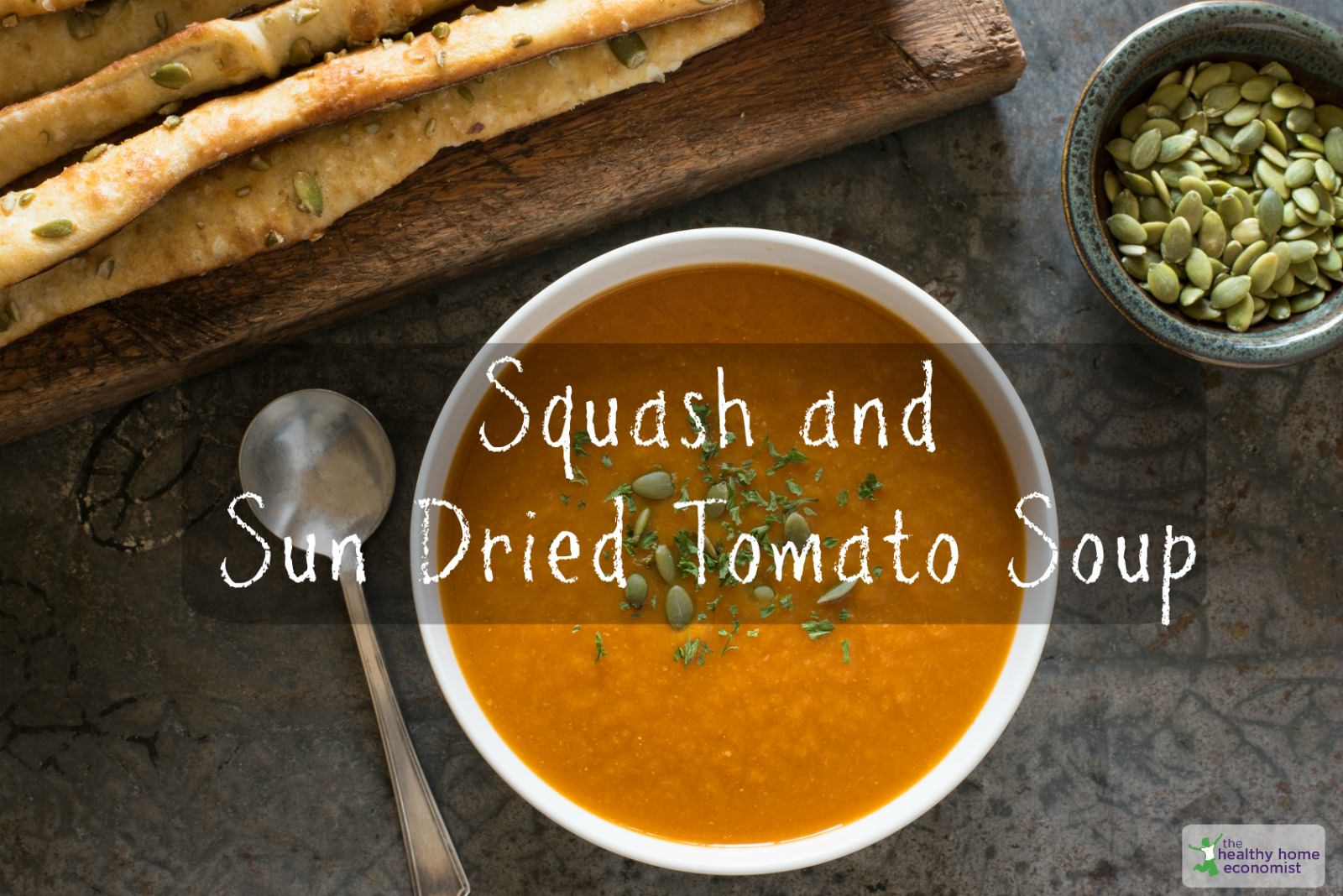 Today I'm posting the recipe for one of my husband's favorite dishes: squash and tomato soup. This particular soup recipe is very hearty and serves as a meal in itself. I like to serve garlic bread with it.
It is also a bit spicy from the sun dried tomatoes, so if you prefer bland soups, cut back on those a bit in the ingredients list.
This is an unusual soup in that pretty much any type of homemade broth will work as a base for the vegetables. I don't recommend buying bone broth if you can possibly help it for the reasons listed in the linked article.
Try making this soup with chicken stock first and then mix it up with beef. It changes the flavor quite dramatically, but both taste wonderful!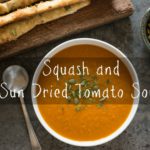 Squash and Tomato Soup
This recipe for hearty squash and tomato soup is a meal in itself and incredibly nourishing when made with homemade broth and quality organic vegetables.
Instructions
Cut squash in half lengthwise and remove seeds. Place 2 squash halves skin up in a pan of filtered water filled about 1/2 inch deep. Bake at 400F for about 1 hour or until tender.

While squash is baking, chop onions and saute in butter until slightly caramelized. Process sun dried tomatoes in a food processor until very small pieces are achieved. Add tomatoes, stock and optional chile flakes to onions, bring to a boil and skim any foam that comes to the top.

Scoop out squash and add to the soup simmering for another 30 minutes. Remove from heat and blend with a handheld blender. If soup is too thick, thin with filtered water as desired. Add basil and any sea salt, pepper, or fish sauce to taste.

Serve squash and tomato soup with piima cream, creme fraiche or soured raw cream - one dollop per bowl.

Be sure to refrigerate any leftovers. This soup freezes and thaws beautifully as well.
Recipe Notes
This recipe is adapted from Nourishing Traditions Cookbook
Substitute fish sauce for the sea salt or 2 tsp dried basil for the fresh basil if desired.
More Healthy Soup Recipes to Try
Love this squash and tomato soup?  Try these other recipes too.
Sarah, The Healthy Home Economist