A healthy, gluten-free ramen soup to enjoy instead of commercially packaged versions that are fried and contain MSG and sugar.
I've written before about how I ate packaged ramen noodle soup in college several times a week. Easy to prepare, filling, and cheap at only about 10 cents per serving, the attractive little packages represent the ultimate low budget food. Little did I know that the 20 pounds I gained my first year away from home likely stemmed from eating so many cheap carbs.
In the ensuing years, I realized the benefits of bone broth over packaged ramen and canned soup and made the switch permanently. However, I still enjoy a bowl of noodles every now and then. While I prepare them much the same, I more carefully vet the ingredients!
The Problem with Commercial Ramen Soup
The main issue with factory-produced ramen noodle soup brands is that the processing involves flash-frying the cooked noodles. A few brands apparently air dry the noodle blocks. However, the consumer must take the time to contact the manufacturer to determine which processing method was used. Not many folks will bother to do that!
Even if the ramen noodles were not fried, the seasoning packet contains a large amount of MSG and even sugar. Research on rats demonstrated that excessive MSG consumption causes blindness and obesity. Studies on mice demonstrated that MSG intake caused brain lesions on the hypothalamus, the master controller of the endocrine system (1).
In addition, the peer-reviewed Journal of Nutrition published a study in 2014 warning that those who consume ramen noodles as little as two times per week are at skyrocketing odds of developing metabolic syndrome with its host of prominent symptoms: obesity (particularly excess abdominal fat), diabetes, heart disease, and stroke (2).
A total of 10,711 adults (54.5% women) ages 19-64 years of age were analyzed, with adjustment for sampling design complexity. The diet of the study participants was assessed by using a 63-item food-frequency questionnaire.
How Commercial Ramen Harms Health
Head researcher Hyun Joon Shin MD, a clinical cardiology fellow at Baylor University and a nutrition epidemiology PhD from the Harvard School of Public Health and his team uncovered a disturbing association between eating instant noodles two or more times a week and development of cardiometabolic syndrome. This condition raises a person's likelihood, particularly if that person is female, of developing heart disease and other metabolic health woes.
Another potential problem with consuming commercial ramen noodles is the chemical called bisphenol A (BPA). Food manufacturers use these chemical for packaging some ramen noodles brands. Studies have shown that BPA is an estrogen mimicker and endocrine disruptor. It interferes with hormone messaging within the body. BPA free packaging is likely no safeguard! The reason is that the chemicals that replace BPA in food packaging like BPS have the same and perhaps even worse hormone disrupting effects.
If you love ramen soup and wish to avoid the health problems associated with consuming it regularly, try this homemade version instead. It can give you a hot bowl of tasty instant noodles fast without the MSG, sugar, or cardiovascular risks!
Ramen Soup (healthy, homemade and gluten free)
I hope you enjoy the ramen soup recipe below made with fermented miso as the base. There is no reason not to enjoy ramen as long as you make it yourself with quality ingredients!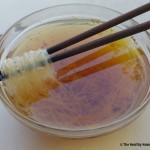 Healthy Ramen Soup Recipe (no MSG)
Easy ramen soup recipe that is gluten free too!
Instructions
Put wakame or kelp flakes in a cup and fill with cold, filtered water. Set aside.

Place noodles in a bowl and pour 1.5 cups boiling water (or bonito broth) on top. Let sit for 5 minutes.

Drain the water from the cup of soaking wakame or kelp flakes and stir the softened bits of seaweed into the bowl of noodles.


Stir in the miso and season to taste with soy sauce.

Serve your bowl of ramen soup with a salad or a sandwich and lunch is ready in less than 10 minutes!
Recipe Notes
Mung bean pasta can be used instead of rice noodles.
Fish sauce or coconut aminos may be substituted for soy sauce for those with a soy or wheat sensitivity or allergy. 
The miso is not stirred into the bowl of noodles immediately to ensure that the enzymes and probiotics from the unpasteurized miso paste are preserved.