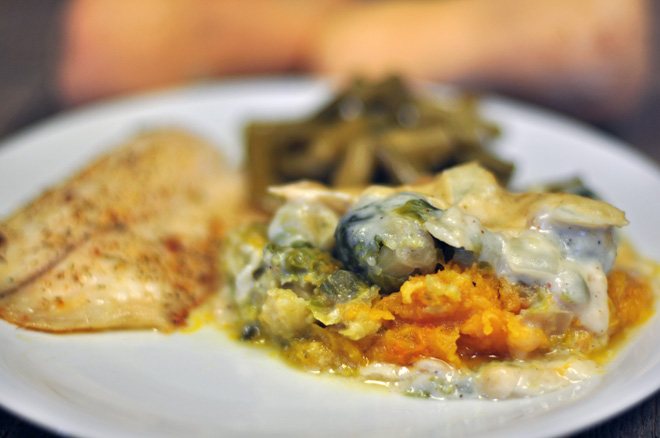 Having transitioned my family to a Traditional Diet after being on the GAPS diet, I am always trying creative, colorful and mouthwatering vegetable combinations. The sprouts and squash casserole recipe below was born from the desire to present Brussels Sprouts in a way in which our younger children would enjoy them.
Brussels sprouts are not a favorite vegetable with my younger children, but I really like them. Having 10 children (ages 4 yrs – 28 yrs), 7 of whom are still at home, I realize that not everyone can be totally pleased with every meal. Nevertheless, I do try!
Brussels sprouts which originated in Belgium are so cute – just like miniature cabbages. Like broccoli, they contain chemicals which fight cancer. Be sure to steam, roast or stir-fry the Brussels sprouts to maintain the highest level of anticancer properties as boiling greatly diminishes them. Additionally, Brussels sprouts may even help protect our DNA. There is a good reason to include them as a regular part of the menu!
If you have not tried butternut squash, a treat awaits you! Being a winter squash, butternut squash combines a nutty flavor with a sweetness similar to pumpkin. When ripe, it's golden yellow skin covers orange pulp. Butternut squash is a good source of beta carotene, Vitamin E and C as well as magnesium and potassium.
Some are daunted by the peeling process which is made easier with a potato peeler. Once peeled the squash can be cubed and cooked. Another excellent way to prepare it is by roasting – split the squash in half, place face down on a greased cookie sheet and bake at 350F until tender – about 45 min.
While I normally use butternut squash in the sprouts and squash casserole recipe below, it also works well with other winter squash varieties.
If you love veggie casseroles, try this recipe for sweet potato casserole too!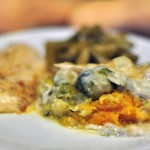 Sprouts and Squash Casserole Recipe
Easy sprouts and squash casserole recipe the whole family will enjoy even those that don't tend to eat Brussels sprouts.
Ingredients
1

lb

Brussels sprouts

preferably organic

1 1/2

cup

butternut squash

cubed, preferably organic

1

onion

chopped, preferably organic

2

cloves

garlic

minced, preferably organic

1

dash

ground nutmeg

preferably organic

2

cups

whole milk

preferably grassfed

1/4

cup

butter

preferably grassfed

1/4

cup

sprouted flour
sea salt

to taste

pepper

to taste
Instructions
If using fresh, clean the Brussels sprouts and cut the large ones in half.

Steam the Brussels sprouts and squash separately until tender.


Preheat oven to 350 F / 177 C.


Saute the chopped onion and minced garlic in butter. When the onions are translucent, add the flour stirring constantly.


Add the milk slowly, bring to a boil and remove from the heat.

Add salt and pepper to taste.

Using a 8" x 8" greased and dusted with flour baking dish, arrange the squash on the bottom.

Layer the Brussels sprouts on top of the squash.

Pour the white sauce over the entire squash casserole.

Bake for 30 minutes. Serve the squash casserole immediately and refrigerate any leftovers after it has cooled.
Recipe Notes
You may substitute gluten free sprouted flour for the sprouted wheat flour as desired. My shopping guide page contains recommended brands.