Classic recipe for soaked pancakes that achieves the traditionally soft, slightly chewy texture without any dairy.
One of the best benefits of soaking flour prior to baking is that you tend to eat quite a bit less. If this seems strange, I would suggest making a batch of soaked pancakes and notice how much you eat.
Compare this to a stack of pancakes from the local breakfast joint or ones you make from a mix from the store. Not only do you eat (a lot) more, but you get hungry more quickly!
Dishes made from soaked flour are far more satiating both during (you eat less) and after (you stay full longer) the meal.
The reason is the drastically improved digestibility.
This culinary achievement occurs from breaking down the anti-nutrients such as phytic acid present in the bran of grains.
Complex starches are also broken down into simpler form, which helps trigger meal satisfaction more quickly than if your digestion was required to do all the work itself.
In a nutshell, soaking simply makes all the nutrients in the grains more bioavailable. When food is more nutritious, you eat less and stay full longer.
Soaking Flour without Dairy
Traditional soaking of flour is done using an acidic medium.
Buttermilk, yogurt, and kefir are the most popular choices for this purpose.
The reason cultured dairy works for soaking flour is that it has the level of acidity necessary to break down antinutrients.
It also adds lactobacilli, a friendly bacteria present everywhere in the environment, including the tissues of all living things.
Lactobacilli combined with the proper pH creates the environment necessary for beneficial chemical changes to occur while the flour is soaking.
For those sensitive to dairy proteins, a combination of liquid whey and filtered water works fine too.
Options for Nondairy Soaked Pancakes
What about people with sensitivities severe enough that they cannot even tolerate the small amounts of whey used for soaking?
In those cases, dairy-free soaking is necessary.
In place of cultured dairy, either lemon juice or vinegar mixed with filtered water will work according to Nourishing Traditions.
Best results are achieved with freshly squeezed lemon juice or raw apple cider vinegar to ensure the inclusion of lactobacilli.
I personally prefer the results of soaking with water plus lemon juice. The taste of the final dish is more akin to regular pancakes. This is important for those trying this method for the first time!
However, don't take my word for it. Try it for yourself and see what you prefer!
Here's what the batter looks like in a skillet grilling up in a drizzle of expeller-pressed coconut oil (this is the brand I use).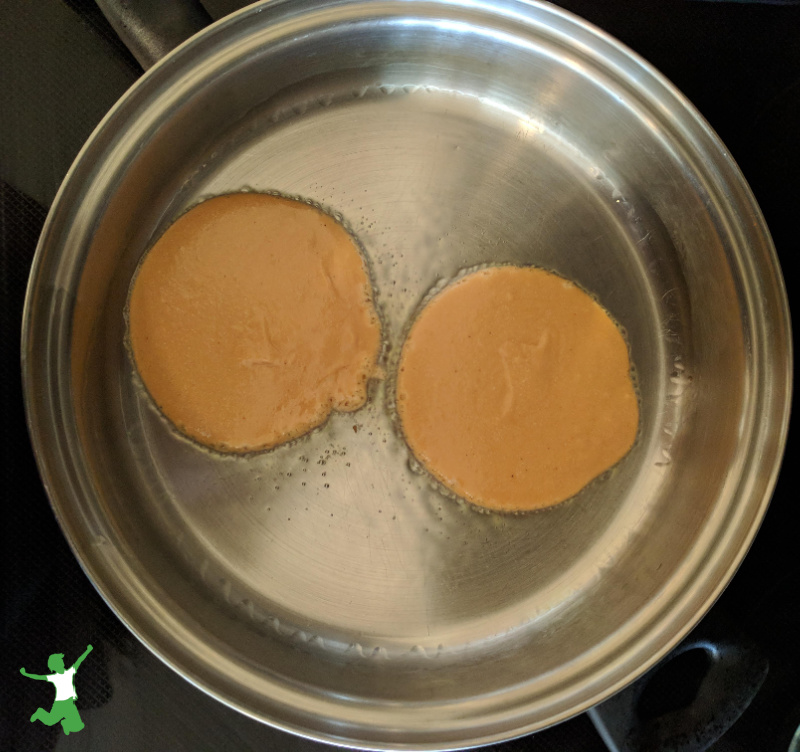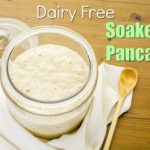 Soaked Pancake Recipe (dairy-free)
Classic recipe for soaked pancakes that achieves the traditionally soft, slightly chewy texture and same satisfaction without any dairy.
Instructions
Mix flour with water and lemon juice in a bowl. Cover and leave on the kitchen counter overnight but no longer than 24 hours.

Add the remaining ingredients and blend well.

If the batter is too thick, thin with more filtered water until desired consistency is achieved.

Fry up pancakes as you normally would in a hot, oiled skillet or griddle. Note that they will cook more slowly than unsoaked pancakes.

Refrigerate leftovers and reheat in a toaster oven.
Recipe Video
Recipe Notes
Another option for leftover soaked pancakes is to dry them out in a dehydrator or warm oven.
They make a great snack with the wholesome topping of your choice.
Nutrition Facts
Soaked Pancake Recipe (dairy-free)
Amount Per Serving (1 pancakes)
Calories 107
Calories from Fat 32
% Daily Value*
Fat 3.5g5%
Cholesterol 34mg11%
Sodium 83mg3%
Potassium 34mg1%
Carbohydrates 16g5%
Protein 3g6%
Vitamin A 41IU1%
Iron 1mg6%
* Percent Daily Values are based on a 2000 calorie diet.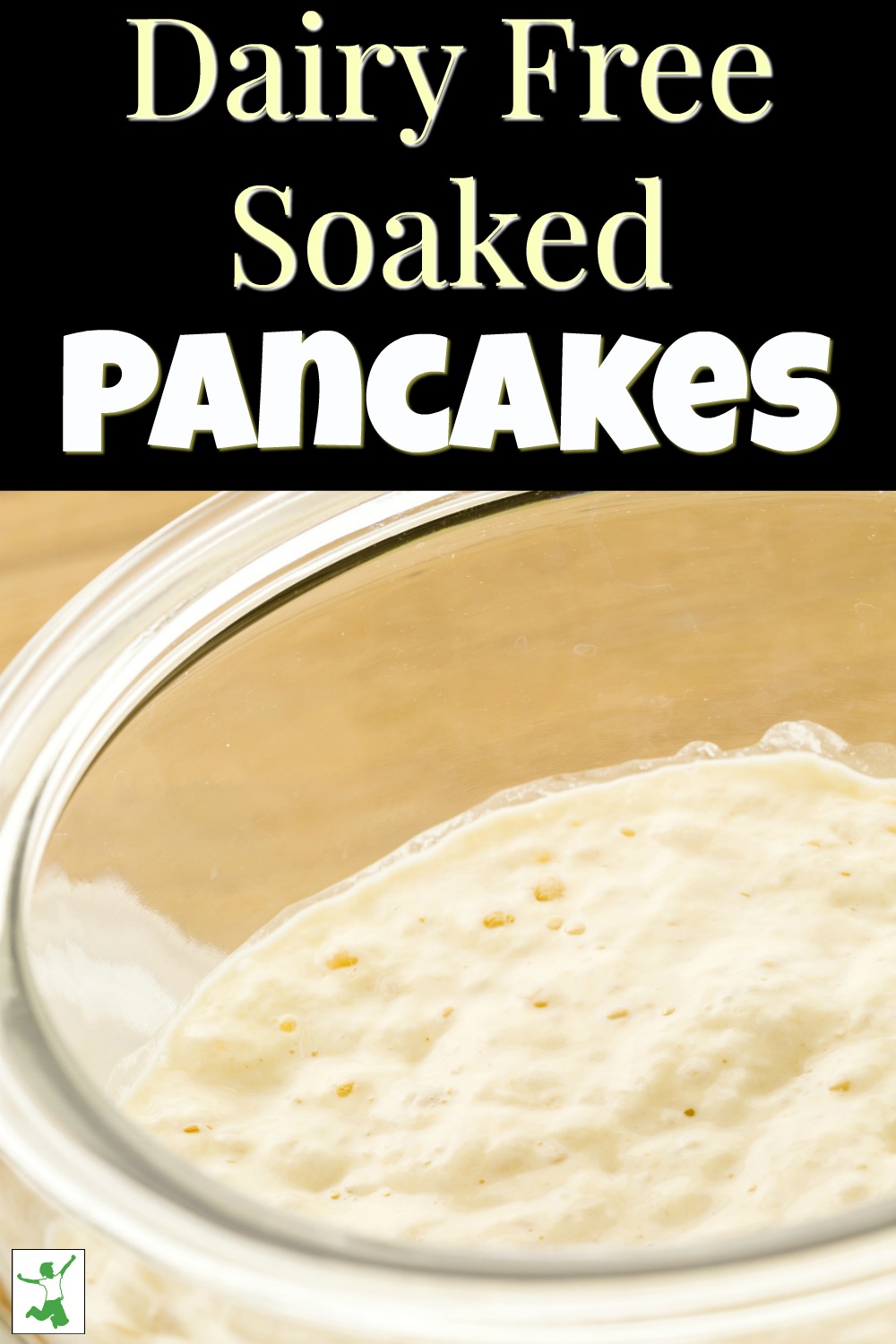 More Recipes Using Soaked Flour
It is important to note that a bit of trial and error is necessary to convert a conventional recipe using unsoaked flour to one that uses soaked flour instead.
The additional liquid used during the soaking process does tend to alter results if no other compensating changes are made.
To get you started without any frustration, here are a few soaked recipes I use in my home.
Once you get the hang of it, you will then know how to adjust your favorite unsoaked recipes to a traditional style!