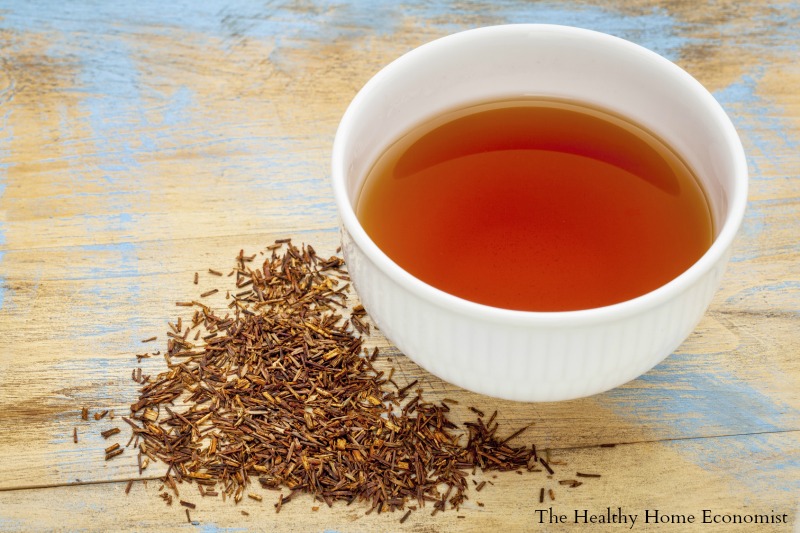 I love tea! My tea cabinet is overflowing with tins, paper boxes, and bags of both bulk tea and tea bags so I can always find the right herbal tea to fit whatever my need is at that particular moment.
A little congested? A cup of alfalfa or stinging nettle tea work well due to their natural antihistamine properties.
Stressed out? A cup of chamomile tea will calm you down in no time.
So, where does tea fit into a healthy diet?
Rooibos Tea: Herbal Gem from Africa
For the past few weeks, I've been drinking a morning cup of rooibos tea, also known as red or redbush tea. I've switched recently because I find that don't do well if I have a cup of green tea every morning. Even this small daily dose of caffeine tends to result in weak adrenal symptoms and contribute to early afternoon fatigue after awhile. I really can only enjoy green or (my favorite) English Breakfast on occasion. Have you noticed how daily caffeine so quickly develops into a habit if you're not especially careful?
I don't prefer decaffeinated black or green tea because, to me, this is an unnatural over processing of these herbs. I would rather choose a tea that is naturally caffeine free, such as red tea.
Rooibos tea (sources) is native to the continent of Africa and is primarily grown in South Africa's Western Cape. Local people have traditionally used red tea for centuries. Dutch settlers in South Africa used it as an alternative to expensive black tea whose supply was dependent on trading ships from Europe.
Rooibos Flavor and Nutrition
Red tea has an earthy and a slightly nutty flavor. The first time I tried a cup, I didn't really care for it much. Red tea grows on you after awhile, though, and I now I simply love it. My favorite way to enjoy it is with a sprinkle of cinnamon on top!
Rooibos tea benefits primarily revolve around the fact that it is naturally decaffeinated and loaded with antioxidants. Scientifically, no adverse effects whatsoever have been attributed to rooibos tea. Another benefit is that unlike black or green teas, matcha and yerba maté, rooibos does not become bitter. Instead, it becomes sweeter with an even more enjoyable flavor with extended brewing.
Other rooibos tea benefits include anti-fungal as well as antimutagenic properties. It is also alleged to beneficially modulate the immune system and to assist with nervous tension, skin problems, and digestive complaints.
I personally find that a warm cup of red tea gives me a lift in the morning with no caffeine required. This effect is perhaps due to red tea benefits to the digestive system, as anything that reduces digestive burden results in an improved energy state!
I also love to have rooibos tea on hand because it is a caffeine free choice for the kids whenever they ask for a cup.
Like many plants, rooibos readily takes in flouride from the surrounding soil, so make sure you buy organic rooibos as commercial fertilizers contain large amounts of flouride.
Rooibos Tea Benefits: Healthy Alternative to Lattes, Cappuccino and Espresso
"Red espresso" is served in South African coffee shops and is concentrated rooibos served in the same manner as coffee espresso.
Rooibos tea is delicious with milk and makes an excellent caffeine free rooibos latte or cappuccino. Another caffeine free idea is a dandelion latte if you really enjoy the taste of coffee.
In the summer, iced red tea is a very pleasant alternative to the black tea based iced teas on the market.
For those attempting to shake the coffee or, in my case, the green/black tea habit, a switch to rooibos tea may be just the ticket!
What is your favorite tea of late?
This article contains more information and a recipe for healthy coffee substitutes.
Sarah, The Healthy Home Economist