How to use tea bags safely even for brands that make them out of toxic materials that should not be exposed to hot water. Plus…which brands do NOT use toxic tea bags if you need convenience for travel.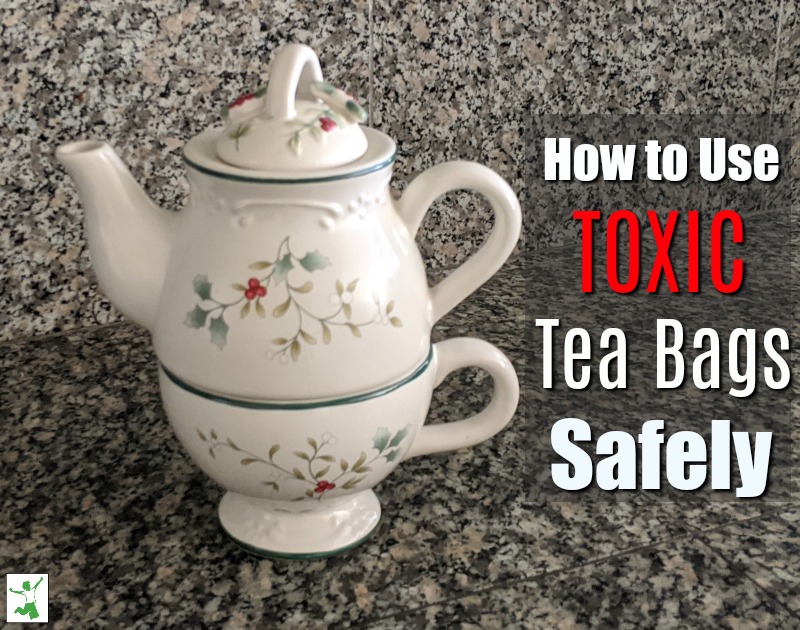 You may already know that teabags even from organic brands can be a significant source of toxins…even carcinogenic ones. This is especially true if you drink multiple cups of tea per day.
Expensive "premium teas" can be the absolute worst as the three dimensional, mesh teabags that allow the tea to infuse into the water more quickly are made of plastic!
Brands that Use Safe Tea Bags
There are surprisingly only a few brands of teabags as of this writing that appear completely safe to buy. This includes all the many organic brands of tea too.
100% nontoxic tea means BOTH the tea bag AND the tea are safe and do not contain pesticide residues, natural flavors, artificial flavors, GMOs or plastic/petroleum-based chemicals. (1)
Here are the only three to consider at this time that I know about:
My guess is that your tea cabinet is like mine and is loaded with brands of tea that are NOT one of the above brands, right?
In that case, what to do? You've spent a lot of money on that tea and you don't want to throw it out!
Fortunately, there is definitely a safe way to use up that tea without harming yourself as described below and the 90-second video included with this article.
How to Safely Use Toxic Tea
Organic loose tea is definitely the best way to go long-term. It is the most budget-friendly choice as well as the safest, most toxin-free option if you love tea like I do and drink it a lot.
As mentioned earlier, however, what do you do with boxes of herbal, black and green tea bags that you already have? You can't return them and they were expensive to buy. In some cases, $8 or more per box!
How do you use these unsafe tea bags safely without introducing a toxic burden into your digestive tract, possibly undoing all the benefits of drinking the tea in the first place?
Remember that even paper tea bags typically contain small amounts of plastic too, so you will need a plan for safely using those up as well. (2)
I recommend two products that make the transition from tea bags very easy.
Two Methods for Using Tea Bags Safely
First, get a stainless steel diffuser for brewing single cups of tea. This is the one I've used for years. This is a good option for traveling too as you can tuck it into your carry-on.
The second option is what I prefer to do at home. Get a small teapot specially designed to infuse tea. It is useful for making therapeutic herbal infusions or brewing 2-3 cups of tea at the same time.
This is similar to the one I use (which I actually received as a gift a few years ago).
The 90-second video included with this article demonstrates exactly how to use them!
References
(1) Do You Really Know What's in Your Tea?
(2) Plastic Compounds in Tea Bags