Table of Contents

[Hide]

[Show]
This delicious chocolate chip cookie cake recipe is made with wholesome ingredients and nourishing fats that you can feel good about serving.

This Real Food cookie cake was a primary recipe I used when my children were younger to introduce chocolate to them in very small amounts.
This way, they would know what the good stuff tastes like so they would not develop a taste or addiction to the artificially flavored, vegetable oil-laced ersatz chocolates that, sadly, now dominate the candy market.
This strategy seems to have worked. My children, who are now old enough to make their own dietary decisions, rarely eat conventional candy, preferring instead the occasional homemade treat or quality piece of chocolate from an independent confectionery that uses traditional ingredients.
This cookie cake is an easy and popular choice for parties and get-togethers. Everyone seems to enjoy it no matter how they typically eat.
Choose Your Favorite Chips!
This recipe can be easily modified to use white chocolate or carob chips. The ratio you choose depends entirely on you and what you feel is appropriate for your family.
The best part is that this cookie cake is loaded with butter so that it is highly satiating. Substitute expeller-pressed coconut oil if you have a dairy allergy in your home. (sources)
Or, use half butter and half expeller coconut oil which, in my opinion, produces the perfect level of moistness and rich flavor. I do not recommend virgin coconut oil, as it can impart a slight coconut flavor that some do not enjoy.
It is hard to overeat this cake unlike commercial versions at the mall or supermarket with additives that encourage addictive eating behaviors.
Even a small amount of these processed chocolate chip cookie cakes make many people feel sick!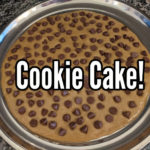 Chocolate Chip Cookie Cake Recipe
This delicious chocolate chip cookie cake recipe is made with wholesome ingredients with nourishing fats so you don't overeat it like the ones at the supermarket or Mall.
Instructions
Preheat the oven to 350 F/177 C.

Grease pizza pan with coconut oil or butter.

In a large bowl, cream the softened butter and coconut oil with the cane sugar.

Beat the eggs and add along with the vanilla extract to the wet mixture.

Combine the flour, baking soda, and salt in a large bowl.

Add the flour mixture to the wet mixture a bit at a time mixing well until all is blended together.

Spread the batter evenly across the bottom of the pizza pan.

Add the chocolate chips evenly across the top pressing them slightly into the batter so they will still all show once the cookie cake is baked (see picture above to get the idea).

Bake for 20 minutes or until the edges are slightly browned and the center of the cookie cake is set but still soft.
Recipe Notes
Carob chips or white chocolate chips (sources) may be substituted for the chocolate chips.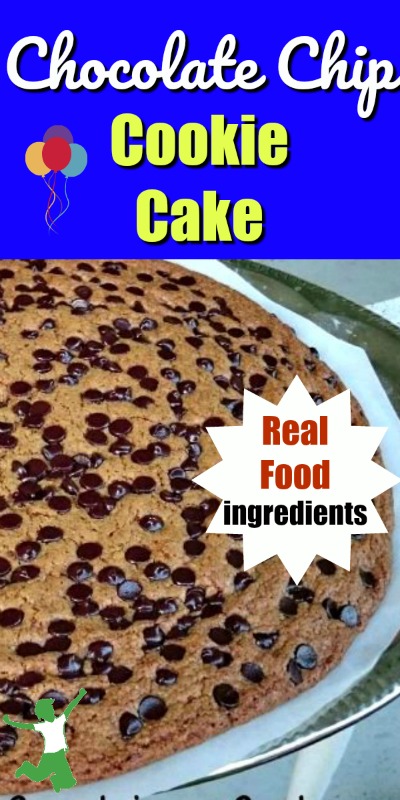 Related Recipes
Sprouted Flour Brownies
Homemade Cocoa Pudding
Carob or Chocolate Peanut Butter Fudge