Comparison of the different types of coconut oil on the market and which kind to use for various purposes including virgin, expeller-pressed, and liquid "culinary" coconut oil.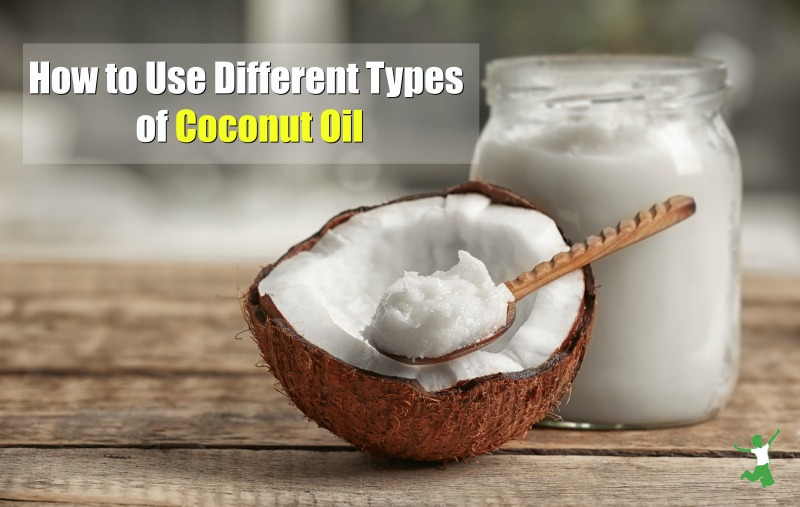 If you follow an ancestrally-based food philosophy, chances are that coconut oil features prominently in your pantry! Many traditional recipes include this wondrously healthy fat loaded with the anti-microbial powerhouse lauric acid.
Worried that consuming coconut oil will eventually cause you to drop dead from a heart attack? Don't be!
Ancestral cultures that relied on coconut fat as a staple were not overweight and had virtually no coronary artery disease. The demonization of coconut oil is a prime example of astroturfed dietary dogma for industry profit.
Once you've gotten past the false messaging about coconut oil in the media, the next decision is what type to use in your home?
The confusing part is that coconut oil comes in several varieties. Let's examine which of these is most suitable for various purposes around the home.
Liquid Coconut Oil in the Kitchen?

Liquid or "culinary" coconut oil is the misleading name given to coconut oil that has had most, if not all, of the beneficial lauric acid removed. In other words, it is fractionated, which is another term sometimes used to describe it.
People not familiar with why coconut oil is beneficial in the first place fall for this marketing scam because they like how liquid coconut oil remains in a pourable consistency in the pantry or even refrigerated.
Pure coconut oil starts to solidify below a temperature of around 75 °F/ 24 °C.
At first glance, liquid coconut oil is a more convenient product to use as you don't have to melt it before blending with other ingredients.
But this convenience comes at what price?
The removal of the lauric acid means that coconut oil really isn't coconut oil anymore, hence why the name is so deceitful.
Where does the lauric acid go? It is typically sold off to cosmetic companies for a tidy profit (of course).
In short, liquid coconut oil is a highly adulterated product not suitable for cooking and baking.
Removal of lauric acid from coconut oil to make it permanently liquid results in a product that contains a much larger percentage of heat unstable fats!
This is so ironic because this heavily fractionated form of coconut oil is aggressively marketed as the "ideal" culinary coconut oil!
Bottom line? Avoid liquid coconut oil.
Always.
It has no use in your pantry for any purpose whatsoever.
Best Uses for Virgin Coconut Oil

Virgin coconut oil (VCO) is the purest form available. Some brands label it "extra virgin".
At it's best, it is raw and organic…pressed from fresh coconut meat within 48 hours of being picked from the trees. The oil is extracted by centrifuge, without using heat in the process and with no solvents, bleaches or deodorizers. This retains all the nutrients, including enzymes.
I use and recommend this brand and this brand. Both have been thoroughly vetted.
Virgin coconut oil retains a slight coconut smell and taste, which cooking does not remove.
It also has a fairly low smokepoint of 350 °F/ 177 °C, which makes it unsuitable for some cooked dishes.
Thus, virgin coconut oil is best reserved for therapeutic use where it remains completely unheated. While not necessary to refrigerate VCO, always store it in the pantry. Never in a hot garage where it could degrade potency.
How to Best Use VCO
Examples of optimal uses for virgin coconut oil would include:
Avoid Virgin Coconut Oil from Mega-Retailers
I don't recommend buying virgin coconut oil from mega-retailers like Costco or Wal-Mart. The reason is that these companies will source the cheapest stuff available from around the world, and this can sometimes mean an improperly filtered low-quality product.
Perhaps the label says all the right things ("raw", "virgin", "unheated"), but passing through the worst part of the industrialized food system means it was more likely to have been improperly stored in an excessively hot warehouse that would degrade the oil's potency all the same.
You get what you pay for! Cheap warehouse store virgin coconut oil is inexpensive for a reason.
If you plan to use VCO therapeutically, be sure to source from trusted, small scale vendors (such as this brand and this brand) that stands behind the quality of their product to ensure that it was not only manufactured properly but also shipped and stored with care.
Expeller-Pressed Coconut Oil Versatility
Expeller pressed coconut oil is the type I recommend (and use myself) for cooking and baking. It is heat refined, but if you stick to organic brands, it won't be solvent extracted or hydrogenated.
No lauric acid is removed during refining, so it retains all of its anti-microbial potential.
In other words, only use refined coconut oil that is mechanically pressed without the use of solvents or chemicals. It should never be hydrogenated.
This is the type of coconut oil used by fine pastry chefs and elite bakeries because of its neutral taste and ability to impart incredible moisture and a melt-in-your-mouth quality to baked goods. No other fat comes close, in my opinion.
I use this brand and this brand and have vetted both for quality.
Organic refined coconut oil has a neutral smell and no flavor as well as a slightly higher smokepoint, which makes it a better choice for culinary purposes. For baking, it is safe to use refined coconut oil to 450 °F/ 232 °C.
Nutritional co-factors and enzymes are lost during processing, but these would have been destroyed during cooking and baking anyway.
You may store refined coconut oil in the pantry or in the garage, even during the summer when temperatures soar.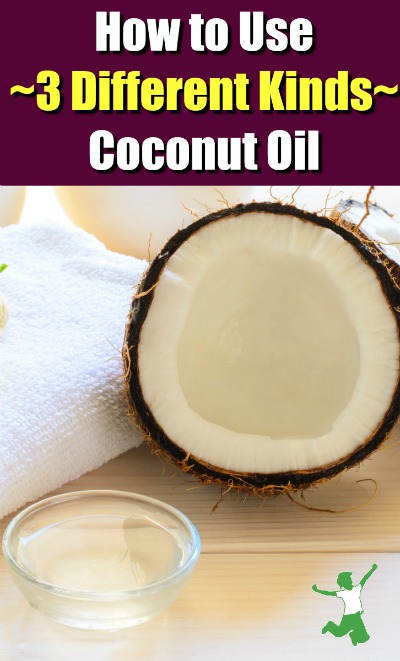 VCO, Liquid or Refined Coconut Oil?
In summary, skip the culinary coconut oil, frequently labeled as liquid coconut oil. If your coconut oil doesn't start to gradually go solid as the house cools below 75 °F/ 24 °C, it isn't actually coconut oil at all!
It is best to reserve the raw, virgin coconut oil for unheated uses. These would typically be therapeutic in nature either as a natural antifungal remedy or for weight loss. You may also use VCO for low-medium heat cooking but only do so if you enjoy the coconut flavor that will be imparted to the dish.
Mechanically extracted, refined coconut oil is most ideal for cooking and baking due to its neutral smell and taste. Examples include sauteing or stir-frying over medium-high heat. For baking, up to 450 °F/ 232 °C is acceptable.