Table of Contents

[Hide]

[Show]
Easy recipe for sprouted flour brownies (with gluten-free option) that uses nourishing ingredients for a healthier treat than boxed versions and a wholesome taste your family will love.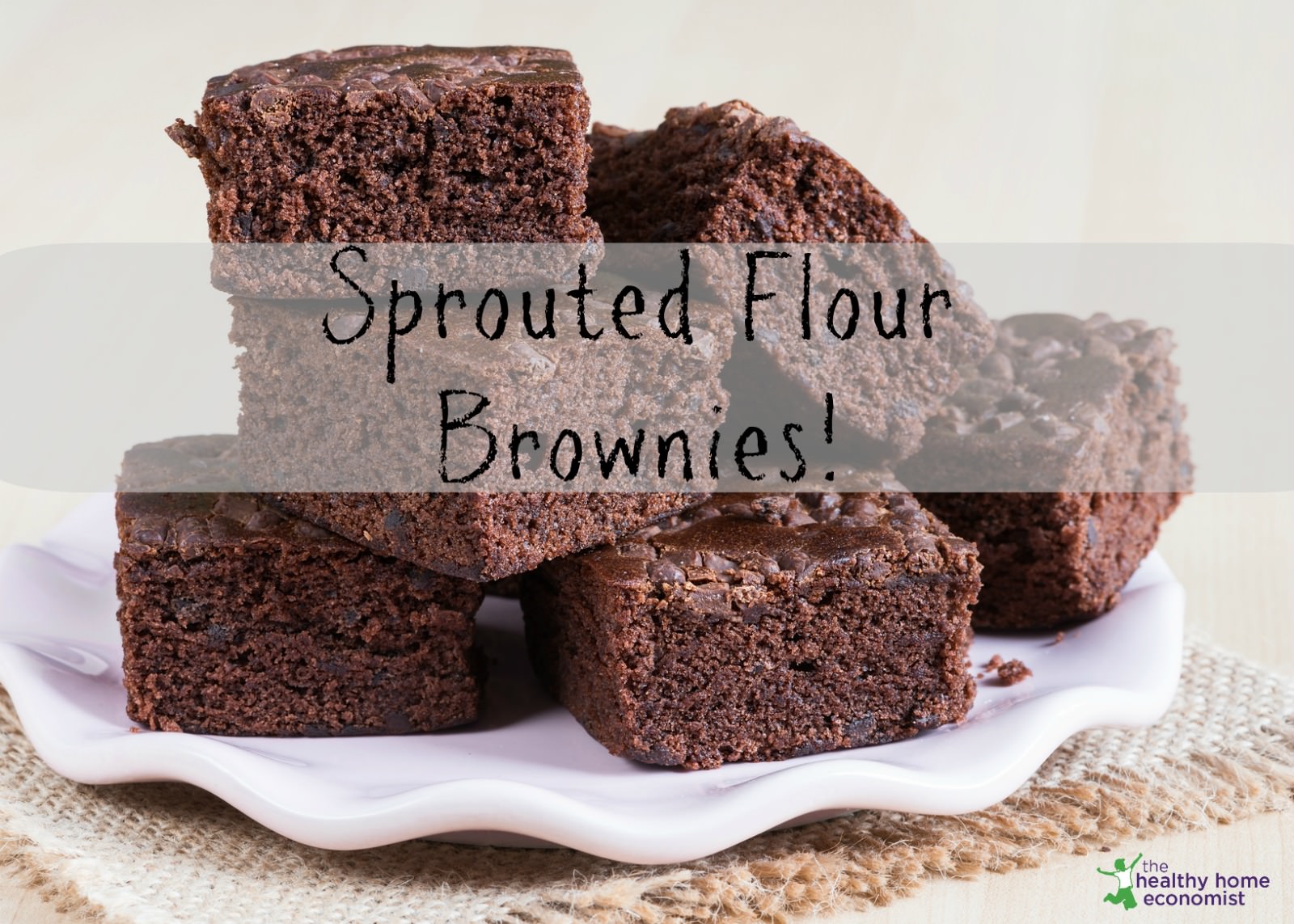 Without a doubt, the brownie is the greatest American contribution to the world of pastries.
I'll never forget how big my husband's eyes got when he first tasted one back in the 1980s. Being from Australia, he had never had a brownie before!
Believe it or not, I used to ship batches to him across the Pacific when we were dating!
Expensive but worth it!
Who could resist someone who ships you brownies across the world?
Healthy Brownies?
To make the best brownies ever, forget the boxed brands at the store.
You can make your own sprouted version with whole ingredients very easily and quickly at home.
I like to serve sprouted brownies topped with a scoop of homemade vanilla ice cream and some chopped soaked nuts.
To make it into a brownie fudge sundae, add homemade whipped cream topping and no-cook chocolate syrup too.
No restaurant versions I've tasted anywhere come close to being as yummy. And, you don't pay for it later with a stomach ache!
This is a lavish treat that you can feel good serving your family for special occasions. Our tradition is to enjoy a pan during the Superbowl.
Gluten and Grain-Free Option
If you are gluten sensitive or Celiac, substitute a sprouted flour gluten-free blend (I use this brand) 1:1 for the ancient grain flour in the recipe below.
A more budget-friendly approach is to make your own sprouted flour. These tips for mixing gluten-free flour for baking once you've germinated and ground the grain can help too.
Eating low carb? Try these brownie recipes as a grain-free alternative.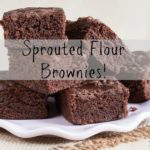 Sprouted Flour Brownies Recipe
Easy recipe for sprouted brownies that are just as tasty but far more nutritious and easy to digest. Bonus: You'll eat less!
Instructions
Mix the dry ingredients and wet ingredients in separate bowls.

Blend dry ingredients slowly into wet ingredients mixing well.

Blend in optional white chocolate chips if desired.

Pour the sprouted flour brownies batter into a 9×13 baking pan greased with coconut oil.

Bake at 350 °F/177 °C for 18-24 minutes.

Remove promptly and do not overbake.


Cool on the counter for about 20 minutes.

Cut brownies into squares and serve alone or with your choice of toppings.

Store in an airtight container on the counter for up to four days.