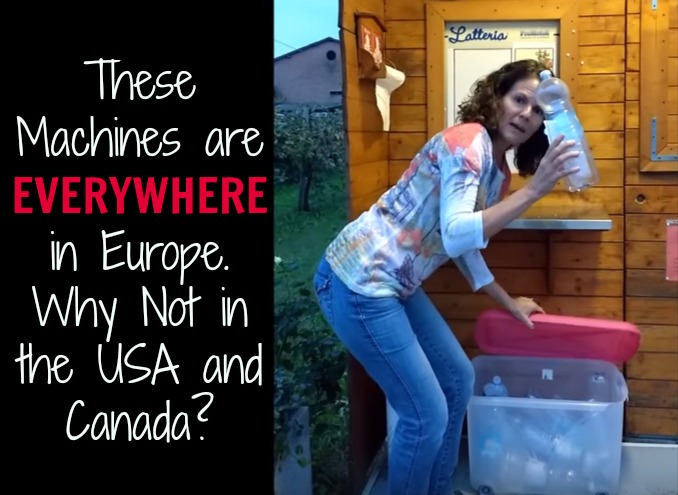 Raw, unpasteurized milk directly from the cow is considered a dangerous food in the United States and Canada. Yet, all across Europe, this probiotic and enzyme-rich traditional food that has nourished humans for millennia is available via vending machines that conveniently dispense its healthful freshness from stainless steel refrigerators.
I recently returned from a 10-day culinary swing through Italy (sponsored by the amazing company Jovial Foods) where I made use of two of these vending machines to supply myself and my son with the delicious frothiness that only raw milk provides. Below is a short video my son filmed while I was loading up at one of the 17 raw milk machines serving the small city of Modena, Italy alone.
One of the raw milk machines I used during our travels was right next to a school!  The farmer delivered and filled the raw milk vending machine every morning at 6 am so the children had easy access to the freshest and most healthful of beverages each and every day.
Such smart Italians to provide schoolchildren with a truly healthy beverage to optimally grow their minds and bodies available with the push of a button! This is innovation at its best – delivering the most traditional and nourishing of foods to the next generation harnessing modern technology as servant.
This in stark contrast to the vending machines available in American schools that dispense obesity-promoting sodas and processed fruit juices sweetened with GMO sugar or high fructose corn syrup and loaded with additives. Even supposedly healthier options are little better as pasteurized milk cartons from GMO fed, confined cows are so devoid of nutrition that synthetic vitamins must be added to pad the nutrition label. What's worse, the pasteurized milk options geared toward children in vending machines are typically sweetened with GMO sugar or even aspartame!
Over 1000 Raw Milk Machines in Italy Alone
According to the "milk maps" website designed by Andrea Verlicchi, hundreds of small family farms currently supply around 1,300 raw milk vending machines in Italy alone (1).  These machines have been dispensing raw milk for years!
If raw milk was truly as dangerous as the United States and Canadian authorities claim, wouldn't there have been a serious outbreak of food-borne illness with deaths involved by now? The truth is that Big Dairy doesn't want the public to have easy access to raw milk because this would require local delivery networks that would keep the profits within the community which would crowd out massive and highly profitable corporate distribution channels. Hence, an army of highly paid dairy lobbyists twists the arms of government bureaucrats and legislators to demonize this healthful food ironically under the guise of "protecting" the public health.
The truth is that statistics provided by the Centers for Disease Control (CDC) prove raw milk safety. Ted Beals MD examined CDC figures for foodborne illness for the entire population of the United States and found that a person is about thirty-five thousand times more likely to get sick from other foods than from raw milk (2).  "It is irresponsible for senior national government officials to oppose raw milk, claiming that it is inherently hazardous," says Dr. Beals. "There is no justification for opposing the sale of raw milk or warning against its inclusion in the diets of children and adults."
Clearly, the entire continent of Europe sides with Dr. Beals.
This is where you get to decide.  If raw milk is good enough for Queen Elizabeth who had bottles of it delivered to her grandsons William and Harry at boarding school (3), isn't it good enough for your family too?
Click here for a raw milk finder to locate a grass-based dairy farm near you. While not as convenient and accessible as it is in Europe, raw milk is legal to obtain in most states in America although you will probably have to go out of your way to get it (hint: it is worth the effort!).