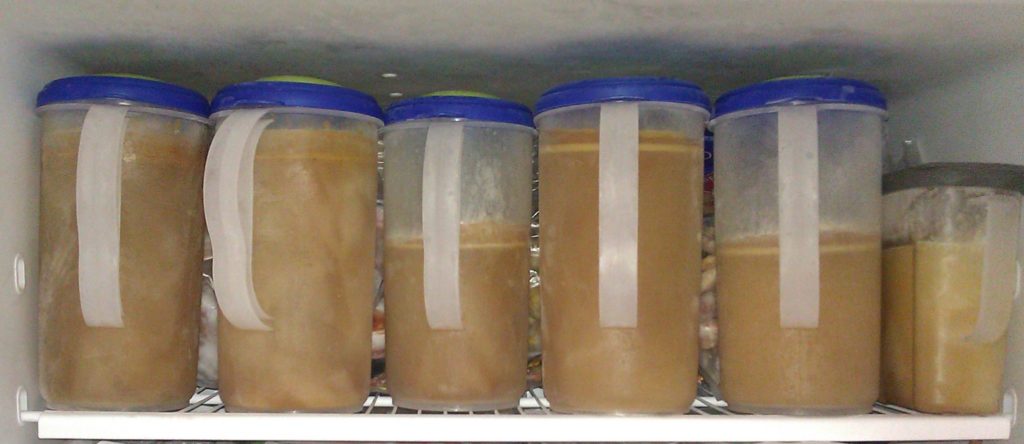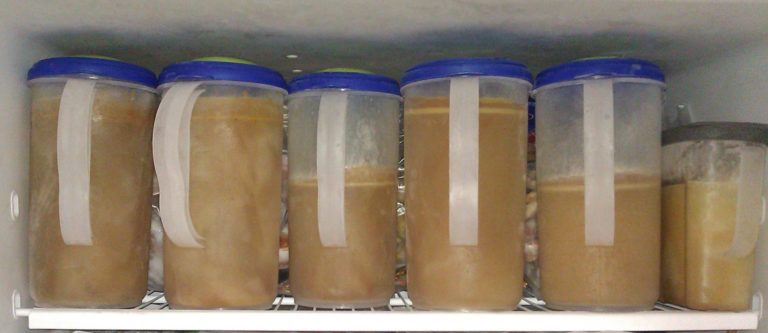 What does your freezer look like? This time of year, mine is loaded up with homemade bone broth.
The picture above is the top shelf of my kitchen freezer. The container third from the left is actually a full gallon container (you can't see how wide it is from the picture), so the total is over 3 gallons of stock right now in my freezer. The middle containers are duck stock, the quart container on the far right is fish stock and the container on the far left is turkey stock.
All those containers of stock you see in the picture will last my family of 5 about one month to six weeks.
I use stock liberally – I even cook rice in it instead of water. The kids don't even know they are eating stock sometimes!
Stock is my secret weapon to keep my family free of tummy bugs that are running rampant through school and the community at large during the winter months.
Homemade stock contains ample amounts of gelatin, which is a colloidal substance that attracts digestive juices to it and prevents gastrointestinal bugs from attaching themselves to the gut wall. Natural gelatin both assists digestion and keeps you well!
Store bought soups and broth/stocks – even if organic – are nutritionless, loaded with MSG (using deceptive and misleading pseudonyms of course) and do not contain any beneficial gelatin.
Making plenty of homemade soups with homemade broth and you have rediscovered one of the most important and delicious ways Traditional Societies stayed well!
Best of all, stock is FREE. All you have to do is use the bones of whatever meat you have roasted, add water and a bit of vinegar, and simmer for 24-48 hours.
Eating well does not have to break the bank!
Don't have time to make soup?
Try this 5 minute healthy soup recipe that you can make with a quart of frozen bone broth right out of the freezer.
Another super fast soup is this recipe for panata, frugally referred to as bread soup.