Discussion of the six methods for successfully thickening nondairy, plant-based yogurt, and which of these techniques are the best nutritionally and digestively.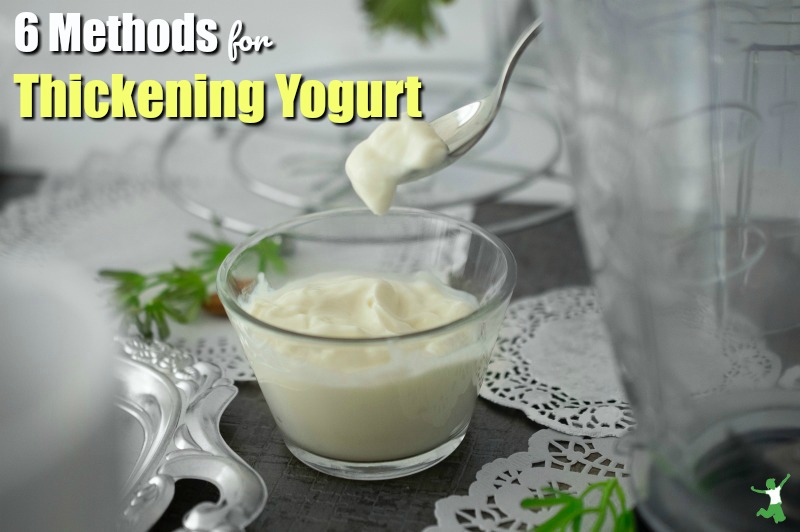 The thick, spoonable texture of yogurt is one of its most alluring characteristics. While homemade yogurt made with dairy milk will naturally thicken as it cools, plant-based yogurt will not thicken on its own (except for soy milk, which is best avoided anyway).
Hence, once you have a healthy milk substitute in mind (my personal favorite is sprouted oat milk), you will need to consider which type of thickener to use before you get started.
This is because the dairy-free yogurt thickener you choose will usually be added early in the process, ideally before the heating of the milk begins.
Skip This Method
Before we get into the methods for thickening plant-based yogurt that actually work, let me warn you about one that doesn't…
Beginners to making nondairy yogurt may attempt to thicken things up by adding more dairy-free yogurt starter to the milk.
However, this approach usually won't work and might actually cause a situation where the strains over-compete for a limited amount of carbohydrates in the non-dairy milk.
At best, the result can be a complete failure of the fermentation altogether, with the batch having to be tossed.
At worst, the yogurt might even be dangerous to consume because when fermentation doesn't "take" pathogens move in and proliferate instead of probiotics!
Dairy-Free Yogurt Thickeners that Work

There are numerous ways to thicken non-dairy yogurt. You may have noticed the plethora of thickener-type additives in commercial brands at the store!
Some of these methods are healthy and others are best avoided.
Nondairy milk solids

Modified food starch

Pectin

Food gums

Agar

Starch

Gelatin
I've highlighted the "avoid" methods in red, the "acceptable" thickeners in blue, and the "best" techniques to try in green.
Let's first examine those highlighted in red.
Methods to Avoid
I would suggest that you avoid using milk solids, modified food starch, and pectin as a way for thickening non-dairy yogurts.
Milk Solids
Steer clear of using milk solids or powder (especially from soy!) as an easy method for thickening non-dairy yogurt. This type of product is highly processed and denatured. For those seeking a healthy way to thicken yogurt, it is at the bottom of the list.
Modified Food Starch
Like milk solids/powder, modified food starch is also highly processed. An additional concern is that modified food starch usually comes from corn, which even if organic, has the very real potential of cross-contamination from GMO crops.
Be aware that modified corn starch is sometimes marketed under the name "ultra-gel". Read labels carefully to ensure that you don't fall victim to games with ingredient semantics.
Pectin
There are two types of pectin: sugar-activated and calcium-activated. I don't recommend using the sugar activated kind because it takes large amounts of sugar to work, which means you would probably have to add sugar to your non-dairy yogurt to achieve desired thickening results.
Calcium-activated citrus pectin works well and can achieve very consistent results. However, because non-dairy milk does not contain much if any calcium, you need to add calcium water to the process as well, which makes it an inconvenient and more complicated method than others discussed below.
Acceptable Thickeners
There are several methods for thickening yogurt that are acceptable, but not ideal.
Food Gums
One way is using food gums like guar or xanthan the most popular when it comes to yogurt.
The easiest approach is to add 1 teaspoon of guar gum to each quart of yogurt after it is cultured and completely cooled down.
You can also add it to the cold non-dairy milk before heating and culturing if you prefer.
Just be sure to blend thoroughly to avoid any lumpiness.
Some people find food gums cause digestive distress, so if you have any issues in that area, best to not use this method.
Agar
Agar is a form of seaweed and has very low allergenic potential.
Simply stir in one-half teaspoon of powdered agar to thicken 4 cups of milk. Add it to the non-dairy milk before heating and culturing.
It is necessary to heat the milk to 190 °F/88 ° C for 10 minutes for the agar thickening potential to "take".
Then, cool the milk down to culturing temperature (110 °F/43 °C), stir in the culture and ferment at 108-110 °F/42-43 °C for 8 hours or per the recipe directions.
Like food gums, agar can sometimes cause mild digestive discomfort for some people.
Best Plant-Based Yogurt Thickening Techniques
The optimal techniques for thickening plant-based yogurt are starch and gelatin.
Both of these methods have the potential to enhance digestive health in a synergistic way with the probiotics in the yogurt itself.
Let's examine each of these in more detail.
Starch
At first glance, you might be wondering how starch could possibly be considered a "best" approach for thickening up nondairy yogurt.
In this case, I would suggest that the type of starch selected here is key…
If the starch is of the resistant variety, then it can be very beneficial by adding a prebiotic aspect to the yogurt.
In other words, the starch can take the digestive benefits of the plant-based yogurt to a level that would not be achievable otherwise.
With this in mind, here are the three types of starches I would suggest to consider:
Potato starch (not potato flour)
Simply stir in two tablespoons of whichever starch above you prefer to use into one quart of nondairy milk, mix well and then heat the milk to 140 °F/ 60 °C.
Then, cool the milk down to culturing temperature (110 °F/43 °C), stir in the culture and ferment at 108-110 °F/42-43 °C for 8 hours or per the recipe directions.
Gelatin
If you are not consuming starch at the present time, the other excellent technique I would recommend for thickening the plant-based yogurt of your choosing is gelatin.
The only caveat with choosing this method is to be sure to select only a brand that third-party tested its products for glyphosate residue (such as this brand and this brand). Note that collagen peptides will not work instead of gelatin.
Optimal Way to Thicken One Quart of Plant-Based Yogurt
To use gelatin to thicken 1 quart of plant-based yogurt, follow these steps:
Sprinkle 1 tablespoon of gelatin into 1 cup of cold, plant-based milk.
Mix well to combine.
Blend gelatin/milk mixture with 3 more cups of nondairy milk.
Warm milk to culturing temperature (110 °F/43 °C)
Stir in the culture and ferment at 108-110 °F/42-43 °C for 8 hours.
The best thing about using gelatin to thicken yogurt is because it achieves very consistent, thick, commercial yogurt style texture. In addition, the taste is neutral.
TIP: For those of you who make yogurt with raw dairy milk (which tends to naturally be much thinner than heated yogurt), gelatin is also excellent for thickening because it only needs to be warmed to 95 °F/35 °C to activate. This temperature is low enough for the milk to maintain 100% of its rawness.
Do you make nondairy yogurt regularly in your home? If so, which of these methods have you tried, and which is your favorite?