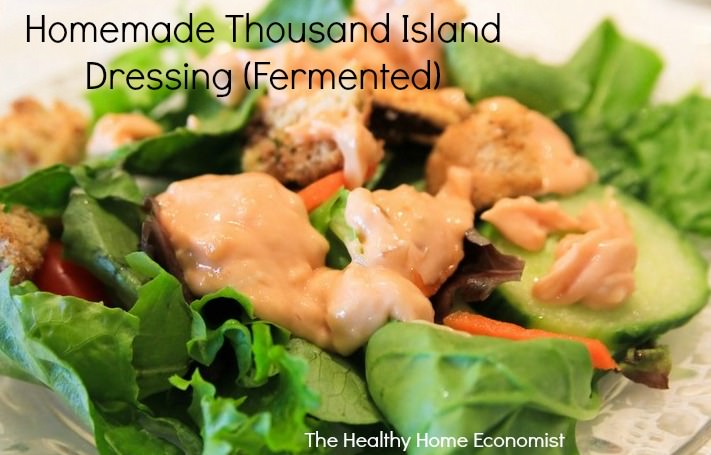 One of my very favorite ways to dress a salad is with homemade Thousand Island dressing. Unfortunately, the bottled versions purchased from the grocery store don't do it justice. Not by a long shot. Homemade thousand island dressing is definitely the way to go!
The rancid vegetable oils like soy or canola, chemical additives, artificial thickeners and even high fructose corn syrup in store versions can quickly turn your healthy salad into a bowl full of indigestion and inflammation!
Even organic salad dressings leave much to be desired as canola (short for "Canadian Oil") is typically used – a hybridization of the poisonous rapeseed oil. Why bother paying the premium for organic salad greens if the dressing is unhealthy? It would be better to buy non-organic salad greens and get the dressing right.
If salad enthusiasts only knew that these rancid, free radical loaded vegetable oils in their beloved organic store salad dressings were contributing to skin wrecking brown spots and wrinkles, they would be horrified. It is so worth it to make your own with healthy fats!
Homemade Thousand Island Dressing
Fortunately, homemade thousand island salad dressing is quite easy to make yourself and recently, I have started making a fermented Thousand Island dressing which adds beneficial enzymes and probiotics to the mix.
My husband and I particularly enjoy this probiotic rich, fermented, homemade thousand island dressing on our grassfed burgers too. Talk about delicious!
The truth is that this homemade thousand island dressing tastes good on just about everything. I was dipping a grilled cheese on sourdough sandwich in it just the other day and it was just as yummy!
This dressing would be amazing on a Reuben sandwich too.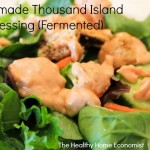 Probiotic Thousand Island Dressing Recipe
Easy recipe for homemade thousand island dressing that adds enzymes and probiotics for extra nutrition and digestibility to your salad or sandwich.
Instructions
Mix the ketchup and mayonnaise together.

Serve immediately slathered on a sandwich or drizzled on a salad.

Refrigerate leftovers. Fermented thousand island will last several weeks in the refrigerator.
Recipe Notes
If you don't have homemade ketchup, you can substitute this ketchup brand sweetened with honey in a pinch.
If you don't have homemade fermented mayo, use this mayo brand made with avocado oil instead.  Alternatively, use homemade creme fraiche.
*If using purchased ketchup and mayo, be sure to add the liquid whey to add the probiotics and enzymes.
Probiotic Thousand Island Dressing (Video Demo)
I've posted written recipes for both the fermented ketchup and homemade mayonnaise in the past. Just mix them together 1:1 and you have probiotic thousand island dressing!
Since I already make ketchup and mayonnaise myself, I don't have to do any additional work to make homemade thousand island dressing!
Anything that saves me time and effort in the kitchen is ok by me!
I've also posted videos of both recipes. For those who are more visual learners, here they are for your convenience:
Other Healthy Salad Dressing Recipes
If someone in your family isn't a fan of thousand island dressing, try this raspberry vinaigrette recipe instead. Or, check out these recipes for maple kombucha salad dressing and honey mustard salad dressing.
Sarah, The Healthy Home Economist