Table of Contents

[Hide]

[Show]
A quick, easy, and delicious raspberry vinaigrette salad dressing made with fresh berries, neutral vinegar, and healthy fat with no added sugar and GMOs like commercial versions.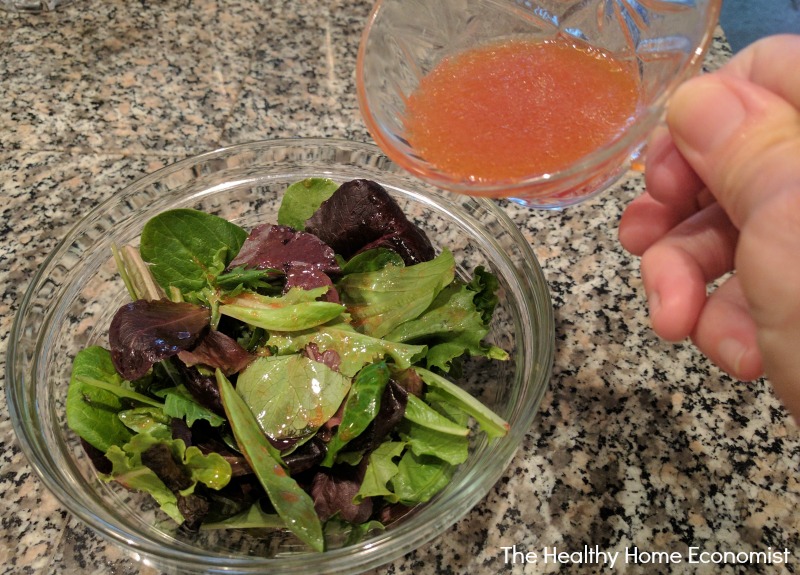 An Indian yogurt "lassie" smoothie is my go-to recipe for using berries of all kinds that are in season. However, a homemade vinaigrette is a delicious option as well for raspberries in particular.
I thought I would share this easy recipe, as some of you probably love raspberry vinaigrette drizzled on salads.
It so happens that raspberry vinaigrette is my daughter's favorite salad dressing too. Once I discovered this, I was motivated to show her how to make it healthy.
Most store versions are made with raspberry flavoring, GMO high fructose corn syrup, and GMO vegetable oils like canola or soy.
Even if made with fresh raspberries in a gourmet restaurant, an olive oil/GMO canola oil blend with GMO white sugar is generally used (I know because I've asked!).
Teaching your children how to make fresh, healthy salad dressing quickly is one of the most important cooking skills they can learn, by the way!
Best Vinegar for Fruit-Based Dressing
You will be delighted with how easy it is to make a fresh raspberry vinaigrette for your homemade salads.
One important tip is to avoid using either raw or pasteurized apple cider vinegar in this particular salad dressing. This is because the strong flavor of the ACV competes with the raspberries.
You need very mild vinegar for a great-tasting raspberry vinaigrette. I recommend mellow rice vinegar (my source) or white wine vinegar (suggested source).
If you want to get fancy, you can use raspberry vinegar too!
If you choose rice vinegar, it is best to use organic brands if possible. Also, avoid rice vinegar made in China due to possible contamination with arsenic.
Serving Suggestion
A probiotic variation from the basic recipe below is to make a creamy vinaigrette.
Simply add one-quarter cup of creme fraiche or yogurt to the finished dressing and emulsify with a fork.
If you are in need of more ideas for homemade dressing, check out these recipes too: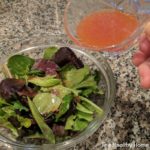 Raspberry Vinaigrette
A quick, easy, and delicious salad dressing made with fresh raspberries and healthy fats with no added sugar.
Instructions
Mash raspberries with a fork in a medium sized bowl or mortar & pestle.

Add the remaining ingredients and blend with a handheld mixer. Alternatively, pour the ingredients into a food processor and mix well with a few pulses.

If you prefer an ultra-smooth vinaigrette, sieve out the seeds. This is an optional step.

Serve immediately. Refrigerate leftover dressing.
Recipe Notes
Frozen raspberries may be substituted for fresh. However, be sure the berries are thawed and dried before mashing and blending with the other ingredients.
If using raspberry vinegar, use 1/8-1/4 cup fresh raspberries instead of 1/3 cup.
A drizzle of raw honey may be substituted for the stevia.
Even though this salad dressing is sweet, a touch of sea salt actually brings out the flavor and sweetness better than no salt at all.
Homemade raspberry vinaigrette lasts in the refrigerator for several weeks.
Nutrition Facts
Raspberry Vinaigrette
Amount Per Serving (2 Tbsp)
Calories 157
Calories from Fat 153
% Daily Value*
Fat 17g26%
Carbohydrates 1g0%
* Percent Daily Values are based on a 2000 calorie diet.