How to make organic baby wipes quickly and easily for less than a penny each. Made with non-toxic ingredients and reusable paper towels for convenient sustainability.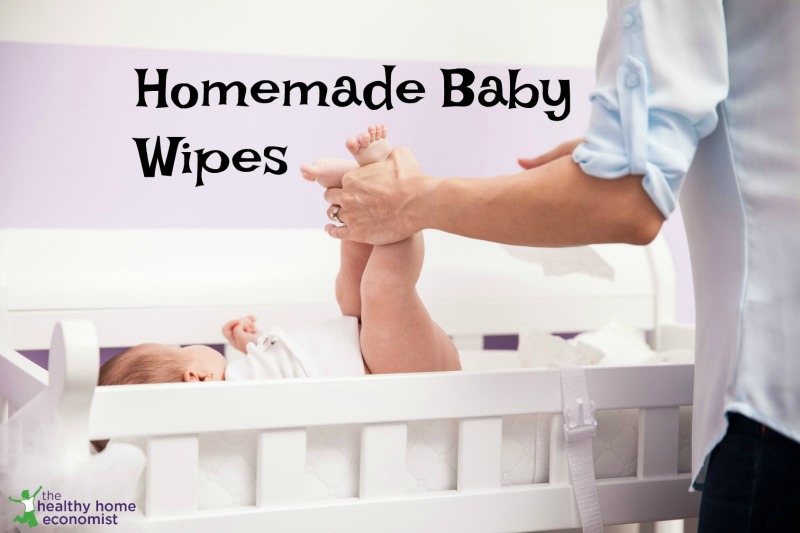 How to make organic baby wipes quickly and easily for less than a penny each. Made with non-toxic ingredients and reusable paper towels for convenient sustainability.
I remember so well holding my firstborn child for the very first time.
So precious. So vulnerable!
I couldn't imagine any chemicals of any kind touching his delicate skin which is why I took what I thought were great pains to ensure any personal care products used were nontoxic.
I must have spend a fortune on hypoallergenic "natural care" baby wipes at that time for diaper changes (organic baby wipes were hard to find then), but looking back, those weren't such a great choice after all.
Check out the list of unpronounceable, chemical-based ingredients of Huggies "Natural Care" Fragrance-Free baby wipes which is what I typically used:
Purified water
Phenoxyethanol
Caprylyl Glycol
Cocamidopropyl Betaine
Malic acid
Sodium Citrate
Aloe Leaf Extract
Tocopheryl Acetate
Can you pronounce all of those words? Unfortunately, as with food, personal care product labeling is typically misleading at best and purposely deceitful at worst.
Most concerning is new research from the Journal of Allergy and Clinical Immunology which suggests exposure to the chemicals in baby wipes are tied to the "perfect storm" for development of food allergies later by altering the composition of protective lipids on the skin. (1)
Environmental Working Group's Skin Deep Database lists this brand of baby wipes as a high on the moderate hazard scale to your newborn's health – not at all comforting to a new Mom!
Are There Nontoxic Brands?
Fortunately, there are brands of truly nontoxic options like Honest Wipes available, but they are very expensive, about 6-7 cents each even when on sale!
Honest Wipes are ranked a zero toxicity level by Skin Deep which is an excellent score. However, beyond being expensive, throw away wipes are really quite a wasteful and nonsustainable choice, especially for big diaper cleanup jobs when you might use 4-5 at a time.
By the time my third child came along, I had wised up and was making my own organic baby wipes. This way, you can be sure the wipes are convenient to use, completely nontoxic, nonwasteful, and budget-friendly.
When I was making organic wipes when my children were babies, I used durable brands of unbleached paper towels (don't even attempt to use the cheap ones!).
Unfortunately, while inexpensive, traditional paper towels made with virgin wood pulp are still a wasteful choice considering the slow-growing trees used to make them.
Recycled paper towels might be considered a more sustainable, eco-friendly option, but studies have shown that recycled paper is contaminated with hormone-disrupting chemicals like BPA, BPS or both.
Bamboo a Sustainable Choice
So, what to use then other than cloth for making organic baby wipes which would be a bit pricey?
My suggestion would be to use bamboo paper towels (this is the brand I use). Bamboo is a fast-growing, sustainable, no-spray crop.
A roll of bamboo paper towels has the look and soft feel of regular paper towels. In addition, they are extremely durable and more absorbent than organic cotton rags and yet can be laundered numerous times!
This means if you make 80 organic baby wipes (4 wipes per towel and each roll costs around $9), plus about a dollar for the witch hazel mixture (buy in bulk or make it yourself), each wipe costs a little over a cent each!
You can't get any cheaper than that until your child is fully potty trained!
Here's the how-to!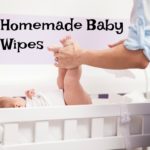 Reusable Organic Baby Wipes Recipe
Make your own organic baby wipes quickly and easily for less than a penny each. Made with nontoxic ingredients with reusable bamboo paper towels for safe, convenient sustainability.
Instructions
Cut each bamboo paper towel into four squares. Mix the aloe vera and witch hazel together in a glass jar to make a gentle and soothing antiseptic.

Stack the wipes evenly one on top of the other in a large glass bowl and pour the witch hazel mixture evenly over them. Let stand until the liquid is fully absorbed.

Place the reusable baby wipes in a large ziplock bag for convenient use at home or when traveling.

Store used wipes in a separate double seal ziplock bag for easy laundering as needed.
Recipe Notes
Make three batches of these reusable organic baby wipes so that you have plenty of time to launder and re-wet with fresh witch hazel and aloe vera before you reach the end of the third bag.
These wipes are also fantastic to use to clean a yoga mat!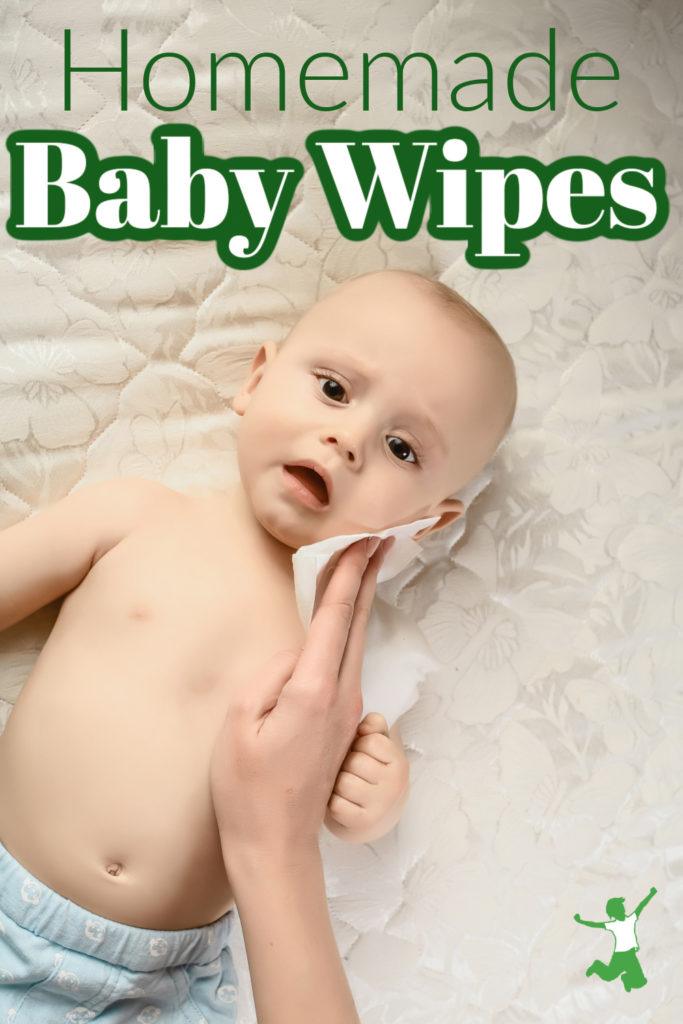 References
Recycled Paper Not Such a Great Idea After All
EWG Skin Deep Database