Easy steps to clean a yoga mat or remove the film from a new one along with DIY recipe for a yoga mat spray or wipes for a quick clean after each practice .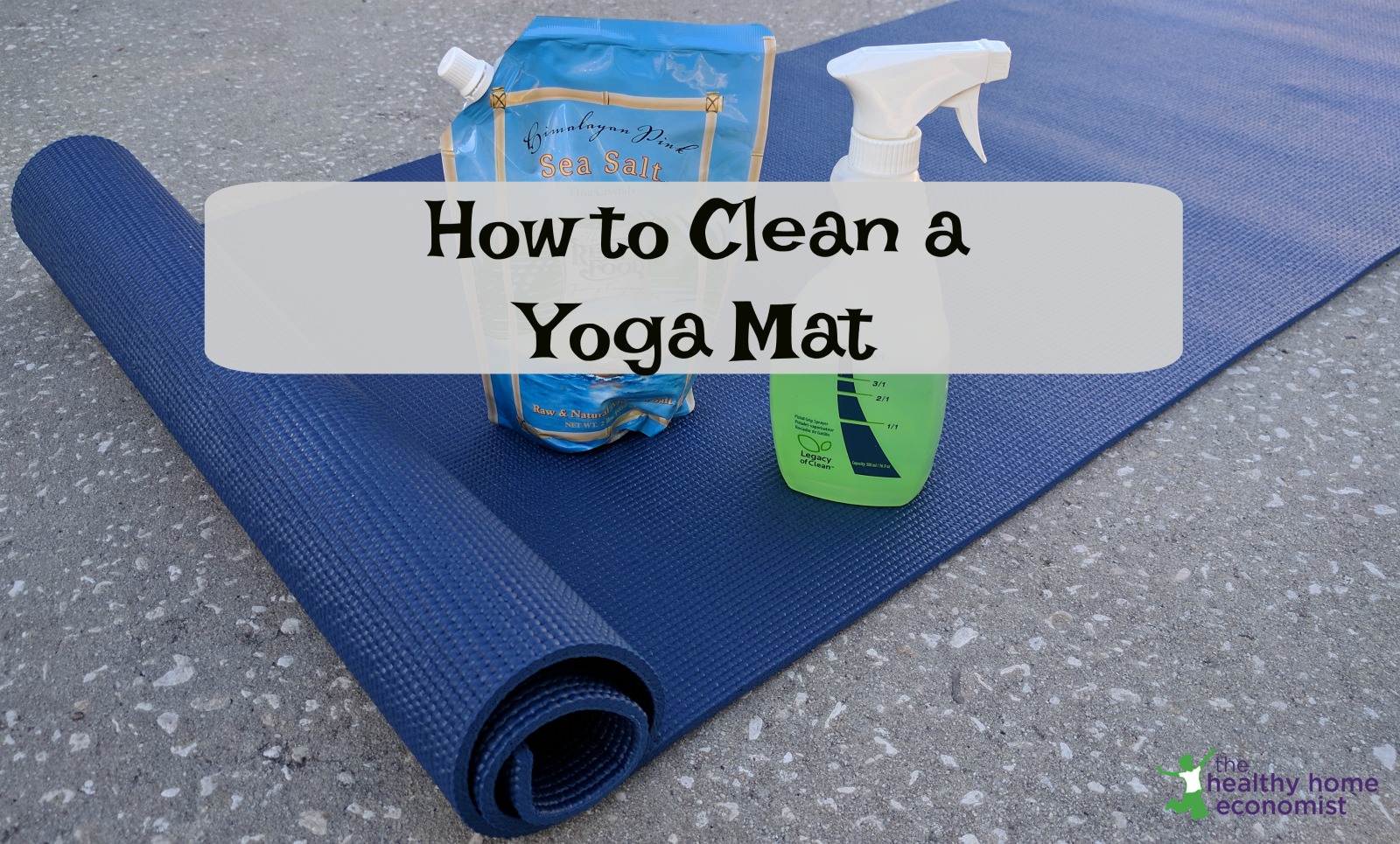 If you've ever participated in a group yoga class, you've no doubt noticed the bin of (usually) nasty mats in dire need of cleaning along the wall at the back of the room. To avoid this germfest, most people who regularly practice buy their own. The question is, though, how do you clean a yoga mat without damaging it?
While I've had people tell me they wash their yoga mat in a washing machine, I haven't had good luck with this approach. I recently restarted my yoga practice after a bit of a hiatus and found that my trusty mat needed a deep clean. I tried putting it in the wash with mild soap and proceeded to basically ruin it.
Cleaning a Yoga Mat (without using toxic chemicals)
How should I have cleaned that old yoga mat? I got some great advice from a more experienced yogi that worked beautifully! It even cleaned the slippery film off a new yoga mat I tried it on!
By the way, if you are in the market to buy new, please consider buying an eco-friendly yoga mat! Back when I first started yoga in 2001, these weren't really an option. The standard mats are still made from PVC. Also called vinyl, this synthetic substance is made out of plastic and chlorine. The plastic is derived from the ethylene found in crude oil.
These plastic yoga mats also contain phthalates. Research conducted by Dr. Natalia Grindler of Washington University found that women who had the highest levels of phthalates in their blood started menopause 2.3 years before the other women. In addition, a study published in the journal Reproductive Toxicology warned that mice experience reproductive abnormalities when exposed to the phthalate DEHP. (1)
Not exactly earth friendly materials!
Green yoga mats are a bit more expensive, but worth it! The most durable and similar in feel to standard yoga mats are made from natural and recycled rubber. Other mats are constructed of vegetable fiber (jute), and organic cotton or natural cotton.
Please note that the yoga mat cleaner described below works best on standard yoga mats or those made of natural and recycled rubber. Cleaning jute or cotton mats requires a different method. Follow the manufacturers instructions for these more delicate materials.
Avoid Yoga Mat Sprays and Wipes
I would recommend avoiding commercial yoga mat sprays, cleaners, and wipes. The ones I've examined contain either alcohol or toxic chemicals. Sometimes both! They are also quite expensive.
While alcohol is probably fine used on a vinyl yoga mat, it would be very drying on a natural rubber mat. Over time, it would potentially damage the material.
Plus, using an alcohol-based yoga mat spray would eliminate germs, but it doesn't actually "clean" the mat if you know what I mean!
Using a chemically based yoga cleaner is clearly not optimal, especially considering you are putting your head and nose on or very close to the mat during many common yoga poses.
Natural Yoga Mat Cleaner
The nontoxic yoga mat cleaner I used that worked incredibly well is a combination of sea salt and mild dish soap.
The 10 steps below outline the cleaning process. It will also remove the film off of a new yoga mat so that you aren't slipping and sliding all over the place during your practice! This film can take weeks to rub off!
Steps to Deep Clean a Yoga Mat
Roll out the yoga mat on your driveway, patio, deck, or a clean bathroom floor. A large bathtub works too.
Dilute mild dishsoap (1 part soap, 3 parts water) in a clean spray bottle.
Spritz the diluted soap on the side of the yoga mat that you practice on. About 12 spritzes covers one side of the mat.
Sprinkle about 1 tablespoon of sea salt near the top edge of the mat. Gently spread the salt down and to the edges of the mat by rubbing gently in circular motions. This is the sea salt I use (as shown in the picture above).
Repeat about 4 more times, working you way down the length of the mat until the entire mat has been cleaned.
Use a garden hose or the shower/bath faucet to thoroughly rinse the sea salt and soap away.
Repeat for the other side of the mat if necessary.
Dry the mat with a clean bath towel.
Fold the mat over a clothes hanger and let air dry for another couple of hours by hooking onto the shower curtain rod in the bathroom.
Alternatively, drape the cleaned mat onto a porch or deck railing to dry in the sun. A clothes line would be ideal!
How often to clean a yoga mat?
It is recommended to clean a yoga mat with this gentle scrub every few months. In between these deeper cleans, you can make a nontoxic yoga mat spray by mixing a 50-50 blend of nonGMO white vinegar and filtered water in a clean spray bottle. If desired, add a few drops of your favorite aromatherapy essential oil too. Spritz this solution all over the used side of the mat. After spraying, wipe dry with a clean towel and air dry as described in steps 9 and 10 above.
Another option is to simply make your own yoga mat wipes. Homemade wipes are convenient to carry with you and use immediately after each practice. The simple process is detailed in the linked article. The recipe uses witch hazel instead of alcohol, which is a milder and less drying type of disinfectant.
Do you have another method for cleaning a yoga mat that works? Please share with all of us!