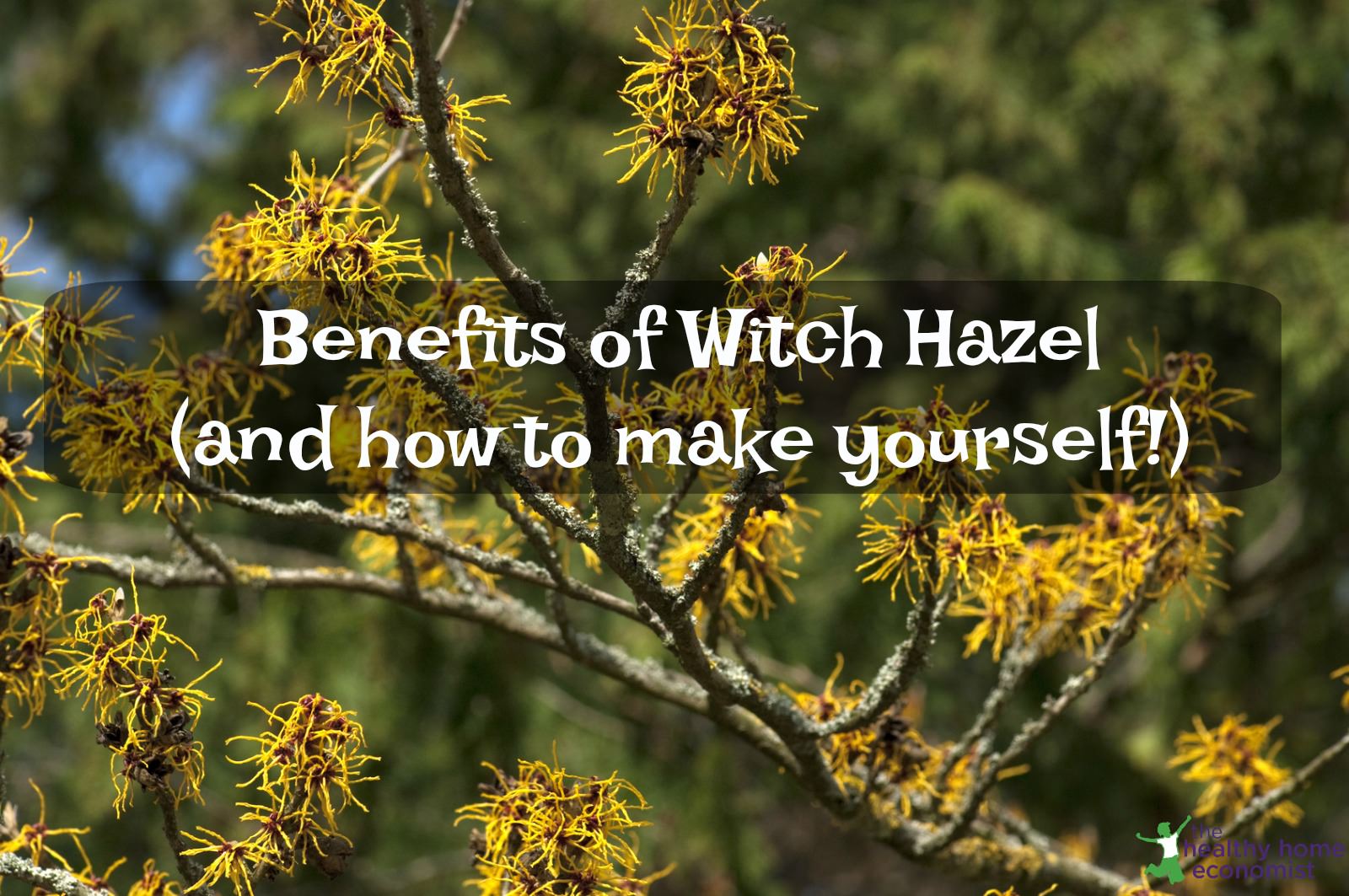 When I was growing up, I was fortunate to have my paternal grandparents living right down the street. I spent a lot of time there after school and on weekends mixing up unusual food combinations in the kitchen, which my Grandpa always tasted and assured me were delicious.
Rummaging through Grandma's hall closet jammed full of potions, ointments, creams, and other sundries was a true childhood adventure. I used to position a small step ladder just inside the closet door where I would perch on the top step reading the labels and calling out questions. Grandma usually sat just around the corner in her favorite chair, gladly answering my queries about their uses and practical applications.
It was a treasure trove that fanned my creative imagination like nothing else!
Free Weekly Newsletter + Report on Secrets of Strong Immunity
Out of the many and varied concoctions in my Grandma's closet, her favorite by far was the humble bottle of Witch Hazel extract.
Witch Hazel: Traditional Native American Remedy
Native Americans were the first to recognize the healing properties of witch hazel. It is a flowering plant with oval shaped leaves, tiny flowers and a sturdy stem which can grow as high as 24 feet! The extract was prepared by boiling the stems. The resulting liquid treated inflammation, swelling and even cancerous tumors.
Witch Hazel was popularized for mainstream use by Dr. Charles Hawes in the early 1800's. He concluded after extensive research that Witch Hazel extract had many applications in the field of medicine. By 1846, Dr. Hawes had commercialized it under the name "Hawe's Extract".
The benefits of Witch Hazel for medicinal use are primarily via its application as a natural and highly effective astringent. It contains an abundance of natural tannins that have the ability to shrink inflamed, swollen tissue and tighten pores. The beneficial effect of Witch Hazel on the skin even extends to facilitating the healing of scars.
Witch Hazel also contains gallic acid, which has anti-viral and anti-fungal properties. In addition, essential oils, natural resins and flavanoids contribute to Witch Hazel's gentle but powerful antiseptic and broad spectrum anti-microbial properties.
For those attempting to eliminate exposure to toxic synthetic astringents, Witch Hazel offers all the same benefits without any synthetic and hormone disrupting fragrances, chemicals and preservatives.
Best of all, Witch Hazel is inexpensive! If you happen to need a lot in order to make homemade baby wipes or for other home uses, it is pennies per cup to make yourself. Recipe below!
12 Practical Uses for Witch Hazel Extract
Besides its obvious use as a gentle astringent toner and pore refiner, my Grandma used Witch Hazel for just about anything skin related.
Acne and blemishes: Helps shrink, dry up and clear blemishes by acting as a topical anti-inflammatory and antiseptic agent.
Hemorrhoids: Helps to shrink, soothe, and stop the bleeding of hemorrhoids, which are really just a form of varicose veins. Can be particularly soothing after vaginal childbirth when the pushing of the birth process can inflame rectal veins and cause swelling.
Diaper Rash: The gentle but rapid soothing action makes it perfect for reducing inflammation and discomfort from diaper use. Use it to make DIY baby wipes too.
Eye puffiness: A common ingredient in homemade eye creams to reduce bags and puffiness in the eye area by shrinking the delicate tissue.
Poison Ivy: If you love to camp, be sure to always have a bottle of Witch Hazel packed with your gear as it is useful for reducing the painful rash, swelling or itching from poison ivy and poison oak.
Varicose Veins: Soaking a cloth in Witch Hazel and wrapping it around the infected leg is how it has been traditionally used for this purpose. Incidentally, if you suffer from this condition, beware of the popular cellulite reducing device called a fascia blaster!
Bruises: A dab of Witch Hazel on bruises several times a day helps them heal faster. A vinegar compress works too.
Sunburn: The anti-inflammatory effects of Witch Hazel are particularly helpful for managing the effects of sunburn and minimizing peeling.
Underarm Odor: Witch Hazel is anti-microbial and is effective as an underarm deodorant particularly if someone is sensitive to baking soda.
Bug Bites: Applying Witch Hazel with a cotton ball to bug bites is very effective for reducing itching and swelling. It also encourages a faster healing time. This homemade herbal salve recipe is helpful for this condition also.
Dandruff: Gallic acid in Witch Hazel is an effective anti-fungal. Dandruff is a candida related condition, which is why topical application to the scalp works so well for controlling its flaky effects.
Home Cleaning
The twelfth practical use is for home cleaning. Witch hazel is a great substitute for alcohol in cleaning solutions as it is far less drying and still antiseptic. I use it to make a homemade yoga mat cleaner.
In addition, Witch Hazel makes an excellent stain remover. Use it to wipe down counters and table tops too. Just mix one cup of Witch Hazel with a gallon of water and you are ready to use. It also has a refreshing scent and is a healthy substitute for synthetic, hormone disrupting fragrances in store bought fresheners.
Is Witch Hazel Safe to Consume?
Ingestion of concentrated Witch Hazel Extract is not advisable.
The stems, however, can be used for making a simple herbal tea. Be sure to contact your practitioner if you intend to use medicinally.
How to Make Witch Hazel Extract
The most potent Witch Hazel is made by boiling the stems. Native Americans utilized this approach. This method ideally requires access to a flowering Witch Hazel shrub to obtain fresh stems.
Simply put a pound of broken pieces of twigs and stems into a large pot and cover with distilled water. Bring the water to a boil, reduce heat, and simmer on low uncovered for about 8 hours. At this point, the stems become very soft. Be sure to add more distilled water as needed during this time to keep the twigs covered.
At the end of the allotted cooking time, remove the pot from the heat and cool completely. Strain the Witch Hazel extract with a fine cheesecloth into a large glass jar.
You may use the Witch Hazel as is. However, it will only last about a week or two in the refrigerator. Freezing is an option too.
If you would like to make it shelf stable and last as much as a year, measure how much Witch Hazel extract you have first. Then, mix in half that amount in alcohol from the pharmacy.
What to Do if You Can't Find Witch Hazel Stems
If you don't have access to a live Witch Hazel shrub to obtain fresh stems, you may purchase and use Witch Hazel bark instead (where to find).
The process for making Witch Hazel extract with the bark instead of stems is basically the same. The one difference is that the simmering time will be much shorter until the bark gets soft. It takes about an hour or so instead of 8 hours like with the stems.
Another drawback is that you must purchase the bark. Pruning the stems from a live Witch Hazel shrub is free.
Herb Infused Witch Hazel
Whether you choose to make your own Witch Hazel or simply buy a bottle to save time, you can easily infuse it with herbs. This simple additional step makes it more enjoyable and potent for use.
Suggested herbs that are great to use in any combination for a homemade Witch Hazel infusion include:
Basil
Calendula
Chamomile (personal fave)
Elder flowers
Green Sencha Leaf tea
Lavender flowers (personal fave)
Lemon or orange peel (personal fave)
Lemongrass
Peppermint (personal fave)
Rose petals (personal fave)
Rosemary
Sage
Red clover flowers
Vanilla beans (personal fave)
To make this choice super simple, cut open herbal tea bags that you already have and use those!
Next, place whatever combination of dried herbs you select in a glass mason jar and cover with Witch Hazel. Either store bought or homemade extract is fine. Be sure that the herbs are covered by at least 1-2 inches as the dried herbs will swell once liquid is absorbed.
Lastly, screw on the lid tightly and place in a cool dark place. Allow a full 2 weeks for the herbs to fully infuse. Shaking the jar every day or as often as you think about it is a good idea.
At the end of the infusion period, strain out the herbs with a cheesecloth. Then pour your delightfully scented Witch Hazel Extract into a clean bottle and label. Bottles of herb infused Witch Hazel make a great gift!
Sarah, The Healthy Home Economist
Sources and More Information
The Ultimate Guide to Witch Hazel
Herb Infused Witch Hazel