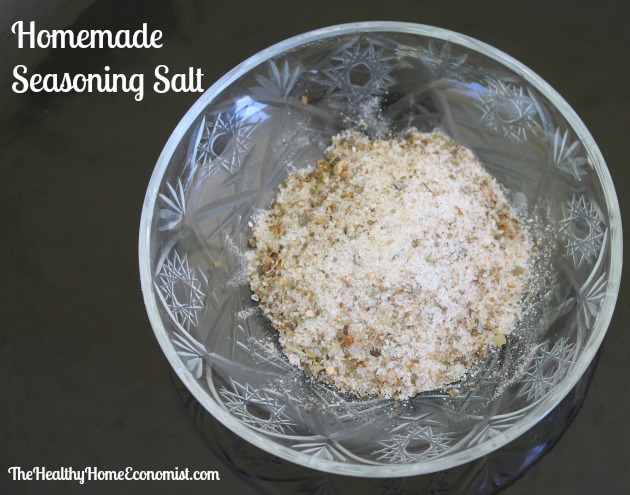 A basic homemade seasoning salt recipe is made by blending together a base of salt with a carefully chosen selection of herbs and spices. It is an absolute must in the kitchen of every Traditional Cook!
The problem with conventional seasoned salt blends sold in supermarkets is that highly processed white salt is used as the base with ersatz, neurologically damaging flavorings like MSG frequently added.
Quality seasoning salts use only the finest sea salt containing over 50 (and in some sea salts, more than 80) beneficial minerals blended with organic herbs and spices which eliminates the need to artificially boost the flavor with chemicals or additives. These blends are typically rather pricey, however.
Another potential problem is that the sea salt used as the base may not be your favorite and the herbs used not the freshest if the product has been sitting on the shelf for awhile.
The good news is that a quality seasoning salt is ridiculously easy to make yourself and you can ensure only the finest and freshest organic herbs and spices are used along with a sea salt base that bestows the unique flavor you most enjoy, be it Himalayan, Celtic, Hawaiian, Kala Namak (Indian black salt) and others.
Homemade Seasoning Salt Recipe
This particular seasoning salt recipe below can be carefully made and then packaged in beautiful glass jars to make a wonderful gift for any foodies on your holiday list.
A seasoning salt recipe that is easy to make, budget friendly and high quality – it's the gift you can feel awesome about giving and your friends and family will no doubt be delighted to receive!
Tip: this seasoning salt works wonderfully well for homemade bone broth! This article contains more information on how to season bone broth using quality seasoning salt.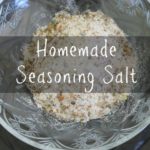 How to Make Seasoning Salt
An aromatic seasoning salt recipe that is easy to make and ensures only the finest and freshest organic herbs and spices are used.
Instructions
Blend all ingredients well in a food processor or blender.

If you prefer the flavor of different seasonings, change out as you prefer.

Store in an airtight container in the pantry.
Sarah, The Healthy Home Economist